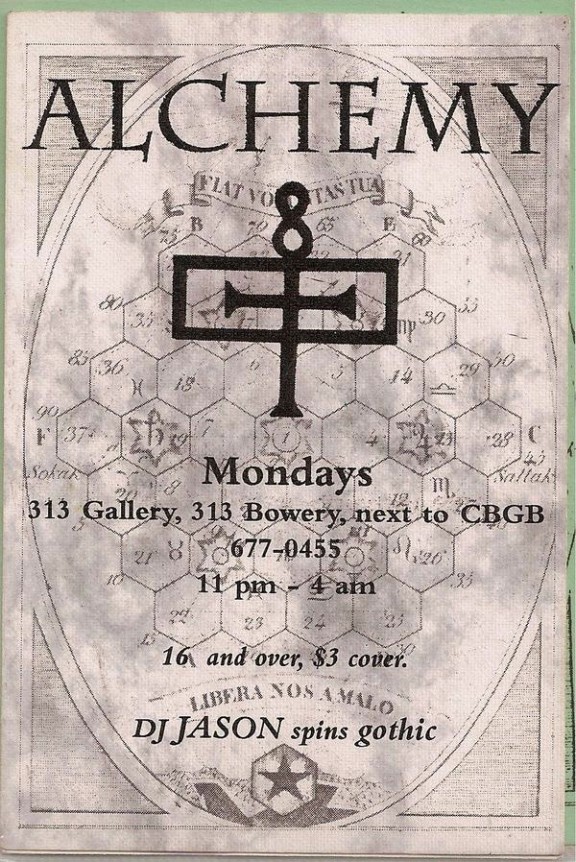 Alchemy holds the record for the longest weekly club event during the most popular years of NYC's gothic history.  For almost 10 years, Alchemy was held in CBGB's 313 Gallery every Monday with DJ Jason spinning purely Gothic music.  (No VNV, no Depeche Mode, no the Smiths, no mainstream alternative, no techno, no ebm, no bs etc.)  Goths aged from 16+ (and in later years, 18+) danced to the most cutting edge goth tracks and the very best of the old Classics.  DJ Jason brought over 1000 CDs with him.   He always played a wide variety of the genre and included many rare songs that could not be heard elsewhere.   The most popular purist DJ in the NYC scene, DJ Jason had real fans and not just social networking friends / cliques, since this was before the advent of mainstream internet.   Unlike the NYC weekend goth events, each Alchemy night had a different and particular selection of songs that matched the atmosphere and feeling of each unique night.   Alchemy became the roots that fed the entire NYC scene and when it ended all of the other Goth scene events ended shortly after, including Albion (formerly Albion/Batcave).
Over the years, hundreds of bands played at Alchemy. Most current and touring goth bands would play at Alchemy.  Alchemy had many "first shows", including the first NYC shows by The Crüxshadows and Bella Morte.  Alchemy also sponsored shows at CBGBs main club venue.  Gitane Demone, Gene Loves Jezebel, The Nuns, Mors Syphilitica, Empire Hideous, Spy Society 99, The New Creatures, The Deep Enyde, Penis Flytrap (Dinah Cancer of 45 Grave) and many others graced the stage.  Alchemy remained the most high quality night, popular and unchanged in strict format from 1996 to 2006.
Many celebrities from in and outside of the goth scene hung out at Alchemy over the years. David Bowie and his wife, Iman, attended multiple times, as they were neighbors.  Ronny Moorings brought all the members of Clan of Xymox to party at the club. Lemmy Kilmister of Motorhead popped in briefly.  The Author Neil Gaiman hung out a few times.  Jeff Hanneman of Slayer had a great time at Alchemy and even left only to return quickly after looking around the village at other venues.  Lots of local NYC band members would routinely be at the club. Neville Wells of Albion/Batcave would bring his touring industrial bands to visit the night too.  All of this was just normal back then.
Unlike most club nights, Alchemy ended due to a relationship breakup between the 2 promoters (DJ Jason and Althea) and not because of a failing like poor attendance or not enough liquor sales.  It was a very strong party throughout and most scene events in NYC were going well around the time it ended.  However, the end of Alchemy, and subsequently Albion (NYC's biggest techno/industrial/goth/alternative club at the time), spelled the end of NYC's goth band scene and the whole gothic scene in NYC suffered a terrible and rapid decline until 2009 when a slight bounce back from rock bottom started.
No NYC Goth event before or after has had the purity of goth with the size and scale of Alchemy, since Alchemy ran during the busiest years for goth in NYC.
Note: This is the very first Alchemy flyer. It was designed by a friend, Clifford Hartleigh Low, as a favor to Althea and DJ Jason.  Cliff later became a rival promoter and also started NYCgoth.com subsequent to Althea leaving her leadership role in NYCgoth-l (the earliest goth list on the web for New Yorkers).