above picture: The BANK 10 YEAR REUNION @ ELEMENT, September 2009 ↑
MUSIC GENRES: Only pure GOTH
(including sub-genres: Death Rock, Dark Wave, Ethereal, Nordic Style, Post Punk… etc.)
Early DJ and Music Activities in Chronological Order
1986 : WVOF FM radio at Fairfield University
1987-1991: DJed and organized on-campus theme events at BENNINGTON COLLEGE
1992-1994: Contributor to Goth magazines Isolation (art) and Marqui's Masquerade UK (scene report)
1992-1993: Managed SECRET SOUNDS, an underground record store in Black Rock, CT
1993-1995: DJed and hosted a weekly FM Radio Show called NECROPHILIAC RELATIONSHIP at BENNINGTON COLLEGE (WHIP FM)
NYC DJ Residencies and Productions
1996-2006: DJed, produced and promoted weekly Alchemy gothic mondays at CBGBS GALLERY
1996-1997: DJed, produced and promoted monthly Facade Wednesday at Z-BAR
1997-1998: DJed, produced and promoted Wasteland at Coney Island High. Monthly in 1997, Weekly in 1998
1997: DJed, produced and promoted Shadowplay Friday with SAINT JAMES at ACME UNDERGROUND
1997-2001: DJed Thursday Long Black Veil at MOTHER (a bi-weekly first, then a weekly party)
1997-2003: DJed, produced and promoted the annual Miss Gothic NYC Pageant
1998-2014: DJed, produced and promoted Absolution, NYC's Original Multi-DJ Goth/Industrial Event (many locations, CBGBs Basement, Flamingo East, Limelight, etc.)
1998: FLESH AND BLOOD at The BANK (main floor DJ)
1998: DJed and promoted weekly Sabotage Wednesdays with SAINT JAMES at CONEY ISLAND HIGH
1998: THE PROPHESY at TUNNEL
1998-1999: DJed, produced and promoted monthly Nightshift Sunday at KOROVA LOUNGE
1999: DJed one floor of Ward 6 at THE PYRAMID
2000-2001: Produced and promoted weekly Sanctum Gothic Lounge Fridays at CBGBs Basement
2001: DJed SLIMELIGHT NYC at Planet28
2001: DJed Xorvia weekly Thursdays at TRUE
2001: DJed Black Thursdays at La Nouvelle Justine
2001-2007: DJed Saturdays at ALBION and ALBION/BATCAVE, replacing DJ Patrick monthly
2001: DJed weekly INCARNATION at TRUE
2001: DJed and produced THE RED PARTY at LIMELIGHT by FATHER SEBASTIAN TODD(SABRETOOTH), 1 room
2001: DJed and produced THE BLACK PARTY at LIMELIGHT by FATHER SEBASTIAN TODD(SABRETOOTH), 3 rooms
2001: DJed, produced and promoted weekly Electra City Thursdays at TRUE
2001: DJed weekly Communion at LIMELIGHT
2002: DJed THE COURT OF LAZARUS monthly Sundays at JEKYLL AND HYDE
2002: DJed, produced and promoted monthly ABSOLUTION Fridays at FLAMINGO EAST
2002: DJed monthly LONG BLACK VEIL Friday at FLAMINGO EAST
2002: DJed, produced and promoted monthly WASTELAND at PYRAMID
2002-2007:DJed THE COURT OF LAZARUS monthly Sundays at THE SLIPPER ROOM
2002-2003: DJed, produced and promoted GOTHIC NEW YEAR'S EVE featuring VOLTAIRE
2003-2005: DJed, produced and promoted Sundown Fridays weekly at Flamingo East and Seho
2003: DJed, produced and promoted WASTELAND at OPALINE
2003 and 2004: DJed, produced and promoted GOTHIC NEW YEARS EVE at CBGBs Basement and CBGBs Gallery
2004 DJed, produced and promoted Gothic Thursdays and WaxDark at DUCK
2005: DJed, produced and promoted BODY & GHOST annual at RAVEN CAFE
2010: DJed, produced and promoted weekly AELFHEIM @ FONTANAS
2010: DJed, produced and promoted monthly GOTH with DJ IAN FFORD at BOULEVARD TAVERN
2010: DJed, co-produced and co-promoted Saturday Night fIXE @ IDENTITY
2010-2011: DJed, produced and promoted La Petite Mort @ HAPPY ENDING
2011- 2012: DJed produced and promoted Incantation biweekly @ Uncle Mike's
NYC SPECIAL APPEARANCES and NYC "ONE-OFF EVENTS":
1996: The NOW (Egg Crates) with DJ DANIEL and DJ PATRICK
1997: The New York Edge party, private loft at Astor Place (solo DJ)
1997: Goth Fest at CONEY ISLAND HIGH (solo DJ)
1998: DJed, co-produced and co-promoted Mors Syphilitica at CONEY ISLAND HIGH (solo room DJ)
1998: Mindless Self Indulgence at DOWNTIME
1998/1999: Exedor's New Year's Eve at PYRAMID (solo room DJ)
1999: Dark Frenzy at COLLECTIVE UNCONSCIOUS
1999: Heroes at MOTHER (solo room DJ)
1999: The Faerie Tale Ball at MOTHER (solo room DJ)
1999: DJed, produced and promoted Gitane Demone at CBGBs (solo DJ)
1999: DJed, c0-produced and co-promoted An Evening At McGurk's Suicide Hall at CBs 313 Gallery (solo DJ)
1999: The Nun's Decapitation Ball at SHINE
1999: DJed, produced and promoted Halloween at CBGBs @ CBGBs
1999: DJed, produced and promoted Gene Loves Jezebel at CBGBs (solo room DJ)
2001: The Fool's Ball @ MOTHER (solo room DJ)
2001: Nemesis @ LE NOUVELLE JUSTINE
2001: Albion/Batcave's IndepenDANCE day bash @ Downtime
2001: Sin City anniversary party at TRUE
2001: Slimelight (in LONDON, UK)
2002: What is Fetish V at CLUB SHELTER
2004: Nocturne at KARMA
2004: DJed, co-produced and promoted Legion at DARKLIGHT
2005: Albion's Walpurgisnacht at DOWNTIME
2009: The BANK 10 year Reunion at Element
2009: Black Tape For A Blue Girl at DELANCY LOUNGE
2010: Cirque Du Rock- Hypothermia at HIGHLINE BALLROOM
2010: Sanctuary Reunion at LUCKY 13 SALOON
2010: The Court of Lazarus at MADAME X (solo room DJ)
2010: Ego Likeness show at DELANCY LOUNGE (solo room DJ)
2010: The BANK 11 year Reunion at Element
2010: DJed, produced and promoted Sundown Reunion / Halloween Ball with DJ Father Jeff at UC 87
2011: DJed, produced and promoted Gothic New Year's Eve 2010/2011 with DJ Xtine, Ego Likeness & Platform One
2011: DJed, produced and promoted Shadowlands Romantic Masquerade Ball with DJ Xtine
2011: DJed, produced and promoted The April Fool's Ball annual at the Fortune Cookie with DJ Xtine, Whispers of the Sparrows, Nekronet, Melvin Ylagan, Mark Sinnis & Daegona
2011: DJed, produced and promoted The Pale Queen's Ball annual at UC87 with DJ Xtine and featuring Bitter Grace, Whispers of the Sparrows, Night Gallery, The Mystic Underground and Paul Anthony Band
2011: DJed, produced and promoted Incantation one-off at Parkside
2012: DJed, produced and promoted La Petite Mort at Lit
2012: DJed, produced and promoted Incantation one-off at The Spectrum
2012: DJed, produced and promoted Incantation one-off at Local 269 (formerly, the Far Side and Meow Mix)
2012: DJed, produced and promoted The Faerie Ring at Lillies
2012: produced and promoted ~Limelight "one night only" at CrossBar (the last nightclub event to happen in the historic Limelight building)
NYC GUEST DJ gigs (unless otherwise noted)
1997: Brit Night at CHARLIE THE SLUT'S Sanctuary Thursdays with DJ VANESSA MIASMA(original Bank Gothic DJ) at Sanctuary Lounge
1997: Albion at The Bank
1997: Exedor at THE PYRAMID (solo room DJ)
1998: Click + Drag at MOTHER
1998: Exedor at THE PYRAMID (solo room DJ)
1998: Bound at DOWNTIME
1999: The Interim at LIMELIGHT
2000: Revenge at RUBBER MONKEY
2001: Straightjacket at BELLEVUE
2001: Voodoo-a-go-go at RAVEN CAFE
2002: Electra-City at FLAMINGO EAST
2002-2006: Albion Saturdays (and Albion/Batcave) Monthly at Downtime
2006: Albion Fridays at Downtime
2006: Church at AVALON
2009: Underworld at SULLIVAN ROOM
2009: Cybertron at DON HILLS
2009: Ward 6 at LA POISSON ROUGE
2009/2010: Necromantic New Years Eve at BOWERY POETRY CLUB
2010: DefCon at PYRAMID
2010: Dark Water at OTTOS SHRUNKEN HEAD
2010: P.O.V. at Karma
2010: Arkham at Public Assembly
2011: A Night of Banshees at Legion
2011: QXT's (in NJ)
2012: Ulteria (in CT)
2013: Court of Lazarus at Madame X
2013: A Night of Banshees at Grand Victory
2014: Disco Down at Hotel Chantelle
FLORIDA DJ Events
2018: Respectable Street Club (WPB, Florida)
2018-2020: Go! Friday Classic Alternative at RSC (many times) (WPB, Florida)
2018: MASS presents Vampire Burlesque at Voltaire nightclub (WPB, Florida)
2018: MASS presents MDA fundraiser at RSC (WPB, Florida)
2018: MASS (WPB, Florida)
2019: MASS presents MAKE GOTH RESPECTABLE Edition
2019: Aurelio Voltaire at RSC (WPB, FL)
2019: 69 Eyes at RSC (WPB, FL)
2019: World Goth Day at Accomplice Ciderworks (West Palm Beach, FL)
2019: Stranger Things at RSC (WPB, FL)
2019: Phlebotomy at The Hideaway (Fort Lauderdale, FL)
2019: MoonFest, "Vampire Lair" at Voltaire nightclub (WPB, FL)
2020: Phlebotomy Presents Obsidian at Churchill's (Miami, Florida)
2020: Phlebotomy Presents "Dead Love Dance Party" at Churchill's (Miami, FL)
2020: Fetish the 13th at Respectable Street Club (West Palm Beach, FL)
2020: TamaraVirus private party at Sparky And The Brayn (Rio, FL)
2021: The 5th Anniversary of MASS with Astari Nite at RSC (West Palm Beach, FL)
2021-2022: Visitation (Monthly or Twice a Month, Stuart FL)
2021: World Goth Day at Accomplice Ciderworks (West Palm Beach, FL)
2021: Loss Prevention (Monthly) at The Stillery (Stuart, FL)
2021: The Witching Hour Showcase at Ginger's (Oakland Park, FL)
2021: Last Wishes at The Stillery (Stuart, FL)
2022: Rux Vendetta at Bar Nancy (Miami, FL)
2022: World Goth Day at The Stillery (Stuart, FL)
2022: Aggraux Kouture and Rux Vendetta at Propaganda (Lake Worth, FL)
2022: Last Grasp and Rux Vendetta at The Poorhouse (Fort Lauderdale, FL)
2023: Visitation at East Ocean Pub (Stuart, FL)
2023: Winter Goth Celebration Festival at Propaganda (Lake Worth, FL)
2023:"It's a Goth Party" with Dead Cool and Rux Vendetta (Ft. Lauderdale, FL)

COVID 19 Era Live Streams:
2020: Every Friday, Five plus hours of Goth on Twitch
2020 – 2023: Every Monday, Five plus hours of Goth on Twitch since the nightclub lockdown
2020: The first two room event for London's Slimelight Saturday on Twitch.
2020: Slimelight Lockdown Livestream July 4th on Twitch
2020: Slimelight Online July 18th on Twitch
2020: Slimelight Online August 1st on Twitch
2020: Absolution ~ 9 hour goth livestream with exclusive performances by Sonsombre and guests on Twitch
2020: Official Stay-In-Fest Aftershow Party with Slimelight on Twitch
2020: Absolution ~ 9 hour goth livestream with exclusive performances Raven Said and Whispers of the Sparrows on Twitch
2020: FangXtasy Festa #12 on Zoom
2020: Absolution ~ 10 hour goth livestream with exclusive performances by Vampires of Rome and Les Longs Adieux on Twitch
2020: Slimelight 33rd Anniversary on Twitch
2020: QXT's livestream on Twitch
2020: Absolution ~ 11 hour goth livestream with Ghosting (first performance by them in over 17 years!) on Twitch
2020: Absolution ~ 11 hour goth livestream with exclusive performances by Valentina Maurino and Folk Fiction on Twitch
2021: Absolution ~ 11 hour goth livestream for New Year's Day with exclusive performances by Obsidian, Les Longs Adieux and Vampires of Rome on Twitch
2021: Absolution ~ 11 hour goth livestream with exclusive performances by On The Floor and The Black Capes on Twitch
2021: Absolution ~ 11 hour goth livestream with exclusive performances by Chaos Bleak and The Necromancer's Union on Twitch
2021: Absolution ~ 11 hour Goth livestream with exclusive performances by Love The Ghost and Les Longs Adieux on Twitch
2021: Absolution ~ 11 hour Goth livestream with exclusive performances by Raven Said, Whispers of the Sparrows and Come to Ruin on Twitch
2021: Absolution ~ 23rd Anniversary of Absolution ~ with performances by Still Patient? and A Cloud of Sparrows on Twitch
2021: Absolution ~ 11 hour Goth livestream with exclusive performances by The Rain Within and ²³INTELLIGENTLIGHT²³ on Twitch
2021: Descent DJ Livestream from Vancouver's Descent nightclub
2021: 5+ hour Goth Tribute to Terminal Gods on Twitch
2021: Absolution ~ 11 hour goth livestream with exclusive performances by Bilian and Z73 on Twitch
2021: Absolution ~ 11 hour goth livestream with exclusive performances by She's in Bauhaus and Teenage Werewolves on Twitch
2022: RedeVamp Carnival ~ International online Festival
2022: Absolution ~ 11 hour goth livestream with exclusive performances by Suffering for Kisses and The Red Moon Macabre on Twitch
2022: Absolution ~ 11 hour goth livestream with exclusive performances by IKON and Les Longs Adieux on Twitch
AWARDS:
2010: BEST GOTHIC DJ / PROMOTER OF ALL TIME presented by Kitty and Mark of NIGHT GALLERY in NYC

RECORD PRODUCTION:
DJ Jason spinning in Coney Island High's Porno Lounge by candlelight in the fog at his
"Classic 80's Goth" Wasteland event ↑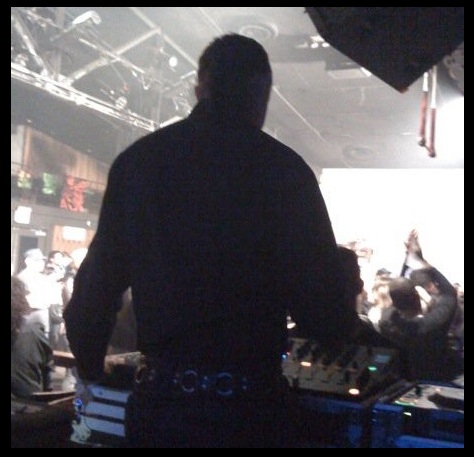 DJ Jason spinning the mainfloor at Highline Ballroom ↑
DJ Jason spinning at his Sundown Fridays event at Flamingo East ↑
I am missing some years, but this is a list of most of the Goth and Industrial, singers and bands, that I have worked with in NYC.
Please note that this does not include most of the live music events at Downtime's Albion Batcave or Albion, where monthly I spun the majority of the night in a smaller upper floor room far from the live music stage. Those were mostly booked by Neville Wells where I was a hired DJ for Albion Batcave.

Gravedance (x2) ~

pic

The Changelings (x2)

~

site

~

pic

Bell, Book & Candle (x2) ~

info

Nomanclature (x2)
Erotomechanics (x3) ~

pic

Furniture
Sabot De Venus
Dead Leaves Rising (x5) ~

discogs

Dorian James (x3) ~

video

The Missing (x2)

~

site

Bitter Grace (x23) ~

wiki

~

video

~

pic

Ash Wednesday (x3)
Black Atmosphere (x2)
KHZ (x3)
The New Creatures (x3) ~

video

~

albums

~

Andrew Eldritch complains

Divine Silence
Thy Spirit Deceived (x2)
Piker Ryan's Folly (x7)

~

wiki

Y Front ~

video

Sabot
The Cruxshadows (first NYC performance)
Tapping the Vein (x5) ~ video
Mors Syphilitica (first performance) (x2)

~

video

~

video2

One of Us (x2)
Bella Morte (first NYC performance) (x8) ~

site

Kristeen Young (x6)

~

site

~

video

Paris by Night's Jeanine
Unto Ashes (x13)

wiki

Reflecting Skin (x2)
Babylonian Tiles (x3)
My Beloved Christ
Murder in the Dark (x5)
Colder thy Kiss (x2) ~

video

NegativeHate
Spiritual Bats (x3) ~

interview

Vampire Nation (x3)
Beauty for Ashes (x3) ~

video

~

pic

Godhead
Miss Lonelyhearts
Crackhead (MSI)
Purience
Spy Society 99 (x2) ~

interview

Plastic Letters
Pizza Whore (featuring En Esch of KMFDM & Trixi of Chrystal Method)
Side 3 (x2)
In Between Blue
Persephone's Veil
The Brickbats (x4)
The Deep Enyde (x4)
The Xecutioners
The Ginger Boys
Margot Day (x2)
Nekromantik Sunshine (x4)
Out of Oz (x2)
Glampire (x3)
Ash Wednesday
Aros
Nova Moturba
Grave New World
Signal to Noise
Sacred Confinement
Otto's Daughter (x8)
The Serpenteens
In Memoriam
Seraphim Shock
X-Possibles
Daisy's Chain
Sanctum
Mr. Monster & the Serpenteens
The Chickletts!
Inade
Ex-Order
The Mirror Reveals (x2)
P.T. Grimm & the Dead Puppies (x2)
The Skabs (x3)
Dead Voices on Air
Not Breathing
Platform One (x9)
Apocalypse Theatre
I Will I (x2)
Chromavoid
The Mystic Underground (x5)
Datura (x11)
The Penumbra
Mikaela
Asmodeus Spectre
Rasp (x5)
Cult of the Psychic Fetus (x4)
Count to Infinity
St. Eve (x8)
The Skabs
The Funeral Crashers (x4)
Glitch
Noisegate
Zipperspy
Gutterpoet
All the Pretty Horses (x2)
Gene Loves Jezebel (x2)
Bela
Damien Youth
Drop Dead Gorgeous (x6)
More Machine Than Man (x4)
Violent Fix (x5)
Love Alien
Acts Magdalena (x2)
Rhea's Obsession
Captured by Robots
Spaceboy
Amenpill
Empire Hideous (x3)
Basque
Johnny Indovina of Human Drama(x4)
Lorin Richards
Jenn Vixx (x2)
Low Sunday
Curse (x9)
Lapis (of Bitter Grace)
Bow Ever Down (x8)
Coven 13
Kundera (x3)
E-Craft
The Drowning Season (x3)
Lavish Blue
Kalma
Coup D'Etat (x2)
Dust DeDayne (x4)
Stendal
Vehemence Realized
Torsion (x7)
Sunshine Blind (x2)
Mindless Faith
The Thin Crawl (x3)
Job (3)
The Jamesons
Vampire Beach Babes
Infidel (x10)
Amber Spyglass (x2)
Charm School
Sins of Lust
Bitter Fall
+ Complex
Gitane Demone
Vulgarus (x5)
Tulip Sweet
Paul Murphy Band
Galvanized (x3)
Salome's Wish
Folk Fiction (x13)
Rosin Coven
Mantik
Untitled Art
Sabrina (x2)
Carfax Abbey (x5)
Package
Impulse
Thou Shalt Not
Nicki Jane (x4)
Chris Connelly & Meg Lee Chin
Killboxx
Anathema Device (x5)
Hate in the Box
Suture.Seven
Dorothy Does Drugs (x2)
Somna M. Bulist (x3)
Marian Nowottny
Chroma
Ego Likeness (x9)
Shredds
The Dirge Carolers (x2)
The Plastic Fantastics
Daisy Grace
Creme Blush
Compugoth
The Naked and the Dead
Secret Cervix
Split Me Wide Open
The Witching Hour
Sapphic Ode (x2)
Myke Hideous ~ video
Eisdrive
Autodrone (x3)
The Dresden Dolls
The Throes (x3)
Ninth House (x9)
The Brides (x2)
Morgan's Canon
The Trinity Project
Torn Paper Dolls (x2)
Ghost Orgy (x4)
Echomatrix
Dreamatorium
Conscious Structure
Turn Pale (x2)
Ebe (x2)
Second Skin (x2)
Shadow Reichenstein
Memphis Morticians
Incus
Godbox
Dirty on Purpose
The Color Guard (x2)
Xero-G (x3)
Dihedral
Vasaria (x4)
Armen Ra (x2)
Audra
Dead Emotion (x3)
Regret
The April Skies
Nerve Meter
desc
Thomas Truax (x2)
In Gowan Ring
Stellarscope
Losing Venus (x4)
Vibralux
Flesh Fetish
A Different State
Elenor Payne (x3)
SiMonsteRn
Halovox
Psychaesthetic
The Raygun Girls (x2)
Broken (x3)
The Vein
Dark Eden (x2)
Get Precious (x2)
Attics Noise
The Evolutionaries
VIRGO
Spielerfrau
Belaqcua
51 Peg (x2)
Violator
The Flying Buttresses (x2)
Polaris (x2)
Cylab
Liz Lysinger
The Animit
Halovox
Twilight Blue
Atomic Box (x2)
I, Synthesist
Revue Noir
Uncle Spooky and the Forgotten Monsters
Encounter Box
Baron Misuraca (x3)
Shattered NYC
Gothos (x2)
Pui
Melvin R. Ylagan
The Wavos (x2)
Karpathos
Seventh Void
Suicide City
Acey Slade
Bambi Killers
The Party Death
dEKAY (x2)
Alia Lorae
Whispers of the Sparrows (x5)
Nekronet
Daegona (x2)
Mark Sinnis
The Spider Lillies (x2)
Strap On Halo
Mecanikill?
Level 2.0
Bryin Dall
Void Vision
Revel Hotel
Black Tape For A Blue Girl
Head Trip Conception
Brighter Fires (The Premiere Performance)
Ingrid & the Defectors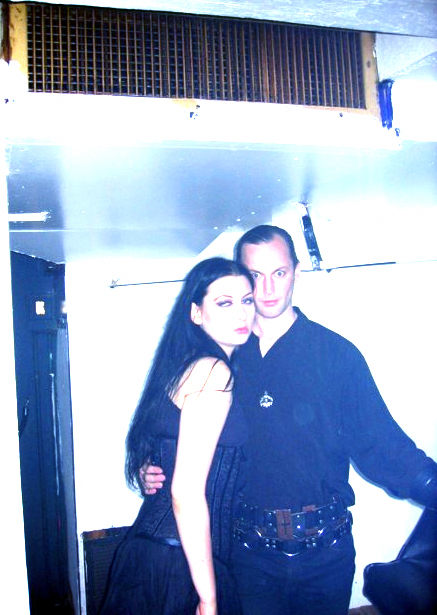 DJ Jason with Dominique during Sundown Fridays at the old Flamingo East, NYC ↑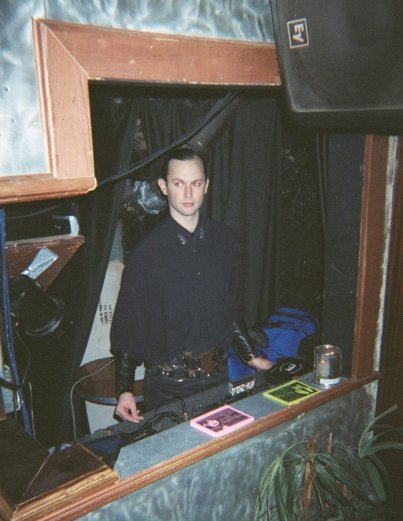 DJ Jason spinning at True for NYC's first Vampire weekly event, Long Black Veil ↑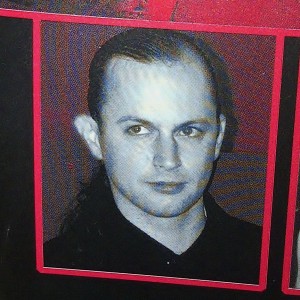 DJ Jason in Voltaire's "What is Goth?" book ↑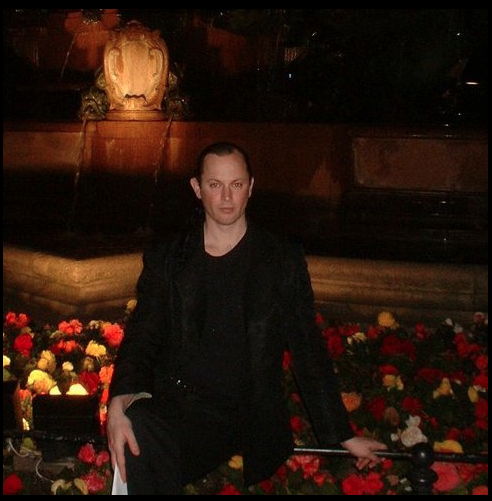 DJ Jason at Wave Gotik Treffen in Leipzig, Germany 2011 ↑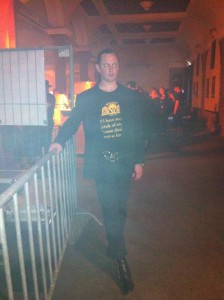 DJ Jason at Wave Gotik Treffen in Leipzig, Germany 2012 ↑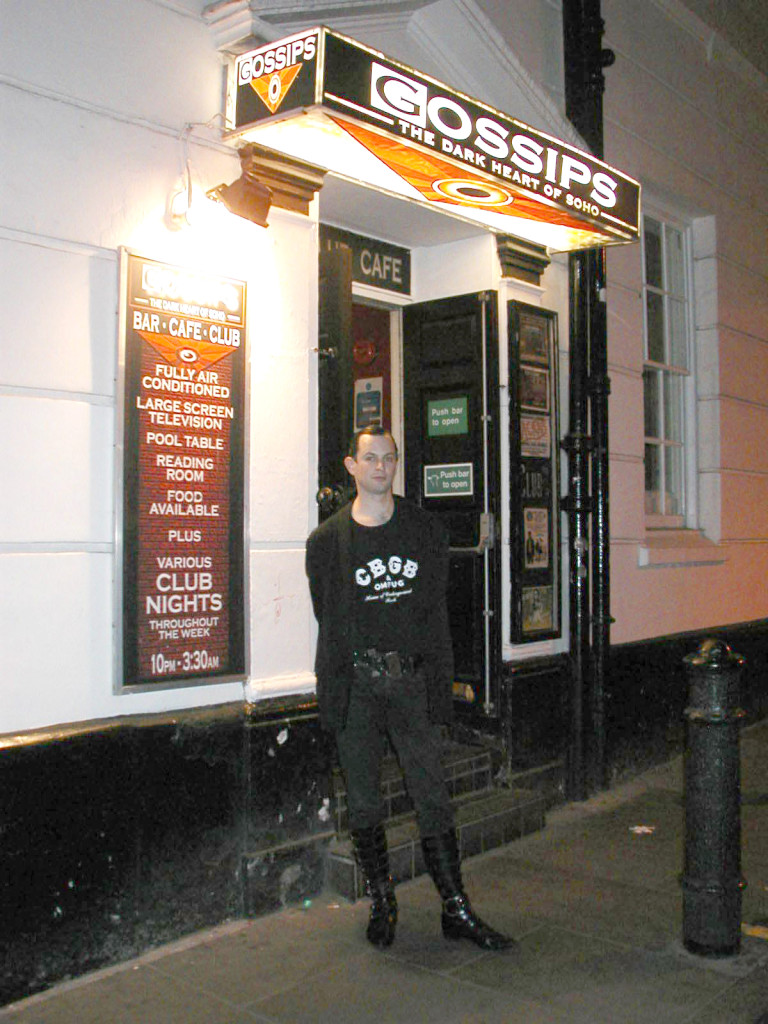 DJ Jason at the original Batcave space in London ↑
A partial list of NYC Nightclubs that DJ Jason has worked in:
CBGBs
CBGBs Basement
CBGBs Gallery
Limelight
The Tunnel
Coney Island High
The Bank
Mother
Downtime
Webster Hall
UC87
Element
Acme Underground
True
The Pyramid
Flamingo East
Life
B.B. King's
Kenny's Castaway's
Uncle Mike's
The Spark
The Slipper Room
Madame X
Lit
Happy Ending
Youth Palace
Spectrum
Salon Bordello
Z-Bar
Korova
Local 269
Tammany Hall
Idle Hands
Public Assembly
Fontana's
Seho
Rubber Monkey
Planet 28
Shine
Club Shelter
Karma
Jekyll & Hyde
DUCK
The Darklight
The Raven
Sanctuary lounge
Collective Unconscious
Lucky 13 Saloon
La Nouvelle Justine
Bamboo
Highline Ballroom
Delancey Lounge
Lillies
Bellevue
Sullivan Room
Don Hill's
La Poisson Rouge
Bowery Poetry Club
Otto's Shrunken Head
Legion
Grand Victory
Luxx
Crossbar
Alphabet Lounge
Avalon
Boulevard Tavern
Hotel Chantelle
Marfa
Identity
Lucky Cheng's
Opaline
The Now ("eggcrates")
Leftfield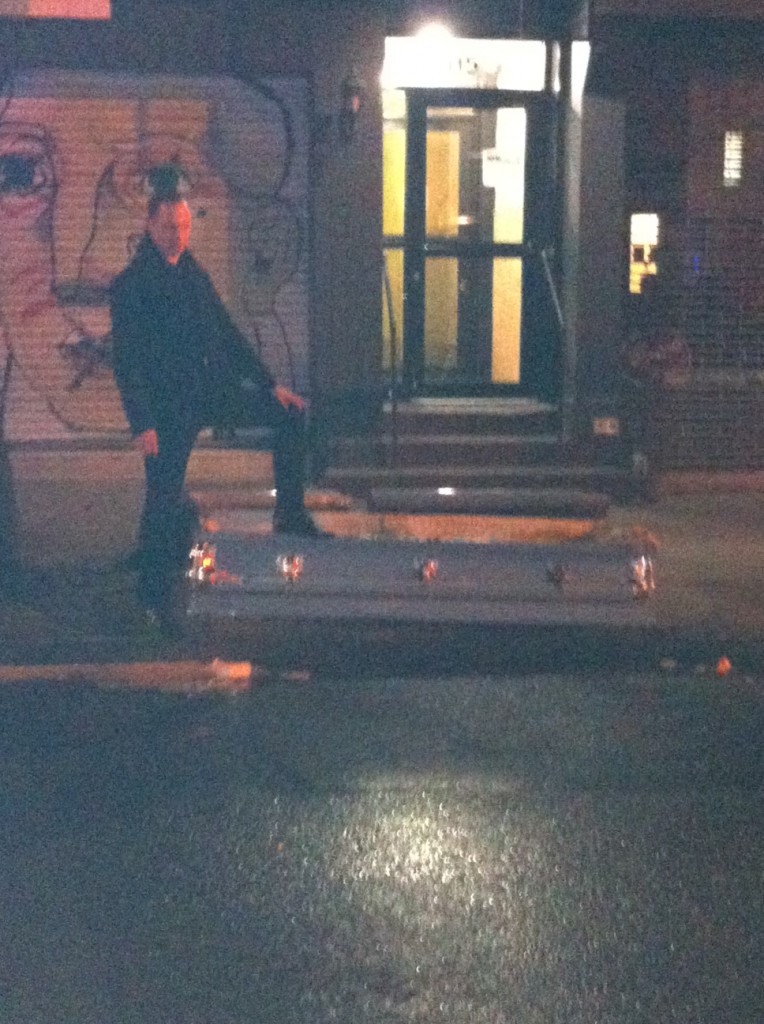 DJ Jason on St. Mark's Place in NYC with a coffin 2012 ↑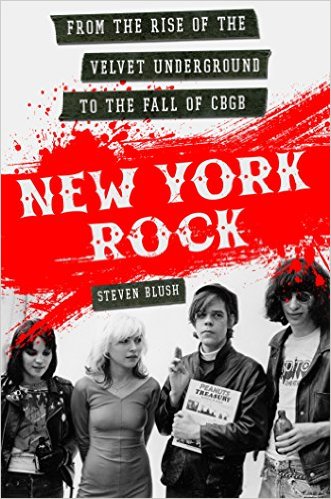 DJ Jason is quoted in this new book on Nightlife and Music Culture by the famous Rock Journalist, Steven Blush ↑
DJ Jason is featured in The Sentimentalist magazine (reprinted here from 2000)
DJ Jason is featured in London's Independent Voice (archived)
DJ Jason is interviewed for the Goth Magazine, Carpe Nocturne
~ Published Fall 2012 ~
DJ Jason interview with Audio Cantrips
DJ Jason on Twitter
Absolution on Facebook
DJ Jason is mentioned in this article on Limelight by Propaganda Magazine
DJ Jason is mentioned in this youtube video by Angela
(at 14:38)
DJ Jason is mentioned in this interview with Sonsombre
DJ Jason is mentioned in this Youtube video interview of Sonsombre by Skullgirdle
DJ Jason is mentioned in this article on Sonsombre by Nikolas Vitus Lagartija
DJ Jason is mentioned in this YouTube UHR video interview with Obsidian

DJ Jason is featured in Procession Magazine (#2)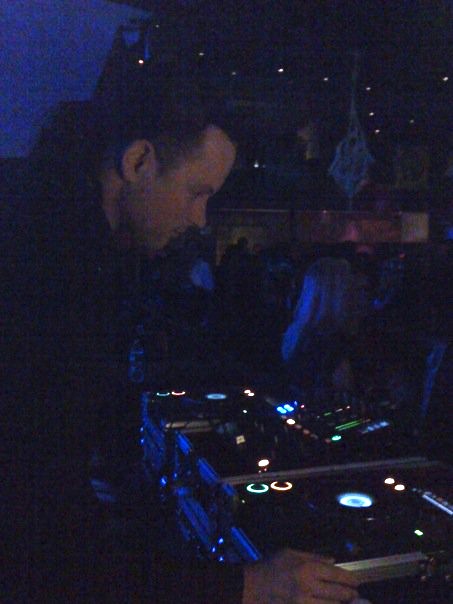 DJ Jason Bio
Hi, My name is Jason. Like most all of the early and original NYC Goth Scene DJs, I use my real name as my DJ name; DJ Jason. I have DJed more Goth events than anyone in the USA.
I think my surviving flyer documentation of my past work speaks for itself, however an additional written Bio was asked for, so here it is
(note: I found it hard to write this since I've done so much work. Please understand that while it may sound like a lot, I am really being very modest. Also, the scale and scope of clubs & nightlife in NYC during it's best years was something that may never exist again. It's difficult to convey that time period especially).
I've been a music enthusiast and serious collector since I was a kid. I started DJing in college. I had my first DJ mixer and Cerwin-Vega speakers in 88 or 89. I loved and still love sound equipment, lighting & of course, fog-machines! I organized parties and events in college. I regularly made mix tapes, organized and DJed music at dorm-house theme-parties (300 to 500 people). Later in graduate school, I had my own FM radio goth show called Necrophiliac Relationship (named after a Rozz Williams lyric).
I loved going to concerts, shows and, later on, nightclub events. For a long time there were no events that played strictly gothic music. "Goth clubs" at that time played mostly mainstream alternative songs and little to no actual goth… but there were great concerts and a lot of fans waiting for good music. A purely Goth nightclub event, Club Darkwave, changed things and became the start of an ongoing New York tradition. I met
DJ Daniel
and
DJ Patrick
before they were DJs, back when
DJ David
of Club Darkwave was the first & only NYC pure Goth DJ (to be joined later by
DJ Vanessa Miasma
who later became the first all-Goth DJ to spin at The BANK when it was a new club). In between College (BFA) and Graduate School (MFA), I managed an underground record store called Secret Sounds. Later, because no one else with as comprehensive of a music collection was available, I was recruited to DJ and reluctantly started spinning (and promoting) in Manhattan. I consider this to be my start as as a *real DJ* and as a professional promoter, since I was making a living from my work for the first time.
Alchemy
Mondays began in Sept. 1996 and ended in 2006. It was a weekly event at CBGB's Gallery. The club space was the largest that any pure-Goth event ever had in NYC history. I was the only DJ during open hours. Most events then only had one DJ per room and our door girl/co-promoter, Althea, only sometimes spun after the entry door was closed and her shift was over.
Alchemy
was a very big hit from the start. It fast became the underground Pure-Goth pillar of the NYC scene and innovated many later standard promotional ideas, tactics and themes for events the world over. While, exceptionally successful and popular,
Alchemy
, New York City's longest running pure goth night, was also was in the NYC musical tradition of past short-lived pure goth nights like Club Darkwave with DJ David, Tocsin with DJ Daniel and some small nights featuring DJ Patrick such as the original version of Salvation (run by my friend James Galus). In addition,
Alchemy
hosted between one and three live gothic, synth and/or industrial bands (at 11pm) almost every week. My
Alchemy
Co-promoter, Althea, and I traveled to the best goth festivals in the UK and to (somewhat later) WGT in Germany annually, so I was always able to play the very best cutting edge underground songs. No other DJ in the scene had as much specific music, old or new. Very few people guest DJed at
Alchemy
, but many wished to. I made sure to get all of the DJs from other events bookings at Absolution instead. Some of
Alchemy
's memorable theme events were "the Miss Gothic NYC Pageant" an annual event, "Bash Fat Bob" a Cure Tribute party with a Robert Smith piñata, "Gothic Lipsynch night", a crazy competition & "Secret Satan" an annual gothic gift exchange. People loved the annual "Gothic Easter Hunt" we hosted too. Every Egg had a drink ticket in it. Previous to
Alchemy
, there were no goth nights with theme events in NYC outside of the regular holiday parties.
I did a night with James Galus called
Shadowplay
(weekly) where I booked 6 djs to spin on the same day. This number of DJs in one room was unheard of previously. Later, in 98, I started the irregularly running multi-dj Absolution event. At first I only booked Goth DJs, but since it was so successful, Industrial and New Wave DJs were added to the 2nd smaller room (24 djs total at max). My bookings were staunchly against cronyism, as they included all worthy people. It was held in CBGB's basement, the Limelight, Flamingo East, Seho, Alphabet Lounge (only once, due to a disaster at the Limelight!) & in the more recent years @ Youth Palace, UC 87, The Annex, Fontanas & Tammany Hall. Absolution helped almost all of the current scene (then young) DJs by giving them nice dance floors and big crowds to spin to, promote to and network with. It was the largest Gothic event in the city outside of The BANK's mainstream alternative Saturday night, which was very commercial in contrast.
1997 also was when
Wasteland
(monthly, then weekly) at the famous Coney Island High rock & roll club started. It was the first "Classic Goth" retro themed night (70s and 80s goth only) in NYC and was a precursor to the Death Rock revival movement in NYC. Joey Ramone's Brother was the bartender and it stayed open so late that it was always light outside when we left.
I spun the main floor for one the earliest big NYC Vampyre nights, Flesh and Blood at The Bank, and later (a solo room weekly) at
Long Black Veil
at Mother through to it's death and rebirth as Xorvia at True nightclub. After Xorvia ended, I DJed and co-promoted a weekly called Electra-City at the same club with Ian FFord and Hal Gould (The BANK). I spun in place of Patrick at Albion/Batcave and later at Albion Saturdays every month including it's very last night.
I spun my own floor for DJ Father Jeff's return to the nightlife at the weekly Radio Deutchland (run by DJ Ash) @ the Pyramid and later for Father Jeff's Ward 6. Later, I hired DJ Father Jeff, DJ Ian FFord & DJ Jarek to spin with me for my two level
Sundown
Fridays weekly event.
I was the only DJ at the monthly The Court of Lazarus from it's time at Jeckle and Hyde (2002) through to 2007 at the Slipper room.
I spun in my own room in two of Peter Gatien's legendary mega-clubs, the Limelight for Communion weekly, and the Tunnel for The Prophesy. Overseas, I was invited to spin at Cafe Noir at the original Batcave space, Gossips, in the UK, but chose to only spin at The Slimelight in "the Goth room", since London's Cafe Noir in the Gossips space at that time was too obsessed with synth-pop (which I don't spin). btw, I also spun at the NYC edition of Slimelight. There were a great many other brief club nights I worked at also, but the previously mentioned were all long running or very important to the scene.
I have had near countless special appearance DJ spots too, such as Click and Drag @ Mother, Exedor @ the Bank & @ The Pyramid, Heroes @ Mother, Sanctuary @ Sanctuary, Church @ Avalon (formerly the Limelight) and many, many more. I was spinning in different clubs 4 or 5 nights (4 to 6 hours per night each) a week on average. One October, I was paid to spin at separate large events in NYC every day for the entire month. For ten years, Ian FFord and I were the only 2 truly "professional" DJs in the industry. We had no time for other work at all. I was the most popular, respected and in demand Pure-Goth New York DJ for those ten years in NYC's gothic industrial scene. (btw, not surprisingly, I am also easily the most experienced Goth DJ in NYC with many times the most hours on the decks) It was commonly said that I was "the glue that binds the scene together", since I was at all of the events throughout the week and since I brought together DJs (many of whom didn't like each other) from the various corners of the scene for Absolution. Master Steelow, of Funhouse, and other promoters called me the "King of Goth", which is nice in retrospect.
All of this while, I was teaching, grooming and giving CDRs (I had a professional "stand alone" CD recorder years before computer burners were affordable) to many new (and some old) DJs. I started and resurrected more DJs than any other promoter in NYC's gothic scene. I also created, judged, produced and ran NYC's GOTH AWARD SHOW (with Voltaire as MC in 2004) handing out awards for categories like "Longest Running Event", "Best Door Person", "Longest Running Goth DJ", etc, etc. It was a very funny event and well enjoyed by all that attended. A few DJs even used their awards as tag-lines for years after.
For personal reasons involving both a relationship breakup and family promises, I had to leave NYC for over a year starting in early 2008. I had insured that my old nightclub and promoting jobs would go to people I thought were friends.
Thanks to DJ Xtine, a fellow veteran promoter and Limelight alumnus, I returned to NYC in 2009 and resumed doing the old scene's favorite night, ABSOLUTION, (for more info: www. absolution.nyc) in an effort to breathe some life and dignity into the surprisingly weakened and fairly ruined NYC Gothic Industrial scene. Everything in NYC fell apart after Alchemy ended (2006). Returning, I found the best clubs had closed and many venues were in the process of closing. The scene was in shambles and very embarrassing, since it used to be the best in the world. Anyway, some "faith in goth" for NYC was partially restored with the Absolution event, though on a smaller scale. Again, Absolution featured all of the stars in the local scene as well as hosted many record release parties and tour promotions. I also resumed bringing underground gothic bands to NYC with a biweekly goth band event on Saturdays called INCANTATION that also featured local and touring dark acts (5 to 7 bands every two weeks). DJ Xtine and I also DJed a weekly Tuesday called La Petite Morte at three locations. It was free entry with an open bar window of time. She also spun with me at Atlantis and Through The Mirror, both Absolution sponsored events. Through The Mirror was biweekly with a cultural and calendar related goth theme and Atlantis was a weekly dance event.
Unfortunately, I had a serious accident in 2013 that resulted in a bad wound and my hand tendon being cut. I had to abandon all of my ongoing promoter and DJ work in NYC and recover out of state. This was sad since the years of efforts put in to restore the scene in NYC were far from complete. Other health issues from working so hard in the city plagued me. In 2014, I was still recovering from ill health, but I did some great guest DJ work in NYC at Hotel Chantelle for Jeremy Bastard. I also made a great effort to offer more goth band interviews and goth music articles through this website, which I continue to maintain and curate. While outside of my specialized genres and music related events, I started work for TEDxFultonStreet also in 2014, and continue to this day (2020) as Senior Producer there. Since 2018, I have been DJing some exciting events in Florida for a change in nightclubs both in Miami and West Palm Beach.
Also, in 2018, I did album production for
Sonsombre
's 2nd album under the working title, "Candle". It was released in June 2019 as "The Veils of Ending" on Compact Disc & Vinyl LP record. Several singles have been released from the album including
Between
and
Fear
, both excellent tracks. Since then, I produced Sonsombre's 3rd album, "One Thousand Graves" which was released on January 21st 2020 via Cleopatra Records. I finished working on their 4th album, Revival, also last year (2020). It will be released in 2021 on Cleopatra Records.
On the topic of album releases, the famous german goth band, Ghosting, have a brand new 2019 Remakes album that was released on October 16th. It was kindly dedicated to me. I am very flattered since they are one of my favorite bands, and while I've had many goth albums credit me and even some songs written about me by other artists, I've never had a dedication before.
You can download the new Ghosting album here for free
.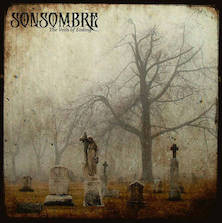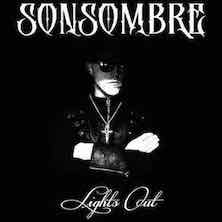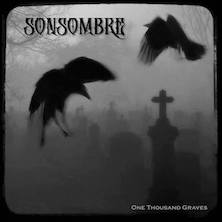 During the COVID19 problems, with all of the clubs being closed for so long, I live streamed a 5+ hour Goth show with me DJing new, classic, rare and unreleased Goth via Twitch every Monday and Friday. Now that the lockdown measures are lifted, I am only doing Mondays weekly (5+ hours) and once a month for Friday (the special 11 hour Absolution event). The show's atmosphere continues to be replete with fog, nightclub lighting and sound. Here is the link to the Twitch channel, djjasonspinsgoth.
DJ JASON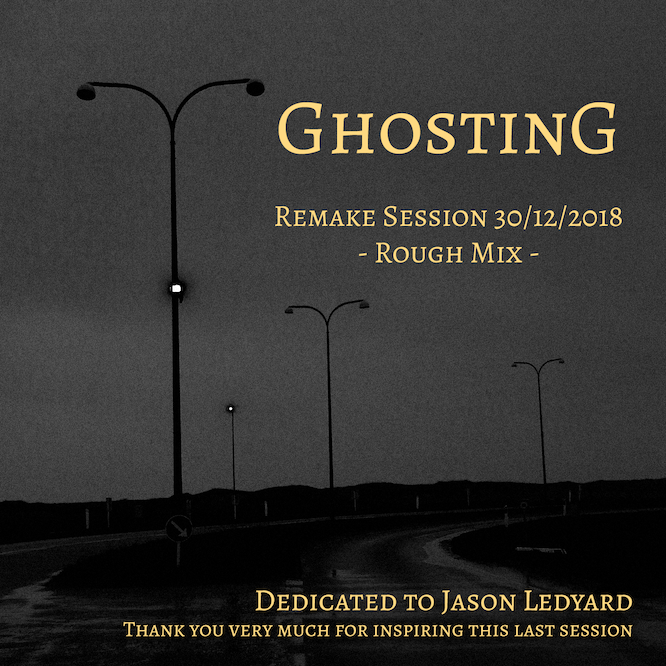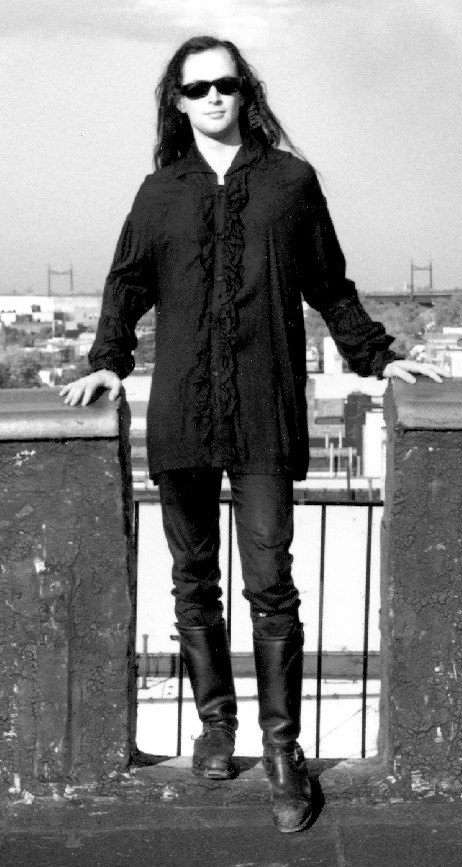 DJ Jason from a Manic Panic fashion photoshoot in the mid-90s ↑
Photographer:
Susi Pidgeon Wardrobe: Steve Mach for Manic Panic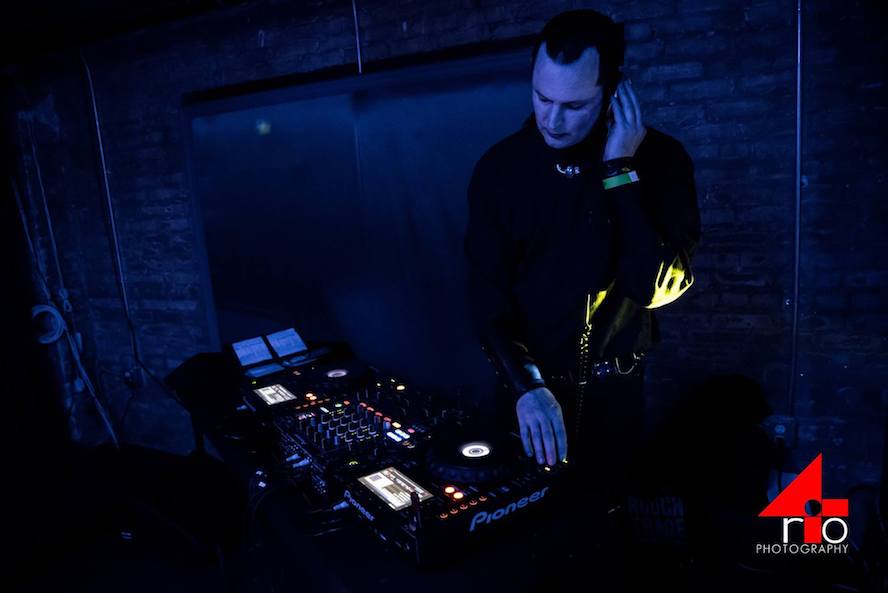 DJ Jason spinning goth at Voltaire nightclub in West Palm Beach, Florida 2018
This photo by
4RIO Photography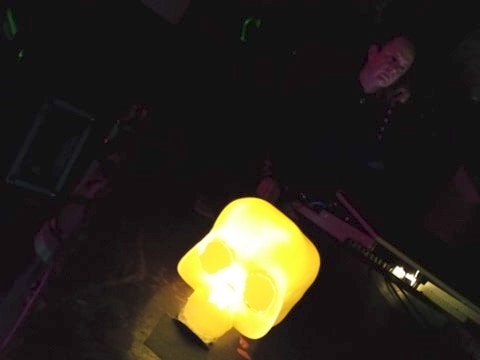 DJ Jason spinning Goth in Miami, Florida at Churchill's for Phlebotomy 2020
DJ Jason spinning Goth for his weekly livestream on Twitch during Covid 2021
For Bookings only, contact: djjasonofalchemy@gmail.com