~Accommodations and scheduling for the Interview created by DJ Jason~
Hello Evan, how are you doing today? Mind doing a bit of an intro for the band for readers outside the goth scene? We've got a diverse readership here so it's a good chance to get those who may not know Lestat into the loop.
Absolutely. Lestat has been around since 1989, and we come from Cleveland, Ohio. We came about in the early start of the Darkwave movement, using electronic instruments and sampling over the standard electric style that most Goth bands of the time were using. During our initial time together, up until the year 2000, we had three full length releases. We broke up in 2000, and reunited in 2010 with a new lineup and several original members. Since then, we signed with Nilaihah Records and have unleashed our first CD in over 15 years entitled "Arisen".
For starters, the band has been active on and off since the early 90's, and you've released four albums starting with "Theatre of The Vampires" in '90. Given that the landscape for the goth scene has changed so much and that the label itself has become much more slippery given new people getting into the scene who don't know about the original 80's bands, has it been a challenge to figure out what works for the band members and for your fans? You've never been shy about adding industrial flourishes alongside the goth rock elements which does set you apart a bit from other bands.
Good question. I think the biggest challenge is the biggest benefit for musicians since our first go around. The advent of the internet has made it super easy for bands and musicians to get their music to a very large audience very quickly. This has caused a glut of music, and seriously crippled major labels, which many people would say is a good thing.
Another major shift is a flip from the old business model of making money off of your music and touring to support it, to exactly the opposite. This is largely due to music downloads being so much cheaper, and ways for people to copy and share music for free.
So now, bands are being forced to become musicians, promoters, web designers, social media experts, distributers and salesmen, rather than just create art and perform. Personally, I wish I could just devote all my time to the art, but that just isn't feasible in today's world. Some musicians are very good at it, and others struggle.
As far as our sound goes, it's the one thing we haven't been willing to change throughout the years, even with our new line up and more organic sound. It makes it tough for people to categorize us, or stick Lestat into a nice, neat label, but you'll find that's not easy to do. At the heart, we are truly Goth, but it would be a fallacy to call us just that. It would be very easy to bend our sound into an easier to digest music style, but that's not something we're interested in doing.
Ok, the band also did the Age of Decay festival a couple years ago, which was a grassroots festival, I know turnout wasn't as large as expected but the bands on the bill with you made for a hell of a line up. How were you contacted for inclusion on the roster? I know you had Tim Curry formerly of the Cruxshadows there, Ex-Voto, Asylum XIII and some industry alumni's on DJ duties as well.
We had a blast that night. People who didn't make it out REALLY missed a great event. Much props to the AoD folks for pulling that together. All the bands were so solid that night, and we made a lot of good friends there. Our manager Gloom actually helped us to get on that bill, along with Alethea. Perhaps someday, we'll be able to revisit another?
The band was also included on the now legendary Goth Box released by Cleopatra. Did the label requests specific tracks of you or did the band have more say in what ended up making the cut?  I know it can be a bit of a mess after a while negotiating what you want to be let loose into the world because it's a direct representation of the band.
You'll have to forgive me, but that was quite some time ago, so I'm relying on old memories. If I remember correctly, we had the option to choose the song, and went with "?" because it best represented the band at that time. It had all the elements of our music that made us what we were. The speaking parts in the break, the industrial drums, Jess' inspired lyrics, the Roddy samples and of course Susan's beautiful guitar melodies.
We're so grateful for the Goth Box, because it helped drive our music to a much broader audience.
Speaking of compilations, I hear that you have a new box set coming out, I assume it will be a retrospective of the bands work from the beginning with the early 90's material to the present day? Any hidden cuts that will make their way into the set?
We do, indeed! In fact, we just launched our Kickstarter campaign to fund it this past week. More details at our website. And yes, this is all of our material from 1989-2000, so nothing from the new lineup will be included in this box set. However, our last release "Arisen" is available as one of the additional rewards for some of the higher ticket items of the campaign. We're calling it "Prelude".
The set includes 4 cd's with "Theatre of the Vampires", "Grave Desires" and "Vision of Sorrows", as well as an extras disc with remixes and an unreleased track from 1989. There's also a DVD with live footage from several shows and new commentary from members past and present. Lastly, there is a 24 page booklet featuring the original credits of each release, never before released lyrics and unseen live and promotional photos from that time period.
While the band was on hiatus, I know you took time to front another project of yours that had to do exclusively with metal, PKS. Did it help keep the proverbial cobwebs dusted off to keep performing in the wake of Lestat's temporary dissolution?
Good question. I really never expected Lestat to come back together, so I devoted that time to training my voice for less singing, more growling and screaming. It really takes a toll on you after a few years, and PKS was together for almost 10 years. Although we started out in the Rob Zombie, KMFDM, Ministry vein, we evolved into a brutal math metal sound, much like Meshuggah. Ultimately, we had the chance to play with both Meshuggah AND Ministry on the same night, which was just fantastic.
After PKS split and Lestat reformed, I found that transitioning back into singing was much easier than I expected. It did help quite a bit that I had kept on performing during the hiatus, but I can tell you that Susan has been amazing, in that she did NOT continue performing, and you'd never know it.
I have to ask as a bit of a nerd/pop culture thing but I heard that Anne Rice is finally doing another book featuring the band's name sake hero, are you and the band excited about this? I imagine it must be a good feeling to see a direct influence being brought to light again not only for fans of the book but to show that the band by proxy has a pop cultural awareness that is refreshing.
The timing is unbelievable. I couldn't be more excited to read her upcoming book to see where she has decided to drive the characters. I hear its taking place in current times, which should make for very interesting plot lines.
We've done our very best over the years to make sure that our fans understand that we have taken the name with all due respect, and continue to treat it with love as much as we hope Anne would want us to. We may have been a little heavy handed with our imagery in the beginning, but we soon came to realize that the band and the books are very different things. Although we have decided to use the name Lestat, it really should be Anne who tells the stories.
So what new work do you have coming up for people's listening pleasure and also do you have any live dates coming up in the U.S. that you'd like to broadcast?
We are currently working on our next release, and we're fairly deep into it. Don't hold me to it, but I would love to see it come out sometime late this year, perhaps winter time. We are just starting to assemble some dates with our manager, but for now we have April 24th in Chesapeake, Virginia with Asylum XIII and Proceed the Eye.
I also JUST started putting together the release show for "Prelude" in our hometown of Cleveland.
I noticed that the band has a penchant for heavy atmospherics sometimes leading to instrumental only tracks with looping and sampling playing prominent parts, is it because the band wants to make a bit of a departure from a traditional album and do something that is more of an aural experience intertwined with tracks that have a more routine structure?
I think the instrumental tracks let us play in the dark sandbox of our roots for awhile. When we first started writing original songs, they would flow out of us and go in really unique and bizarre directions. The first writing of our song "Passing" clocked in at 15 minutes!
As we started refining our writing process and crafting actual songs, we found we still had the need to just get weird. I think that's the best outlet for us to do so. You'll continue to see that happen as we move into the next release. And, I have to admit, it's really fun digging in deep and getting dark on some of those tracks. The unreleased song on the "Prelude" box set is a perfect example of that.
One thing I like to ask on occasion is that some bands prefer large scale venues to play such as festival stages or warehouses whilst others like the intimacy of a small club. Do you prefer smaller venues with the club culture that goes with it or the former?
You know, I really just love performing. It's my personal favorite aspect of music, over writing and studio work. There is something to be said about intimacy with a smaller audience, but blowing the roof off to a full crowd is quite a rush. I can't say I prefer one over the other, because I've fallen in love with a night in both scenarios. The one aspect I can say is lovely with a larger crowd is winning over people who had never heard your work before. That's a great feeling.
To begin wrapping things up, where do you take your vocal cues from as a singer?
Most of my original influence comes from David Gahan of Depeche Mode and Peter Murphy, honestly. I love so many different vocalists, but as a baritone, it's tough to hit some of them because they're so far out of my range.
Lastly, any parting words for readers?
To our fans, thank you ever so much for all your support. To any new listeners we may have out there, I encourage you to give us a listen, and not just to one song. We vary styles quickly from song to song.
To those of you who proudly wave the Goth flag, I ask that you help to spread the word and music to help propagate the lifestyle. And help your bands and musicians by going to see shows and getting out to your local clubs to hear their music. Without you all, we have no one to play for!
If anyone is interested, visit us at www.lestatmusic.com. There are many links to our social media sites, such as Facebook and Twitter, and you can also get the link to our ongoing Kickstarter campaign for "Prelude". Every last bit helps!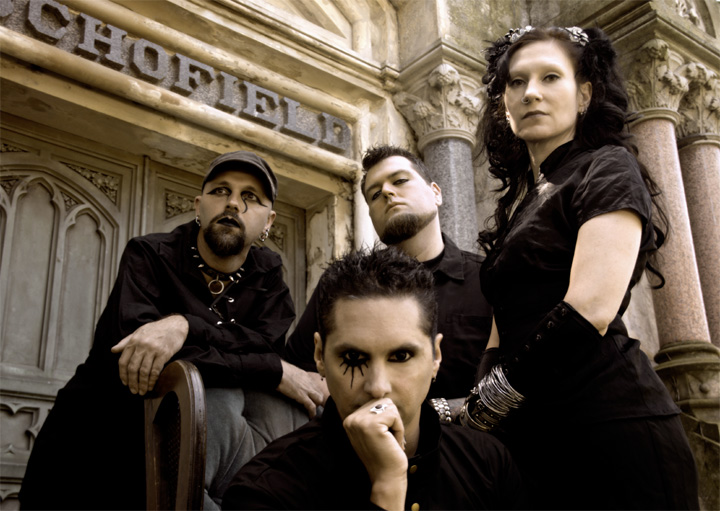 ~ Lestat live show concert flyers  below ↓~