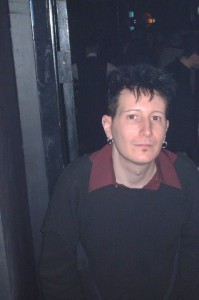 A well known DJ, DJ Patrick comes from a tradition of NYC pure goth DJs who include, DJ David, DJ Scandal, DJ Vanessa before him and DJ Daniel, DJ Jason and DJ Charlie the Slut after him. Impressively, DJ Patrick has a very long history of working for promoters on Saturdays in NYC.  DJ Patrick was mostly used as a secondary DJ in a side room or smaller room, since he was a specialist goth style DJ with narrow tastes and not a mainfloor DJ. First appearing at DJ Reese's Stigmata event at the Pyramid as the downstairs goth DJ, DJ Patrick was a new talent in 1992.   Soon after, Patrick replaced the original basement level "all goth" DJ, DJ Vanessa (who also spun at Stigmata), at The Bank during the relatively short time DJ Father Jeff's Ward 6 Saturdays party was there (1992-1993). Ward 6 had all 80s alternative music in the mainroom and featured good gothic music downstairs where a group of goths were gathering. When promoters Dale & Laura (Exedor Saturdays) took over The Bank (1993) the newcomer DJ Daniel got DJ Patrick's position as secondary DJ.  In an effort to compete with The Bank, DJ Patrick was soon hired by Communion's Neville Wells to spin at The Batcave at Downtime. Every Saturday he spun in the same room with the industrial DJ, DJ Bent (aka DJ Hellraver) and main floor alternative DJ, DJ Rob Xian. Back then, Downtime's DJs only had one small upstairs room and a bathroom.  Possibly due to competition with The Bank, The Batcave was generally only crowded when it had concerts featuring big goth or industrial bands which Neville Welles booked for the downstairs DJ-less band room.   That room normally had many ordinary rock bands each night.   Many years passed until The Batcave stopped doing Saturdays and was forced to move towards only being open on the occasional Sunday (timed with the federal holidays).  Meanwhile, Dale and Laura (of Exedor Saturdays) were soon dismissed from The Bank by Hal (who was the manager of The Bank before he became a promoter).  Dale and Laura got into a bidding war over DJ Daniel's pay with Hal.  Dale and Laura won, kept DJ Daniel and Dale and Laura moved the longest running Bank party, Exedor Saturdays, to Coney Island High (briefly) and then to The Pyramid.  DJ Patrick was then (1997) chosen by Hal to spin again at The Bank for Albion Saturdays. Hal had remembered DJ Patrick from when DJ Patrick worked at The Bank back when he was a new DJ.  DJ Patrick was also spinning for DJ Bent's (aka DJ Hellraver) weekly Corrosion Tuesdays which was also at The Bank, so he was easily found. When The Bank's owner kicked out Hal (in order to renovate and change the venue's name), Albion Saturdays moved to Downtime in a merger with The Batcave resulting in a new party called Albion/Batcave at Downtime.  During or after the time that The Batcave had been on Sundays, the venue, Downtime, added an enormous new mainfloor room (which DJ Ian FFord later used to a remarkable effect), so the party was ready to take on much larger crowds than before.  In 2004, Albion/Batcave promoter Neville Wells was forced to leave the business and Albion/Batcave (and most of the star band bookings) ended.  Hal used the old name Albion again to promote this new party. Anyway, DJ Patrick stayed with Saturdays through these changes, spinning with DJ Grendel & DJ Cyn three times a month (DJ Jason spun in place of DJ Patrick every fourth week through Albion/Batcave and the later Albion Saturdays) at these parties in the same small room that used to be the entire dance area back when it was the original Batcave.  Sadly, Albion Saturdays lost it's star mainfloor DJ, DJ Ian FFord, and was thereafter unable to keep it's crowd happy (2006). Subsequently, Albion Saturdays closed and reopened as a very short lived Albion Fridays weekly party that also included DJ Patrick.
For the sake of the origin of the name, it's worth mentioning that many years ago, DJ Patrick spun good Gothic Rock at James Galus's and Rob Tier's notable, if small, Salvation Sundays (1993) party at Den of Thieves with the excellent post-goth & ritual wave DJ Michael 23, as well as in his own large room at the Limelight on a later edition of the famous Communion Tuesdays.
DJ Patrick currently shares one dancefloor with DJ Cyn, a techno-industrial-ebm-synthpop DJ, at a party also called Salvation (named after the James Galus sunday event) that is held once in while.  This is a very different party than the Salvation that James Galus once promoted.   DJ Patrick no longer spins purely Gothic Rock music.  Now he spins Ethereal, lots of hipster influenced "Dark Indie" and the lighter shades of Goth mixed with some New Wave.  For many years, DJ Patrick's taste had been changing.  Now that DJ Patrick has started promoting (for the first time in mid 2007 with Salvation 2.0), his music is less Goth than in the past.