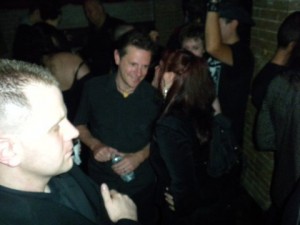 DJ Daniel started spinning music in Long Island in 1990. DJ Daniel is best known for his many years doing the Exedor Saturday party at The BANK, however. Dale and Laura's Exedor party was the longest running Saturday party at The BANK (the other 2, Ward 6 & Albion, were comparatively very brief) and the first to have a fully gothic crowd. While DJ Cry Wolf spun hits on the mainfloor, DJ Daniel spun great new gothic music to a room with walls dripping from sweat. Every Saturday, DJ Daniel spun all-goth alone in "the goth room" at The BANK for the vast majority of the time that club was open. DJ Sergio and DJ Jason also spun with (or in place of) DJ Daniel for the Exedor party when Daniel was away or on a break.
DJ Daniel also did Althea's famous Tocsin party (1995) at The Far Side (the club that later became Meow Mix & Vasmay). DJ Daniel spun the whole night and for NYC's first time had a very solid gothic dance floor on a weekday night. Tocsin raised the bar for all of the "pure goth" parties to come.  DJ Daniel also spun for the first version of Wasteland in 1995.
DJ Daniel was the first NYC Goth DJ to do 2 weekly goth nights a week.
DJ Daniel also spun special events like his birthday parties at The Now (egg-crates, BYOB) and the Pyramid. He also spun abroad to a gigantic crowd in Ibiza.
DJ Daniel is semi-retired now, but still spins for Absolution from time to time.
DJ Residencies
1992- 1998 EXEDOR SATURDAYS at The BANK, Coney Island High and The Pyramid
1995- 1996 TOCSIN at the Far Side, Chameleon and Alcatraz
1995            WASTELAND at Coney Island High (main floor)