Picture below:
DJ Vanessa
spinning at Absolution at Limelight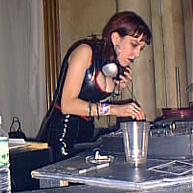 DJ Vanessa (aka DJ Fraulein Vanessa Misama) is one of the pioneers of NYC's underground goth scene. DJ Vanessa

produced and DJed, the alternative night,

Damnation

, with

DJ Craig Curiosity 

in 1989

.   This caught the attention of 

DJ Reese

(of

Limelight's famed Communion)

who teamed up with them to do a night called

Purgatory

at the space which was to become

Mother.  In 1991, DJ Vanessa went

to

The Pyramid

with

Producer/DJ Reese to

form the long running weekly party,

Stigmata

Fridays.  In 1992,

DJ Father Jeff started doing his

Ward 6 

Saturdays Alternative event at

The Bank

.  
DJ Father Jeff
hired DJ Vanessa to spin an all Gothic Rock format weekly.  DJ Vanessa was the first all Goth DJ to spin at The Bank for Saturdays and the first to spin the downstairs basement level.   Not only was she well known for her time spinning at Ward 6 Saturdays and Stigmata Fridays, she personally promoted and DJed many good live concerts at Tilt and elsewhere with the Producer, Neville Wells

and DJ/Producer

Tony Fletcher

(both also of Limelight's Communion).  She was long active through the busiest and best time periods of NYC's scene.
A long time supporter and participant of Absolution, she is currently promoting and DJing parties in London England with her husband, Derek.