DJ Reese was one of the pioneers of the NYC Goth Industrial scene.  "Borne out of a desperate need for an alternative club in Manhattan", DJ Reese, Vanessa Miasma and Craig Curiosity created Purgatory at W14th & Washington "Troublemaker" (later to become Mother nightclub) in 1990.  From Purgatory, Reese brought the same team of people  to The Pyramid for Stigmata for every Friday night.  Stigmata was the place to be in the underground scene for 2+ very popular years.  DJ Reese was also talented at bringing great live shows to NYC.  During one New Music Seminar, DJ Reese set a record of over 900 people through the door at The Pyramid.  A well known alternative music DJ, DJ Reese also worked at the Limelight for Communion's Utopia, Smack, Troublemaker and other nights.  Those years were the peak for creativity and professionalism in alternative culture at the Limelight.
DJ Reese's contribution to NYC alternative nightlife can not be undervalued, since he helped pave the way for all that came after him.  Rest In Peace, DJ Reese.  You are dearly missed.
~DJ Jason 
~
DJ Reese
~
October 28th I heard of the most upsetting news I could have possibly heard during the wreck and havoc of Hurricane Sandy.  "Your friend Reese died, did you hear?"
I started spinning in the late 80s and met Reese during that time (might have been 1990).  Reese was an incredible good person and a lot of fun to DJ with.  I remember those years spinning as a regular or guest , we shared turntables a few times (back when it was heavy crates of wax records!) at Michael T's "New York Nights", "Communion" or "Disco 2000" at The Limelight, "Troublemaker" at Jackie 60, "Censored" at The Building or  "Damnation" at The Bank.   No matter where I was spinning, Reese tried to come by and say hi for support even if he was spinning later on that evening at some other venue.  (I never did thank you enough for that gift you brought to me when I was spinning at Berlin) .  He was always helpful and very open to sharing some of his favorite mixes with me (Front 242 and Nitzer Ebb come to mind).  One in particular that is "his" mix, I used many of times after and always appreciated his insight to beats, music, etc.
I cherish those years of working with Reese, Samantha, Michael T, Countess Jessica (door bitch), Vanessa Miasma, Craig Curiosity, Michael Alig, Allen Sanctuary and so many more… Back then if you were into Gothic, Industrial, early Electro-Trance or even Punk – you had so many clubs to go to every night to blow off some steam.  Reese was part of  making that culture and we all collectively did something really great back then without even knowing it.
A few month ago, we talked about a possible "Industrial" reunion of sorts here in NYC.  He wanted (after many talks to convince him) to do a night together and maybe invite a bunch of  DJs in the scene from then and now.  It would have been quite the night…
Rest in peace my brother, my life is better for having knowing you…
You are finally free…
 ~Erick, aka Dj.Eritch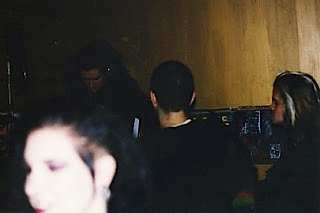 DJ Reese with fans
Limelight Communion Flyers
Reese's musical style brought a whole new dimension to the NYC alternative scene. He helped create a cauldron full of good times that will never be matched, and that we won't ever forget.
~ Vanessa Miasma
Limelight Communion Flyers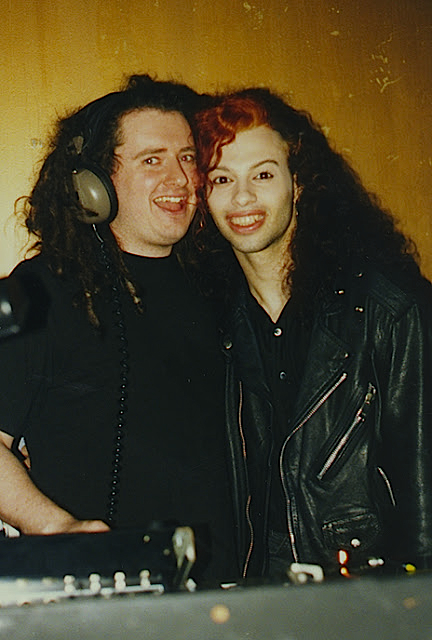 DJ Reese with Michael T
Pyramid Stigmata Flyers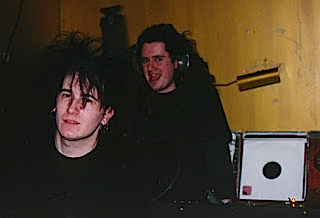 DJ Reese with fan