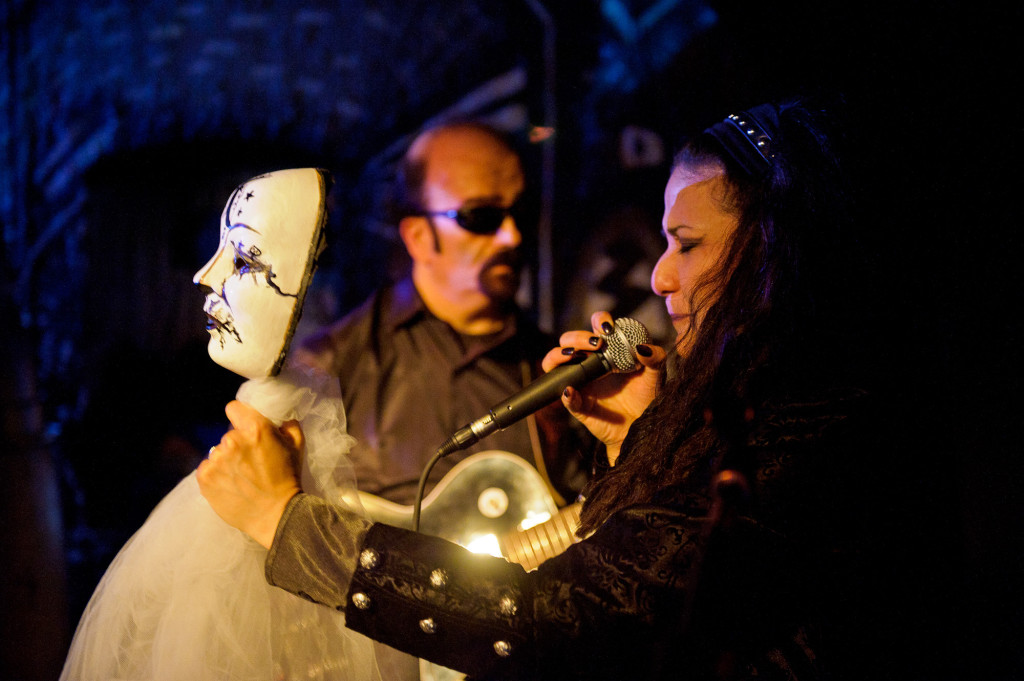 Interview with The Spiritual Bat by DJ Jason
What made you choose your name? Does it have any particular meaning for you or a story behind its choice? Some may know the original 1992 name was Spiritual Bats, plural, and it was created by the bands co-founder and first singer  (with Dario)
Dario: Right, Matteo and I started the project back then… In 1993 we released a vinyl ep, Spiritual Bats.  The name had come from Matteo, who wrote lyrics to my music.  When after many line-up changes Matteo and I decided to go our separate ways, around 2004, he considered this project dead, I didn't.  I personally didn't feel dead at all, the name fit me perfectly, in my personal dimension of shadows.  I wanted to continue what I had started, so I figured I'd playfully and dutifully just make it singular.
How did you get interested in playing music?
Dario: Music has always been an important part of my life. I listened to a lot of music as a child… I was introduced to it by my older brother and two sisters.  I started playing the acoustic guitar when I was a teenager. I would accompany my friend Bruno.  At the age of 19 he was already playing in a national RAI orchestra, and he would later on play with Morricone, Pavarotti…  I would just play a chord progression and he used to improvise wonderful things. We only recorded something together much later, in Through The Shadows. 
Rosetta: I discovered music kind of late. I was in my first year of college… I mean, really discovered the magic and power of music. I had, of course, listened to a bunch of music until then, but there was a time when I realized I needed to be closer, inside it, in some way. It hit me through classical music, jazz, world music.  I realized I had to change my course of studies. From literature to musicology.   I even shyly approached vocal studies, without any real conviction at all that I might one day stand in front of an audience and sing.  In fact I was so self-conscious about it that I later abandoned singing and dedicated myself to the discovery of percussions, powerful instruments that I could hide behind.  Long story….
Who or are your main musical influences?
Dario: First of all, The Alchemist Painters. Then, Pink Floyd, Joy Division, Bauhaus, Christian Death, Requiem In White/Mors Syphilitica, Rachmaninoff, but  a lot more, too…  I would have to mention too many…
Rosetta: Before meeting Dario and the Spiritual Bats in 1995 my listenings, and therefore my influences,  were mainly from other genres. I must mention Maria Callas, Ella Fitzgerald, Max Roach, John Coltrane… Along with the Spiritual Bats, I discovered Siouxsie and The Banshees, Christian Death, and Requiem In White… Kind of late, one might say.  But their music became a sort of soundtrack of  my very encounter with Dario and the Spiritual Bats.  And then gradually I came to learn about other artists associated with the goth movement. I had this weird feeling of "Where the heck have I been living until now?"  This is where I wanted to be, maybe not exactly where I belonged, but where I wanted to be.
Do you have a favorite band or singer? Who is it?
Rosetta: Some of my favourite singers I have just mentioned, but I do feel like I  am slighting several others… Beth Gibbons, for example. 
How would you describe your music?
We kind of like the idea of not being exactly classifiable, although we have come across descriptions such as "deathrock with own character", "classy goth-rock with angry-fairy vocals", "tragically beautiful", "raw yet elegant", which we don't mind at all.  Other people describe us better than we would do ourselves.
Can you give us a brief history of your work as The Spiritual Bat?
Dario:  Well, Spiritual Bats split up again after Sacrament was recorded.  Only two songs were recorded for the next album, when everything fell through. We tried on and off to continue working with Matteo, with Rosetta still on drums and programming.  But after many attempts it became obvious that he and I had developed different tastes.  Hence the name change. Through The Shadows was the first work released  by The Spiritual Bat as you know us today.  Actually, no, we had previously released a limited edition of homemade demos containing more or less the same songs, except these were instrumental-only.  Rosetta had programmed the drums, I had tackled the bass and synth.  
Rosetta: We had never really meant to use electronics, but we resorted to it to sort of photograph that moment, right  then. Though I had recorded the drums on Sacrament, now I didn't feel I was technically good enough to perform the drum parts I had written.  Thus the programming.  We really wanted acoustic drums for the official release, though.  That was the sound I was aiming at when programming.  For the sake of the music I voluntarily gave up my seat to a real drummer, Alessio Santoni, whom we had met through Claudio Mura. He did an amazing job. This was when I realized I had nothing left to do but to try and sing, if I didn't want to be left out. That's how this line up came to be. I only  managed to write lyrics and create parts for six of those songs, but Bruno Lombardi's flute on four of the tracks took our music through an entirely different soundscape. 
The next album was Cruel Machine, which was released through Danse Macabre. 
 One of the six instrumental tracks on Through The Shadows
Is there a message or ideology behind your songs? If so, what is it?
Rosetta: I wouldn't speak of ideology. A message,  maybe.  It depends on what comes through. It's more like something that you may perceive in the essence, if we have any kind of affinity, I guess.  This sort of message is part of our songs, our metaphorical children, as well as a part of what we do, who we are, how we live.  Both the music and the lyrics themselves often represent  personal rituals.
You have been known to tour widely outside of Italy. Do you have any stories or experiences that you would like to share?
Just whatever comes to mind first… ok,  once we had a moment of panic before going on stage. That was during the Lowlands Tour with Sullen Serenade.   Dario and I somehow managed to lock ourselves in the greenroom, for what seemed like a really long time.  Nobody came looking for us. Nobody could hear us. After banging on doors and trying to get people's attention from the only window (apparently invisible from the outside)… we almost resigned to the fact that they would figure it out when we didn't show up on stage.  But we could not wait… we  finally forced the door open (probably broke it, sorry!) just in time to go on,  trying to act as if nothing had happened. 
This is just one little episode…. We should really have written a book about our tours… Touring is about travel and survival on the road,  about travel companions, about people you meet, about hard work and moments of distress, besides playing and trying to share your best on stage. 
What does it feel like to be onstage performing?
It was really difficult in the beginning. We had always felt playing was too intimate for us to do it live. Shyness, stage fright, or a simple lack of the necessary dose of exhibitionism, call it what you will.  In fact live performances by either incarnation of the project (the plural and the singular!)  were so rare you could count them on the fingers of one hand.  One of these was the only US performance of the Spiritual Bats at Alchemy/CB's Gallery, on August 3rd, 1998 (Sacrament line-up performing songs from Confession).
Then our friend Claudio Mura passed away.  He had recorded Confession, Sacrament and Through The Shadows. He was our sound tech  (he didn't consider himself an engineer) and companion of many dinners and glasses of wine.  For years he had been trying to convince us that performing live was a necessary passage. We went from not being interested in appearing live, to promising we would do so, but kept on procrastinating for years. His sudden death provided a shock that made us finally find the courage.  We had an intimate Initiation concert in Frosinone, in his memory, which was very emotional.  The first official gig in Rome was… a disaster.   The promoter was really happy about the turnout (we were opening for a Joy Division tribute band from England)  but there were some technical problems, we didn't get a proper sound-check, we felt horrible on stage, felt like walking on the verge of a precipice in absolute darkness.   How does it feel today…. Well, we are not quite stage animals, and we might never be, but every show we make a step toward what seemed to be an impossible dream:  feeling as comfortable on stage as if we were in our studio.  Sometimes it's magic, sometimes it's not. But it's getting better and better, anyway. 
What are you most proud of throughout your musical history?
First of all, you said it, our history itself.  The fact that we are still at it, we are still enthusiastic, we are still in awe,  still learning… we are still making music and actually, we are more and more involved in it, in spite of economic crisis and various other difficulties.  After that awful first show in Rome, for a few days we thought we would never set foot on a stage in public ever again.  But we overcame that pain and the fear, for Claudio and for ourselves.  Because he was right. We would learn to try and overcome our limits. 
For the record, though each and every gig is important to us, opening for an artist like Rozz Williams remains a great honor to this day. That was 1994, one of the first Spiritual Bats line-ups. As The Spiritual Bat we would like to highlight the Lowlands Tour (26 gigs, 2 months on the road, over 20,000 km, with our friends Sullen Serenade) and, of course, our recent participation in the historic Whitby Goth Weekend. 
What are you looking forward to?
Playing with a full band.  Recording, too, as we have several songs waiting to be worked on. But playing with a full band is something we really crave, and hope to do very soon.

 Thank you and best wishes with your tour!
* note that this interview was conducted in May of 2012
The Spiritual Bat's new album, Mosaic is out 03/28/14 through Danse Macabre Records
~ below are some of the flyers for NYC show promotions featuring
The Spiritual Bat at Alchemy & Incantation ~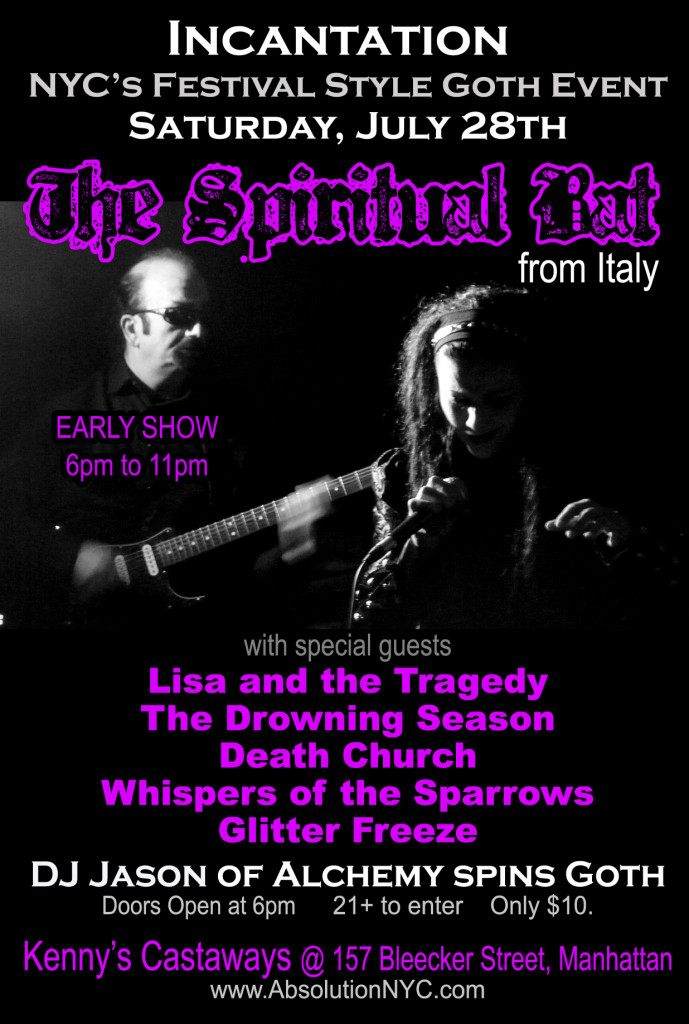 ~ Spiritual Bat live concert show 2012 ~