picture below: This is from the height of NYC's goth scene and from the most popular era of Wasteland at Coney Island High Rock & Roll Club.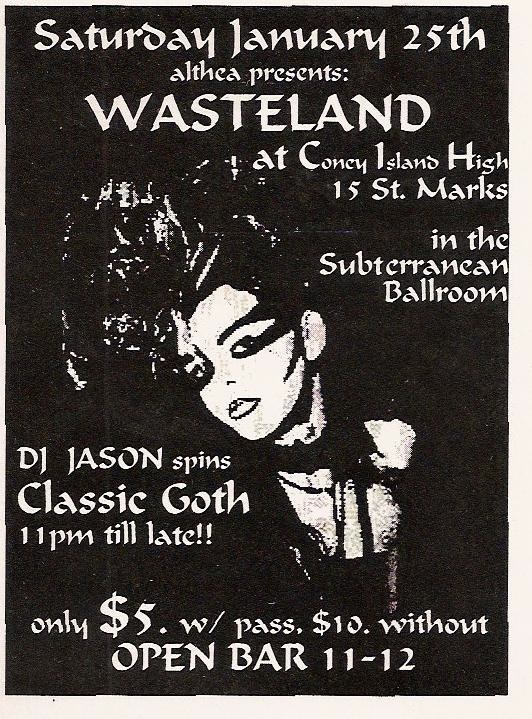 DJ Daniel was the first DJ for Wasteland when it was an intermittent live band night starting in 1995 run by the goth promoter Althea who also ran Tocsin at the Farside. It was held on the main floor of Saint Mark's Place's famous Coney Island High rock & roll club in the East Village of NYC.
January of 1997 was when Wasteland (monthly, then weekly) switched formats and hired DJ Jason.  Wasteland became a regularly occurring Saturday dance night on Coney Island's bottom floor "porno lounge". Joey Ramone's brother was the bartender and the party would always last until daylight.  Wasteland with DJ Jason spinning solo was the first "Classic Goth" themed night (It was an all 80's goth format.  It had never been done before and was in stark contrast to all of the other gothic nights at the time which were then mostly about playing new music) in NYC and was also a precursor to the Death Rock revival movement in NYC.  Wasteland's successful dance night also inspired many to become new goth DJs, like DJ Charlie the Slut (who later spun and co-promoted with DJ Jason for Wasteland when it moved to the Pyramid), DJ Boy Sinister, DJ Dark Angel and many others.  DJ Lestat and DJ Jason spun together at Opaline (the venue that is now Drom) for the last version of Wasteland.
Pictures from Wasteland.