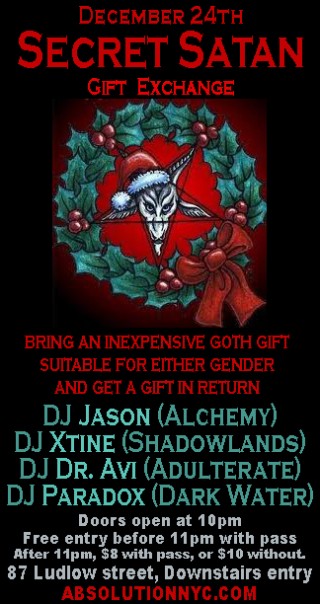 Friday, December 24th is the Secret Satan gift exchange
Bring an inexpensive goth gift suitable for either gender and get a gift in return. To participate, please arrive with a wrapped gift before midnight. There will be a place where they are collected before the exchange ceremony starts.
DJs for this special holiday party will be:
DJ Xtine (Shadowlands, Lust, Signal, Flesh Theatre… etc.)
DJ Jason (Alchemy, Communion, Sundown, Long Black Veil, Wasteland… etc.)
DJ Dr. Avi (Nation *DC*, Adulterate)
DJ Paradox (Dark Water)
DJ Cage 23 (Darkwave, Communion)
& TBA
Secret Satan is in Manhattan's popular lower east side. The club is close to subways, restaurants and there is a huge free parking lot across the street. Trains: J,M, F to Delancey. B, D to Grand.
Doorman: Michael Stranger
Every week, ABSOLUTION starts at 10pm. (special free entry with a pass before 11pm) Entry through the downstairs entrance $8 cover with a Flyer or Printout.