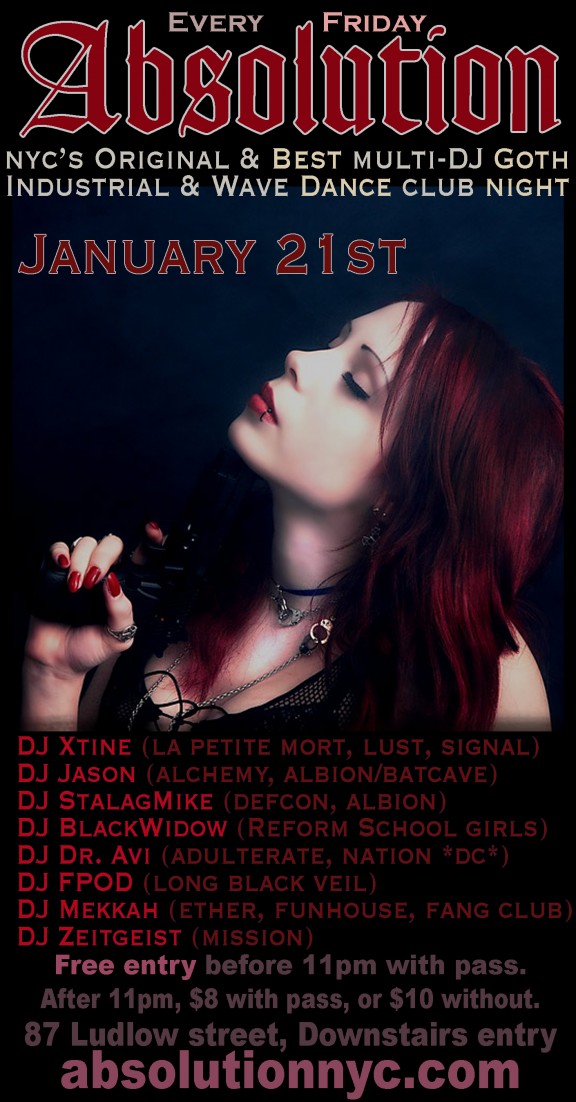 ,
January 21st
DJ Jason and Xtine present NYC's Original Multi-DJ Gothic Industrial Event, Absolution.
Top Goth, Wave and Industrial DJs on the Crypt Dancefloor:
Jason (Albion/Batcave, Alchemy, Wasteland, Sundown, Communion, Le Petite Mort, Long Black Veil… etc.)
Xtine (Lust, Flesh Theatre, Signal, Shadowlands, Silhouette, Saturday Night fIXE, Le Petite Mort … etc.)
Dr. Avi (Nation *DC*, Adulterate)
StalagMike (DefCon, Albion)
BlackWidow (DefCon, Reform School Girls)
FPOD (Long Black Veil)
Mekkah (Funhouse, Flesh Theatre, Ether)
Zeitgeist (Mission)
spinning Goth, Death Rock, Synth, New Wave, Darkwave, EBM & Industrial!
Great Drink specials all night!
Absolution is a great weekly party with a different and unique line-up of highly qualified Goth, Wave and Industrial DJs each week.  Absolution's DJs come from the rich history of NYC nightlife and are a mix of old and new talent.  Since there are too many good things to say about all of the rotating Absolution DJs for this event page to hold, please check the website's upcoming DJ bio section for more details and information.
Absolution is held at UC 87 in Manhattan's popular lower east side. The club is close to subways, restaurants and there is a huge free parking lot across the street.
Trains: J,M, F to Delancey. B, D to Grand.
Doorman: Michael Stranger
Bring an age 21+ ID with you
Every week, Absolution starts at 10pm.
(special free entry with a pass before 11pm)
Entry through the downstairs entrance
$8 cover with a Flyer or Printout.
For other details please check www.absolution.nyc