Absolution presents on May 29th, 2011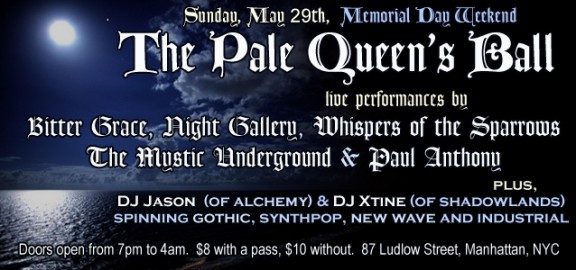 Memorial Day Weekend
The Pale Queen's Ball
Live Goth and Synthpop performances by:
plus,
spinning the best goth, new wave, punk, 80′s, electro, industrial and death rock!
Early shows and late night dancing!
The private open air smoking terrace will be open for the first 3 hours of this event.
There will be a Free BBQ for all drinkers for the first 2 hours.
2 for 1 Drinks for the first 2 hours of this event!
Dancing & drinking all night!
The Pale Queen's Ball will be held at UC 87 in Manhattan's popular lower east side. The club is close to subways, restaurants and there is a huge parking lot across the street.
Only $8 with a pass or a printout.  $10 without a flyer.
Doors open from 7pm to 4am.
87 Ludlow Street, Manhattan, NYC
Trains: J,M, F to Delancey. B, D to Grand.
"Look how the pale Queen of the silent night

doth cause the ocean to attend upon her,

and he, as long as she is in sight,

with his full tide is ready here to honor;
But when the silver wagon of the Moon

is mounted up so high he cannot follow,

the sea calls home his crystal waves to mourn,

and with low ebb doth manifest his sorrow.
So you that are sovereign of my heart

have all my joys attending on your will,

when you return, their tide my heart doth fill.

So as you come and as you depart,

joys ebb and flow within my tender heart."