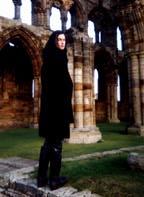 Whitby Gothic Weekend is one of England's most loved regular Gothic music festivals.  The location was picked since part of Bram Stoker's famous vampire novel Dracula was set in Whitby.  During the festival, the tiny seaside town of Whitby hosts a large number of goths from across the globe, so you will need to secure lodging early, if you plan to attend. It used to happen once a year for Halloween weekend, but is now scheduled twice a year (once in March and once in November).
This Autumn's WGW will be from the 4th to the 7th of November.
Autumn 2011 – 4th to 7th November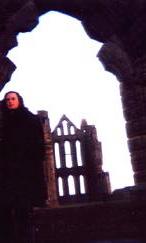 The line-up for the autumn event is:
Friday
Abney Park
The Mist of Avalon
Devilish Presley
Cryogenica
Berlin Black
Saturday
Photos 1-4: DJ Jason on the Whitby Abbey ruins during Whitby Gothic Weekend.