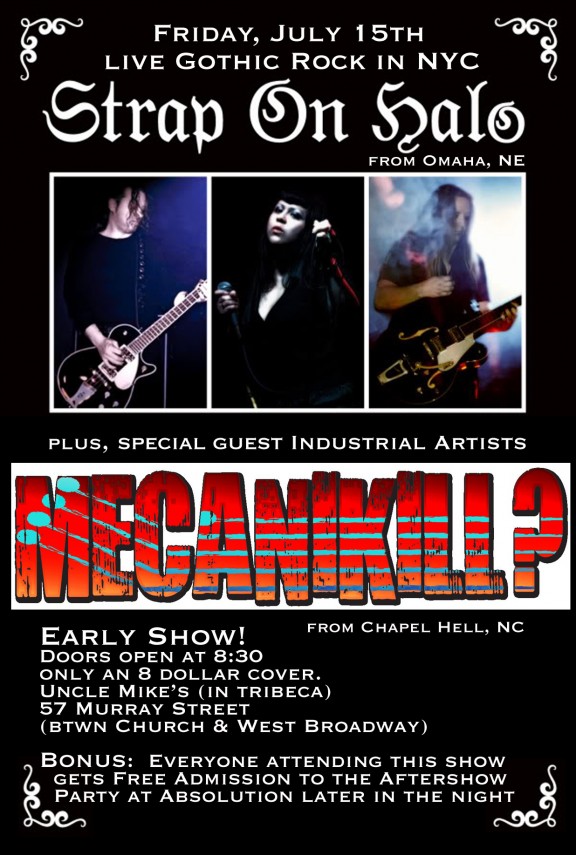 DJ Jason & DJ Xtine present:
A live show with "old school" Goth and contemporary Industrial!
STRAP ON HALO from Omaha, NE (10pm)
&
MECANIKILL? from Chapel Hell, NC (9pm)
play an Early Show in Tribeca, Manhattan on Friday, July 15th
Doors open at 8:30pm
$8 cover.
Uncle Mike's
57 Murray street (between Church Street and West Broadway)
SPECIAL BONUS: Free Admission to the aftershow party at Absolution at UC87 for all that attend!
About STRAP ON HALO:
After being laid to rest in 2003, Strap On Halo resurrected in 2009 with a new lineup including original founding member Sean Rial. Strap On Halo is Layla Reyna, Marc Jones and Sean Rial. Strap On Halo has taken on different lives in each of our minds but simply it reflects hypocritical ideals and a facade that we see society beating its drum to. They remain true to their roots and blend old school gothic, dark wave and death rock into a sound of their own.
In a matter of months, Strap On Halo wrote and recorded Cherry Flavored Quick Fix. The EP has three original songs and one remix of "I Feel Like Yesterday" by Martin Atkins. It was recorded and produced by Martin Atkins at the Mattress Factory in Chicago, Illinois and officially released October 2009 independently. The release prompted a two week Quick Fix US Tour in the summer of 2010.
Currently Strap On Halo is preparing for the release of their full length album, The Dead Don't Lie in April 2011 and on a five week US Tour with plans of adding Europe late in the year.
Strap on Halo's official website
http://straponhalo.com/
About MECANIKILL?:
Mecanikill? is the Abstract Electro Industrial Noise project from Chapel Hill / Raleigh that has been touring the East Coast non stop for the past 3 years and doing shows with bands the likes of Angelspit, The Ludovico Technique, Ayria, Ego Likeness, Twitch The Ripper just to name a few. The band is all hardware based and it shows as it gives them an organic electrical vibe to their sound and performance and with a love for taking noises from everyday life that would not normally be used, sampling them and then tuning, tweaking and turning them into music just adds to a sound that is truly their own. They are bringing something new and unique to the table so come and devour the strange new flavors of sound with Mecanikill?. The members of the band come from an old school punk and industrial background and it shows in the raw power and aggression that turns into a non stop onslaught of a wall of sound that is brutal but yet beautiful at times. Mecanikill? also does live visuals that are projected onto a giant screen behind them and onto them and that gives its own dark and ominous look that adds to the fury of their performance. Mecanikill? is here to inject your ears with harsh electronic soundscapes and eyes with intense hallucinogenic visuals for your listening and viewing displeasure.
Mecanikill?'s Influences:
Aphex Twin, Squarepusher, Angelspit, Thrill Kill Kult, Dead Kennedys, Combichrist, The Knife, Nine Inch Nails, Mike Patton, Skinny Puppy, Bile, Hanzel und Gretyl, Misfits, Alien Vampires, Velvet Acid Christ, Suicide Commando, Crystal Method, Lords of Acid
Mecanikill's Reverbnation
http://www.reverbnation.com/mecanikill