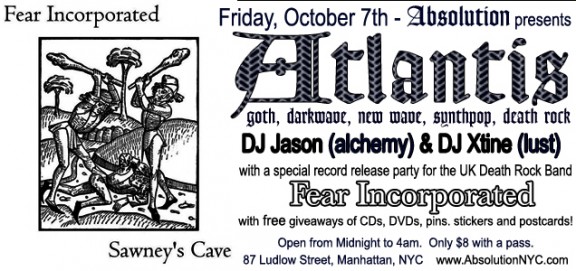 Friday, October 7th
Absolution presents:
Atlantis
spinning the best goth as well as some new wave, punk, 80′s, electro, industrial and death rock!
plus,
An Official Record Release Party for the new UK Death Rock band Fear Incorporated, celebrating the release of their album, Sawney's Cave !
Lots of Free Giveaways – CDs, DVDs, Pins, Stickers, Postcards & Magnets !
Drink Specials all night !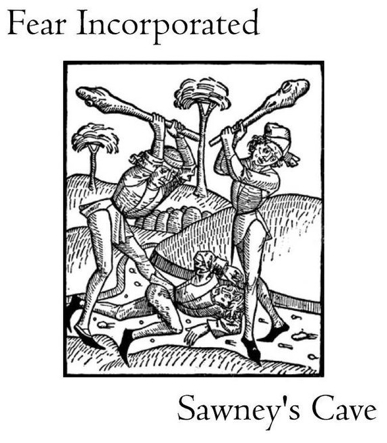 Fear Incorporated are a new Theatre Macabre-Avant Garde-

Baroque 'n' Roll band from the UK. An eclectic and dark approach

to alternative music fusing different types of styles to portray a

selection of stories which will feature elements of the macabre-real

and unreal, past and present.

Fear Incorporated was formed by Cam Campbell formerly from the

legendary death rock Gothic band 'Sex Gang Children' and William

Westwater from Cyberpunk band 'Sensory Savage.'

After a discussion on how to approach the project it was decided

that the album themes would be based on Fearful subjects such as death,

cannibalism, phobias, murder and other such noir material so the

band was fittingly named 'Fear Incorporated'.

Sawney Bean was chosen as the first theme for the first Fear

Incorporated album.

He was a 16th century Scottish myth that was used to threaten

 young children who would not sleep at night.

The story tells us he took to a cave with his wife where they

captured, murdered and ate unsuspecting passers-by and

travellers whilst bringing up a incestuous barbarous family of

flesh eating lunatics. A grizzly macabre tale indeed.

A plethora of tracks were recorded for the album and then

hand picked to make a chronological macabre musical album

'Sawney's Cave'.



Fear Incorporated on Myspace
Atlantis is close to subways, restaurants and there is a huge free parking lot across the street.
Open from Midnight to 4 AM.
Only $8 with a pass or a printout.
UC 87
87 Ludlow street
Manhattan, NYC
Trains: J,M, F to Delancey. B, D to Grand.