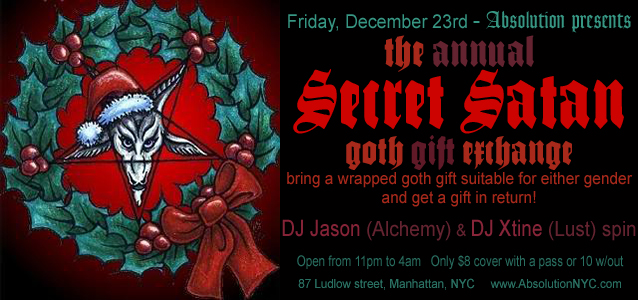 Friday, December 23rd
Absolution presents:
The Secret Satan Annual Goth Gift Exchange
Rules to the exchange:
Bring an inexpensive Goth Gift suitable for either gender and receive a goth gift in return.
Bring your gift already wrapped.
Drop off your gift at the DJ booth
The gifting ceremony begins at 1am.
Please note that Secret Satan is opening one hour earlier this week!
Drink Specials!  ~Ask the bartender for updates about the specials.
Two rooms of music!
~On the mainfloor and rear lounge: 
DJ Jason (Alchemy, Incantation, Albion/Batcave, Sundown, The BANK, Long Black Veil, Communion, Wasteland… etc) spinning Goth
DJ Xtine (Shadowlands, Signal, Lust, Atlantis, Flesh Theatre, Cat o' Nine, Avalon, etc) spinning the best goth as well as some new wave, punk, 80′s, electro, industrial and death rock
~In the bar hall:
Thomas provides New Wave and 80's Alternative all night
Secret Satan is close to subways, restaurants and there is a huge free parking lot across the street.
Open from 11PM to 4 AM. 
Only $8 with a pass or a printout. ($10 without)
Free before 11pm with a pass or printout!
UC 87 @ 87 Ludlow street, Manhattan, NYC
Trains: J,M, F to Delancey. B, D to Grand.