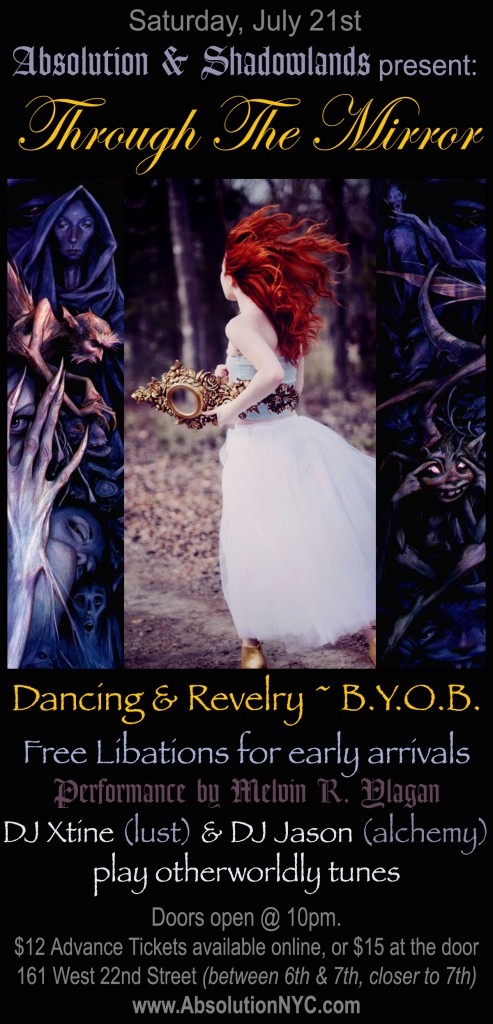 What if there was a place where you could dance the night away on Saturday Night in the company of Good People?  Where you knew it would be classic and true new Goth/Industrial all the time, every time?  Where it was a continuation of the great old Goth/Industrial clubs in NYCs history, uninterrupted in a private space with a huge dancefloor, JUST FOR YOU?  In Manhattan, where people from all the boroughs could reach it just as easily?  Where you could wear what you want, do what you want and never have the issues of a mainstream club?  You have only to look….THROUGH THE MIRROR.
AbsolutionNYC and Shadowlands present
THROUGH THE MIRROR
NYCs Premiere Goth/Industrial Dance Party
10:00pm-4:00am
BYOB!  THE WAY IT WORKS: Bring your own libations. Beer, wine, liquor, etc. When you enter, check them in at the bar station. The bartender will label your drink with your name and put it away on ice. We will provide cups, ice and mixers. When you want a drink, ask the bartender and she will pour drink for you. Don't forget to tip! This method is much less expensive than at a normal venue where you will pay 5-10 times the cost of the drink. It also allows you to enjoy the kind of drink YOU like- for instance, I love Southern Teir beers which are NEVER served at a typical venue. At this sort of party I can enjoy my favorites and introduce people to them as well. It makes for a more fun time, at a less expensive price.  ~Xtine
DJs XTINE and JASON spin Goth, Industrial, Synthpop, 80s New Wave and New Romantic, Retro-Alternative and Cult Classics.
*Special Early Performance featuring MELVIN R. YLAGAN, QUICKSTAR Recording Artist and celebrated comic artist*
*Cameo Late Performance by PRINCESS EVILYN*
Door Host: MICHAEL STRANGER
This Week's Guest Bartender: ANGEL LORELEI 
Suggested Dress Code: CREATIVE. Make An Effort. Goth, Industrial, Ethereal, Victoran, Faerie, Fetish- Anything You Like.
$12 in advance online, $15 at the door.
 the advance ticket link is here
161 West 22nd st (bet 6th and 7th closer to 7th)