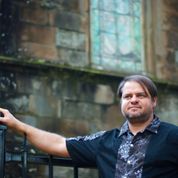 DJ Pope Black's DJ career started in the summer of 1984 at 90.9 WQFS in Greensboro NC at the age of 15. He had heard that the local college radio station at Guildford College was training ANYONE who asked how to be a DJ and run the equipment. As a young punk/goth, he played such albums from the radio station library such as Christian Death, The Dead Kennedys, Slayer, and many others. He went on to DJ at local bars, nightclubs, festivals and at WUAG 103 FM radio at UNC-Greensboro.
1984 WQFS 90.9 FM Grensboro NC Punk/Goth
1989-1995 WUAG 103 FM UNC-Greensboro NC Punk/Goth/Experimental/Noise
2000-2005 Radio Free America 93FM FSK Hamburg Germany Resident DJ
2002 Subgenius European Tour London, Hamburg, Berlin, Amsterdam, Kiel
2001-2005 Kieler Woche, Kiel Radio, Kiel Germany Festival DJ/Audio project
2004 Subgenius European Tour London, Hamburg, Berlin, Kiel, Brighton, Amsterdam
2005 Mark XII Goth/Industrial Club Grenobole France Guest DJ
2006 Guest Late Late Late Breakfast Show Resonance Radio London England Guest
2006 Radio Patapoe 97.3FM Amsterdam Resident DJ
2010 Pyramid Club New York City DefCon Guest DJ Goth/Industrial/Aggrotech
2010-2011 Absolution New York New York Guest DJ Goth/Industrial/Aggrotech
2012- Presently PopeBlack is currently planning his North American and European Tour with DJ Taliban Ladyboy October 7
Currently on Pope Black's playlist, among other things:
Alien Sex Fiend, Assemblage 23, Bauhaus, The Birthday Party, Blutengel, Cabaret Voltaire, C-Drone Defect, Christian Death, Coil, Combichrist, Covenant, Current 93, The Damned, Das Ich, Death in June, Die Krupps, Einstürzende Neubauten, Eisbrecher, Front 242, Front Line Assembly, Funker Vogt, Grendel, Hanzel und Gretyl, Hocico, Icon of Coil, KMFDM, Laibach, Marilyn Manson, Ministry, The Mission, Nine Inch Nails, Peter Murphy, Project Pitchfork,Razed in Black, Rammstein, Rotersand, Skinny Puppy, Shnarph, The Sisters of Mercy, Suicide Commando, Tactical Sekt, Throbbing Gristle, Velvet Acid Christ, VNV Nation.