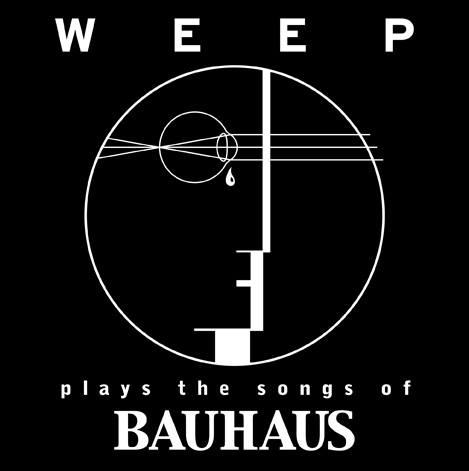 Definitely Recommended for Saturday, December 7th in NYC!
Years back, Eric Hammer, now known as Doc Hammer, was in NYCs finest Goth band, Requiem In White. I used to go to all of their NYC shows. There was one time that stood out at The Underworld club on Bleecker Street with Sofia Run and Loretta's Doll opening, where they did a whole set of cover songs. It was fantastic fun. I strongly advise everyone that is in NYC to see Eric play these Bauhaus songs for this unusual set with his current band, WEEP. It might be another 20+ years before he does something like this again!
"Dec. 7th. SATURDAY!!!
Come enjoy the idiocy! Yes, WEEP will play a short set of their super famous and universally beloved songs, then, like buffoons who can't manage their musical career, will perform Bauhaus songs 'till "Time Is Up! Get Off The Stage!" And yes, unlike a proper cover band, WEEP makes Bauhaus songs kinda sound like WEEP songs. Is our muscular sound so oppressive that everything we do just becomes "us", or do we just suck at covers? Come find out! Come enjoy our terrible idea! Come celebrate WEEP celebrating Bauhaus (and by extension, you then celebrate Bauhaus) with us. Or just come for the WEEP songs. Or come for 2:FRAIL, Raine Vivian, or Generator Ohm! Look, why you come is your business. WEEP's business is entertaining you in novel ways!" ~ Doc Hammer
WEEP – Goth Rock Full Steam – 11.30pm
https://www.facebook.com/pages/Weep/192814451603
RAINE VIVIAN – Industrial Rock with Lazer Beam – 10.30pm
GENERATOR OHM – Psychedelic Pop Rock with Balls. – 9.30pm
2¦FRAIL – Darkgaze and Acid Rain – 8.30pm
FREE SHOW!
Right off the Bedford Subway on the L line.
Saturday December 7th… 8.30pm!
184 & 186 Bedford Avenue, Brooklyn, New York 11211