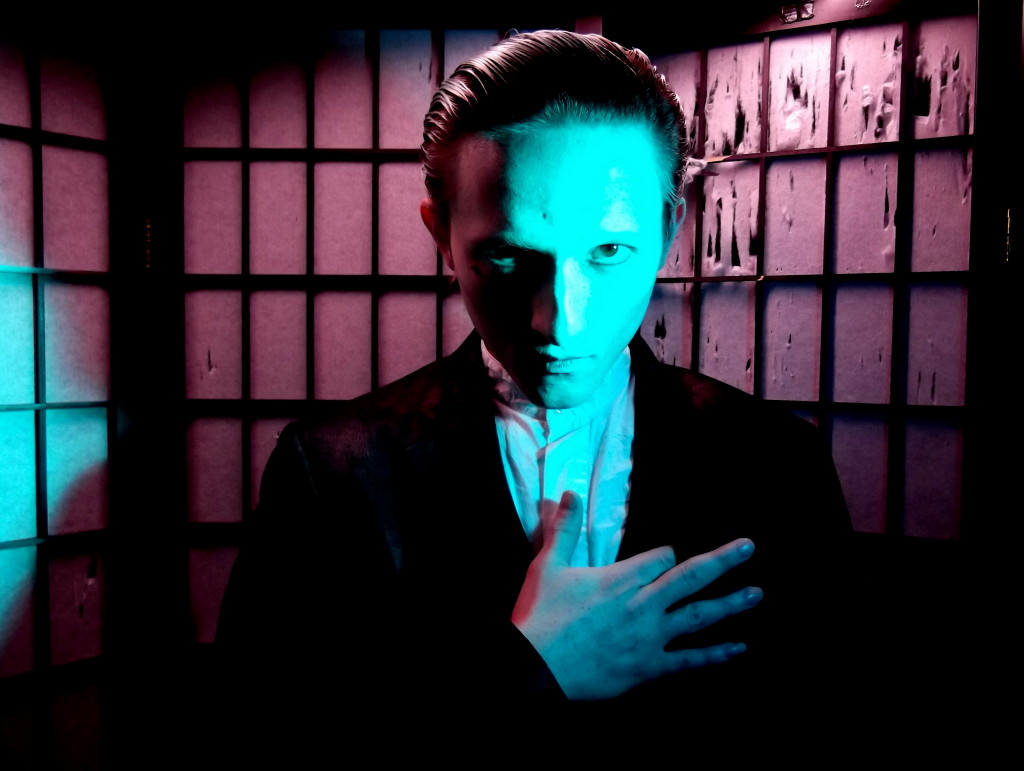 Interview With Kali Ra by Kris Prudhomme
Hello everyone, for starters, care to do the normal introduction to the band, David, I know you've got new members since the last time I saw you guys play.
Braden Jordison (drums), Leon Manson (guitar), Kyle Callicoat (bass), Brian Daniel (upright bass/sax/bass), Mark Middleton (keys/percussion), David Goad (vocals/songwriting)
Moving on, I understand there is a definite Peter Murphy/Bauhaus influence going on in the band sound, suppose it doesn't hurt at least one incarnation of the band did a Bauhaus tribute event in Houston last year. What other bands and influences outside the sphere of post punk and music in general influence how the band creates songs and how you guys handle yourself on stage in terms of presence?
Outside of the obvious musical influences (Bauhaus, David Bowie, etc.) and bands in the glam/proto-punk/post-punk/new-wave/electro/industrial universe, there is an eclectic variety of other significant influences: Scott Walker, Philip Glass, Steve Reich, The Doors, Jacques Brel, Nina Simone, Can, Neu!, Flamenco, Irish folk music, Latin rhythm, Brian Eno, David Lynch. There are many non-musical influences as well. There are influences from the art/literature world: neo-constructivism, minimalism, futurism, William S. Burroughs, Nietzsche, Antonin Artaud, Kerouac etc…But these things do not create, being simply elements in a mixture. The catalyst is experience. I have written most of my lyrics in the depths of existentialism spurred by conflict or death. I have acquired much inspiration from my time spent in Europe. I have marveled at human achievements in the humanities and allowed myself the vulnerability required for rapture. Whether it was watching the Berlin Philharmonic, struggling to keep warm whilst huddled with my wife in my family's abandoned castle in Ireland, or gazing at marble gods in a piazza, I am a sponge for whatever humanity can offer. When we are onstage, our collective experiences mix with that sort of vulnerability and allow cathartic animalism to shine through.
To ask a hot topic question, every band is fighting the battle over trying to get people to buy their cd's and records yet commerciality is not really a big concern with most underground bands unless that just happens to be a goal, do you as a band feel that it's better to just let the songs speak for themselves and not really worry if something will sell because that could in theory, cheapen the efforts?
Be assured, selling your art does not cheapen it. Selling is an act of transmission with a financial return. The world must hear your art if you care to slave over it. When I write songs, I do not think about how much it will sell. I never commit to songs that I think are weak or derivative. I focus on making quality songs. If the song has substance, is executed well, and performed well, then it has real value. ARTISTS AND LABELS NEED TO GAUGE THE VALUE OF MUSIC ON THE QUALITY OF THE COMPONENTS RATHER THAN THE SIMILARITY TO SONGS THAT ALREADY SELL. The money will follow.
Now for another odd question, for those who have not seen Kali Ra live, Mr. Goad has an almost supernatural ability to perform on stage feats that would break my back like a twig! David do you happen to take influence off of Iggy Pop? He's one of the first front men to come to mind when in terms of that level of physicality.
Definitely! When I go to a concert, I don't like watching people standing around acting bored. Their performance, the quality of their songs, and the audience all suffer because they are transmitting their shitty attitude. I will not pay money for that. Therefore, I believe that most people want a show and not just a concert. When you are onstage, you cannot treat it like a high school recital. This is why I use my body as an instrument. Iggy, Nick Cave, Peter Murphy, Bowie, and Morrison, all understood this. They are now heralded as some of the greatest performers ever (at least by my standards).
The band has traveled around a fair bit, you guys have been around Texas and all the way down to New Orleans, have you had a chance to check out local music scenes in your travels or do time constraints sometimes get in the way?
We also have played all over Chicago, St. Louis, the Midwest. It is a ritual to at least stop into one record store and buy something local.
I see a some very unique visuals integrated into the bands album cover art and press kits, who are some of your favorite visual artists that have helped when working on visual representations of the band? I can see a definite psychedelic element there for sure.
I have been fortunate to be surrounded by brilliant artists. Paisley Straenj and Anji Bryner are two artists I worked with on the first album. Anji came up with the cover art. Paisley has designed my logo. Mike Walsh has directed our first video, "Color". He is a definite surrealist. For the new album, Cocoon, I will be taking a much more minimalist/neo-constructivist direction with the art.
I see a lot of bands these days with a definite influence from "dark alternative" culture which of course includes goth rock, industrial, deathrock etc, is it, in your own opinions, is this a result of young musicians looking for new influences to help craft a signature sound or is it that the 70's and 80's acts influence was so pervasive that it simply cannot be ignored?
Both. But relying on it like a crutch is quite lazy. I usually dislike a lot of goth bands for this reason. Industrial music has lost its edge as well. Instead of designing instruments or utilizing the environment, most have resigned to a keyboard and plugins (we used washing machines quite extensively on the first album). 
I asked the Secret Post a similar question about this but given that Oklahoma is not exactly place known for a darker variety of acts, do you think it's potentially an advantage for the band to carve out your niche now? You have to admit sometimes having a relatively small bedrock for a scene at first is not always a handicap but an opportunity to create something unique.
I consider TSP to be a sister band. In that sense, I fell like I can speak for him in saying that such music is born out of necessity. It is a desire to become something more. We have lived in a blank canvas or cultural vacuum. This usually breeds creativity.
For those who don't know what albums do you guys have out right now for purchase and also perhaps if you have something non-musical you'd like to throw out there and plug then by all means, go ahead!
Electric Living is available everywhere on the inter web, and will be available at record stores in large cities. Cocoon will be born sometime this year (probably before summer). I have picked up the brush again and will sell some paintings if there is an interest. I am writing a book that will coincide with a concept album (probably 2015).
To wrap things up, anything else you want to announce, show dates are always nice *cough

*
I will be David Bowie in a tribute show. We have dates all across our area of the Midwest/South. I will be guest DJing at the Goth Prom in Oklahoma City (courtesy of DJ Bone). I have a West Coast tour coming up in July (courtesy of Graphic Equalizer). I also plan on doing a show in New Orleans this upcoming winter. There will also be plenty of local shows.