Sweet Ermengarde interview by Ed Shorrock

Sweet Ermengarde exploded onto the scene with their first album, Raynham Hall, which included tracks that are bound to become classics in the canon of goth rock such as the deeply powerful 'A Promise to Fulfill'.  They have followed it up with their recently released, critically acclaimed second album, Ex Oblivione.  Ed Shorrock interviewed Lars Kappeler and Daniel Schweigler, members of the five piece outfit hailing from Bochum in Germany, to get a more in-depth view of the goth rock scene in Germany and to get to know the band a bit better…
Firstly, congratulations on the new album, Ex Oblivione. It seems to be universally accepted that it is a masterpiece and a real step up from Raynham Hall, which was a gem in its own right. However, it is obvious to lovers of the goth rock scene that Sweet Ermengarde's sound has been built on a succession of seriously high quality German acts. Many readers will remember the 80s and remembered that the fall of the Berlin wall triggered a huge explosion in the scene. Sweet Ermengarde is a younger band but to what extent can you identify the effects of this on the German scene? What is it about the German scene which makes it so successful and durable?
Lars: Thank you! In 1989 I was eleven years old, so I can't tell a lot about the German gothic scene at this time and how it was affected by German reunion. But I remember that David Hasselhoff and the Scorpions where something like a soundtrack for the fall of the Berlin wall. Maybe we were in need of a cultural counterpart.
Daniel: David Hasselhoff definitely was a big thing in those days and his album from `89 was actually the very first record I ever bought. But to come to your question; unfortunately I am not very much of a scene-person. I always loved dark, weird and melancholic music, – yes, maybe it started after my 'The Hoff-era' – but I was never able to connect to a scene or a larger group of people. I prefer individuals and artists, who follow their own path, which makes it hard for me to talk about topics like these.  Creating names and to label music, which enables artists to reach an audience might be a necessary thing, but if I could choose, I would get rid of all this kind of stigmatization and just create music.
Turning to Sweet Ermengarde, the line-up of the band makes for an interesting read based on their histories. Can you tell us how the Sweet Ermengarde project came together?
Lars: This is a long story… I was playing in two different bands at the same time. Rake's Progress, which was a progressive rock band and a gothrock band and another – let's call it Argon Nightmare. Someday this band needed a new line up so I asked Marco and Rafael from Rake's Progress to join the Nightmare. They did and also Scholli, a former Secret Discovery member was the second guitar player. A while later, Rake's Progress split up and another year or so later we were a bit pissed from the Argon Nightmare experience and we all left the band. I had the idea to form a new band with this line up and we formed Sweet Ermengarde. While looking for a singer we remembered Kuba who was singer of Rake's Progress. That was in 2012 when the line-up finally was complete.
The German scene is very unusual in that there appears to be a lot of cross overs between bands: for example you [Lars], Marco and Rafa (and Kuba) were all in Rake's Progress and have played with ex-Secret Discovery guitarist, Jurgen Scholz. Danny and Rafa have also had previous contact though "Leaving with Ghosts". It's hard to keep track of! Why do German band members seem to be happy to switch so easily when other countries (naming no names) are notoriously tribal?
Lars: You could also ask, why the Germans are starting something new before they bring one thing to an end. Just kidding, maybe it's just because good musicians are rare here and the few you can find had been or still are already involved in other projects. Really, the scene is very small and every gig is a little bit like a family meeting but with better music.
What other cross overs can you tell us about which maybe aren't so widely known about?
Daniel: Only a few people know that I did some backings for a couple of songs on Lotus Feed's last album, which is pretty cool actually. Their bass and guitar player were more or less my neighbours when I lived in Cologne and there was a lot of other magical stuff going on that time as well. By the way, our guitarist Danny did the music video for their last single and our other guitar hero, Mike, will be a little absent in the next weeks, since he plays some shows with his old band Garden of Delight.  I actually don't even know what all the guys are doing besides The Sweets, but when it comes to musical promiscuity Lars is our kinky playboy.
Lars: There are many… For example Mike and I were involved in a project called All Hallows Eve which was driven by Tom O'Connell who also played guitar for us on some of our live shows before Mike joined and who was guitar player of The House Of Usher and like Mike of The Garden Of Delight. I played bass for The House Of Usher on some gigs and also on some songs of their last releases and Jörg, their singer, sang for SE on the first demo tracks before Kuba joined. I'm also guitar player of Atomic Neon and Mike has his solo project, Kalt.
Is there something in the water in Bochum? How can one town produce two bands like Sweet Ermengarde and Secret Discovery? Who else should we watch out for from your part of Germany? Is there a local scene or DJ events which are worth noting?
Lars: Maybe the Zwischenfall played a big part. It was a club located in Bochum and it was for Germany like the Batcave Club for the UK. Unfortunately it was closed after a fire in 2011. But are there other examples for famous gothorock bands from Bochum than Secret Discovery?
Not off the top of my head but Bochum seems to be a big draw – You're playing with some of the giants of the scene on 6 November at Bochum Matrix: Merciful Nuns, Aeon Sable and Near Earth Orbit. I think that says a lot.
You played the WGT festival in 2015 but not 2016. Will we see you in 2017?
Lars: We would love to, but I think we're blocked for three years. Let's see if they'll book us again in 2018.
What have been your most memorable moments from WGT over the years, either as a band or as a festival goer?
Lars: At WGT 1999 I met a girl and we started writing emails and eventually we got married. I think this is pretty memorable! And of course the loads of great concerts I've seen there. I also played there seven times with six different bands. I hope I can add some further gigs in the coming years.
Ex Oblivione was obviously a more intense and darker album than Raynham Hall and you guys sound like a very tight unit ready for the long haul. Which direction will we see Sweet Ermengarde taking in the future?
Daniel: We are working on new material, but right now it's hard to say what will be used in the end. Even though we have quite a lot of new material, it is still very rudimentary. There are some real dark dirges in the making again, but some lighter, more subtle songs as well. So, maybe it is becoming more of a Ying and Yang thing. I'd like to try to give the whole coming album a weirder and stronger psychedelic edge, but I always want to do everything in a weirder and more psychedelic way. So, we shall see what happens…
I see you are due to play in Düsseldorf and Leipzig this year. Do you have any touring plans outside of Germany? The UK would seem a likely destination – the Whitby Goth Weekend sometime maybe?
Lars: We already have some shows in the pipeline and contact with some venues outside of Germany. Booking is a hard job and at the moment there's nothing firmly planned which isn't already published. So take a look at our website to see where we will play next.
Finally, if you could pick one track to listen to, forever, which would it be and why?
Lars: I would hate it after a short while. What a waste of a good song…
Daniel: I think we have a sadist here! If I had to, I would choose some infinite fluxus drone. The environmental sounds could mix up with it and it wouldn't be that boring. Or at least boring in a positive way.
Some final words: Thanks for not asking for final words! ♡
Contact info: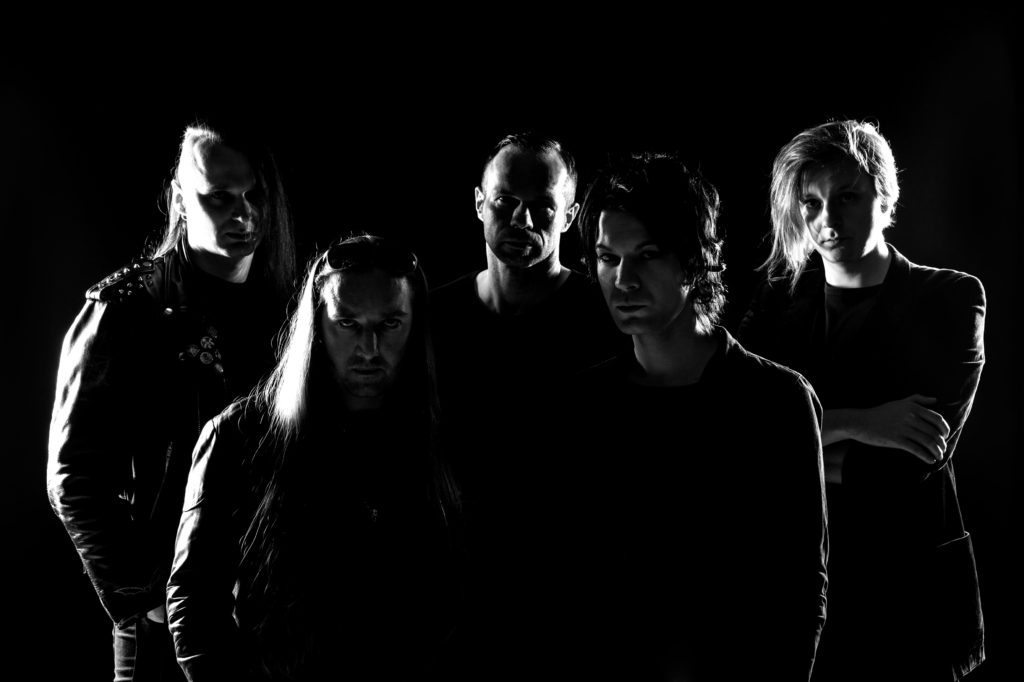 Upcoming Gig dates:
Sweet Ermengarde's announced gig dates for 2016 are as follows, full details of which are on their Facebook page. See you there!
13 August – Exit Club, Düsseldorf with King Dude, Laster, Foie Gras and Gold
15 October – Lübbecke with Salvation AMP and Sedated Tears
6 November – Bochum Matrix: Gloomy Sunday event with the almighty Merciful Nuns, Aeon Sable, Near Earth Orbit