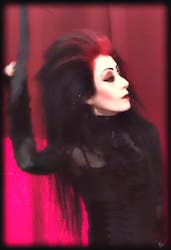 Interview with the vampire Vlad from The Nosferatu by Tzina Dovve

Tzina: After 25 years of silence as the founder/former of the band Nosferatu from the 90's what has prompted you to re-emerge?
Vlad: It's a mixture of a drastic change in personal circumstances and timing. There are a lot of untold truths as to why Nosferatu continued without me. Indirectly, the aftermath caused me much disillusionment to working in a band structure, and my life then took many other difficult personal paths.

Tzina: What is the band's current line-up? As l understand this will be the closest to the original line-up?
Vlad: Two original members from the original Rise era line-up plus two other members that have played in various incarnations… Vocals: Louis DeWray (Nosferatu) Bass: Vlad Janicek (Nosferatu) Guitar: Rob Leydon (Red Sun Revival / Eden House / Adoration / Voices Of Masada) Drums: Chris Clark (Nosferatu / Polly Pikpocketz /Alien Creation / Karmasutra) And live : Backing Vocals : Anastasia Resurrection (Down From Above).

Tzina: As l understand that due to very personal circumstances you chose not to legally fight for the name Nosferatu 25 years ago. Can you elaborate on that?
Vlad: In a nutshell, an altercation mid-tour to promote The Prophecy led to original guitarist Damien leaving.Various legal threats ensued leading to the ultimate cancellation of the final dates.What followed was 1-2 years of legal stupidity during which Damien decided to form a completely new band and call it Nosferatu. After taking very expensive legal counseling l was told that l could not stop him as technically we both owned the name 50/50 and could both use it. By this point my faith in working within a band structure had taken a severe blow and was jaded by the abuse and lack of appreciation for the hard work that was put into this band. Coupled with the nadir of the goth scene circa 1996- 97 I retreated into private composition.

Tzina: You have announced a show in the heart of London for the end of November. Are there any plans for upcoming shows around the UK or abroad?
Vlad: I see our main focus short term in securing shows outside the UK. We won't forget the UK and may well revisit adding more shows in 2020.

Tzina: As l understand you will be playing tracks from the Rise and Legend era of the band. Do you plan to play any covers for your fans?
Vlad: Not at this stage. We never really played any covers.

Tzina: Are you working on any new material? Is a new album part of the band's plans for the upcoming future?
Vlad: Yes, we hope to have 4-5 new tracks worked into our set and part of a new EP.

Tzina: This re-emerging of the band is very exciting. What feedback are you getting from fans all over the world?
Vlad: Excitement and relief that the core nucleus of what made the band first time around is together again. It actually has taken me by surprise; the passion and knowledge fans have on older material.

Tzina: When you look back at the scene when you formed the band and how it has evolved over the years how do you see things for bands nowadays?
Vlad: Good and bad, as music and information is much more accessible now. On the flip side, the easier access has made many rather apathetic to making an effort to seek out music and value it. The download era, while very convenient, has destroyed the aesthetic value and longevity of releases. Streaming has done the most damage. A recent statement I received paid me 5 cents for 30,000 streams. I can just imagine how many bands with lucrative back catalogues have had their income decimated. Probably why we have seen so many reformations.

Tzina: Do you feel that the re-emergence of your version of Nosferatu could generate a wider interest in gothic rock again?
Vlad: What l do believe is that there is a third generation of people fascinated with gothic culture, some even more dedicated than those before them at creating an authentic look. They struggle to find current bands that fit their philosophy so they seek comfort in very old music. I believe we fill that void between young and old fans looking to fulfill their needs. However, when it comes to the UK it has always been very blasé about gothic rock. The media shunned it and many UK music fans either avoided or pretended not to like it. It is still a very niche, insular scene in the UK.

Tzina: Anything else you would like to share with your fans?
Vlad: We hope to take our sound forward without losing the essence of what made our songs appeal. Unlike many reformed bands we intend to uphold quality in everything we do, music, image and presentation.


The Nosferatu on Facebook

~Arrangements for the interview provided by DJ Jason~