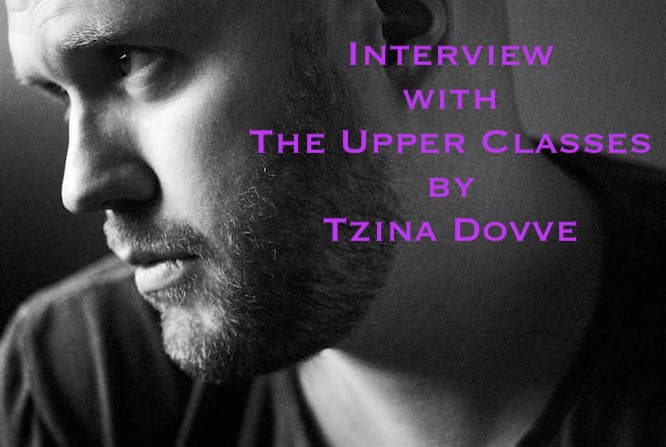 Interview with Jonas Magnusson of The Upper Classes by Tzina Dovve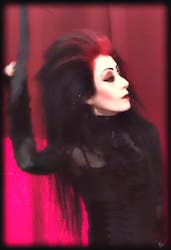 Tzina: The Upper Classes date back to the MySpace days. What prompted you to form this band back in 2004?

Jonas: Playing in different bands since 1995 made me sick and tired of 'band mentality' and making compromises on the music. I guess I was searching for complete dictatorship in one way or another! I couldn't do it on my own because I can't play the guitar and I'm definitely no technician so I asked the only person I knew who could pull it through and that was Per Ahman. I didn't know him well at that time but l respected him to use him… for money. The first song I wrote for The Upper Classes was 'You're the One' in 2004 and it has haunted me ever since.
As I understand you are the main man of the band and more or less this is your solo project. ls there a current line-up?

I'm the main man in the way that I write all the songs and lyrics. So yes, I guess you can call it my solo project. But without Per visualizing my thoughts and ideas, there wouldn't be any Upper Classes. Another important thing is humor. We have fun in the studio and work very fast and effectively. We are very silly, really. Daniel Fjallstrom is our live bass-player, but since we haven't played live since 2013 he has the band's easiest job and he wouldn't have it any other way way.
Your lyrics are dark and meaningful. What inspires you most to write your songs? Do you have any particular influences?
I work really hard with my lyrics because I actually want them to mean something. I guess you can call them my diary throughout the years. The songs 'Save My Soul' (about my mother) and 'Man Of God (about my father) are very personal to me and probably the best two songs I have ever written. I do know how to write good fiction as well. I'm definitely not as self-destructive as people may have thought in songs like 'You Murder Me'. Hate to spoil the fun! I guess I'm not that 'inspired' by other lyricists whereas songwriters, films and literature do inspire me more.
The Upper Classes have digitally released the album 'Broken' recently and a couple of singles on Spotify. Are there any plans for a cd release on a label?
I have more or less worked on The Upper Classes debut album since 2004, but I felt the urge to release 'Broken' to buy myself some time. Some of the songs on 'Broken' are 15 years old and recorded at our old and very sparse studio. I just wanted to get rid of them so I could concentrate on more recent songs. Some of the 'more recent' songs like 'Devious Mind' are only 11 years old, ha ha ha! The plan, however, has been to release something complete, although I really do prefer singles or EPs, instead of albums. I have been in touch with some labels, and they are all very nice people, but l do prefer to release stuff myself… at least for the time being. The Upper Classes are still mostly a YouTube thing. You couldn't find us anywhere else for a very long time. Some of our songs there like ' The Disbeliever ' have reached 60,000 views without absolutely any promotion at all. But hey, we're on Spotify now as well! Dig in!
The band played a couple of great festivals in Sweden a few years back. Are there any plans for upcoming shows in your home country or abroad?
It's very simple really. If you pay, we play! And please tell us 6 months in advance, so we can get our live act together. I'm 43 years old now, happily married with two children, so I can't travel throughout my home country or abroad for free or just playing for beer and petrol. I'm past the age of losing money just to be nice to promoters and organizers.
As I understand, The Upper Classes have some hardcore fans in Greece. What feedback does the band receive in your home country?
Yes, we do. When we started in 2004, I had no idea there was a scene for this kind of music in Greece and I was quite surprised. They are a very loyal and kind fanbase and they have a lot of fun. We were actually discovered by a guy in Athens named Fondas, a hardcore fan of everything not dressed in white. He's probably more famous than us, hahahaha. He's still there for us after all these years, and I love him very much. Hi Fondas!! In Sweden, the 'feedback' is second to none apart from family, friends, colleagues and neighbors!
How do you see the dark / alternative scene for smaller bands nowadays?
To be honest, it doesn't look very promising. In two weeks time, four smaller venues for alternative music in Stockholm have been forced to close down for different reasons. Mostly due to capitalism, of course, and the urgent need to have a very boring city in the future with men in suits etc, etc. In my hometown, Ostersund, there is no scene at all for this kind of music. There is a big festival every year called Storsjoyran which is literally outside my front door, but we have never been offered the opportunity to play there…
If The Upper Classes were asked to support a bigger band on tour , who would you most likely be honoured to follow?
This is really a tricky question. Of course I have favourite bands, but they are not necessarily dark / alternative, and I don't think they would ask us to open for them. I'm afraid that their audience would not accept us, and maybe they'd throw rocks and things at us. Maybe that's taking the question too far? I think my final choice would be Erasure. I do believe they have a kind and accepting audience. If we were to play a really short set I would probably choose 'Equus' and maybe dance a little.
Do you have any upcoming plans for new material in the near future?
I always do, but the only problem is time. I have a lot of unrecorded songs, and there are only two to be finished before the album is complete. I feel the urge to finally record them sometime this year. I have promised these things many times before, so you obviously can't trust me, hahaha. I would say this winter and yes 'The Disbeliever' is included.
Is there anything else you would like to share with your fans?
Firstly Tzina, thank you very much for this opportunity. It's our second interview ever, but the first with a real interest in what we do. Our fans are very loyal and even if we don't deserve it, I would kindly like to ask them to stay loyal and they will hopefully be rewarded. I could not finish this interview without mentioning the truly talented Maria Delg who has helped this band with many things; Most notoriously our album covers. Thank you Maria.
~ arrangements for the interview provided for by DJ Jason ~