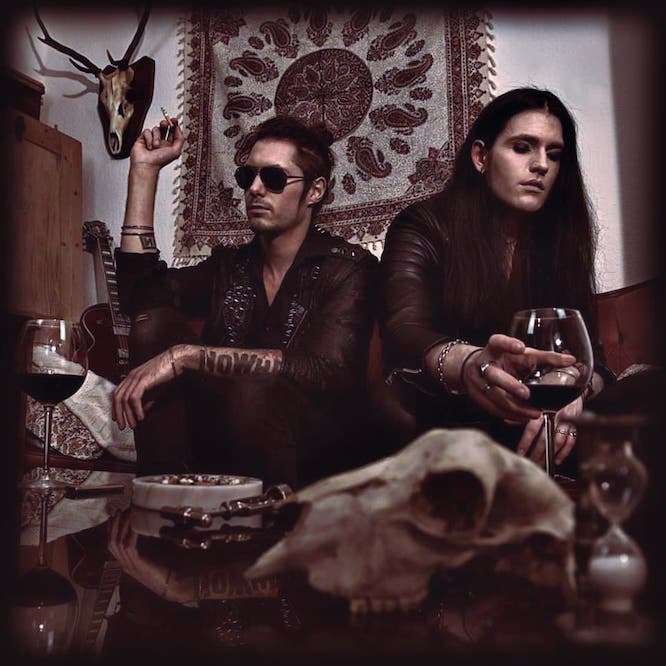 WISBORG- Formed in early 2017. This German duo from Hanover has taken the goth world by storm with two albums and endless shows. Konstantin gives a quick insight on the band.
Tzina: As I understand you both have worked in other bands. What prompted you to form Wisborg in 2017?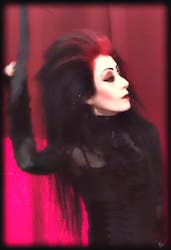 Konstantin: Our old projects didn't really seem to go anywhere so we both decided it was time for a change. We started something new together and put all our energy and effort into it and Wisborg was born.

Tzina: What is the story behind such a characteristic name?
Konstantin: In the 1922 classic silent movie "Nosferatu – A Symphony Of Horror", "Wisborg" is the name of the town where the vampire is moving to. As we are both fans of the film, we thought it would be the perfect name for the band.
Tzina: Wisborg have a very distinct dark sound with both elements of new and old. Who is the main songwriter and what inspires you most to write songs? What are your musical influences?
Konstantin: Mostly, I compose some musical drafts and then we work on them together until we are both satisfied with what we hear. We both enjoy a lot of different musical styles, from Synth Pop to Black Metal.
Tzina: Wisborg signed with the label 'Danse Macabre Records' in early 2018. How difficult was this procedure in finding a label for the band?
Konstantin: It was actually surprisingly easy. We had already recorded "The Tragedy Of Seconds Gone" in 2017 and sent the tracks to multiple labels. Four of them wanted to sign us right away but we chose the best deal. Bruno (Kramm) is a close friend now and we are super happy with the decision we made. Danse Macabre is like family to us.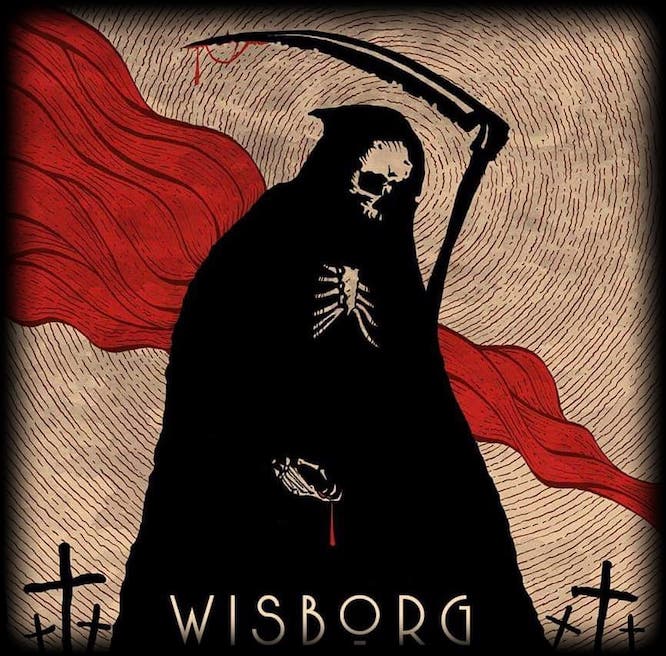 Tzina: After the success of your debut album "The Tragedy Of Seconds Gone' last year your new album 'From The Cradle To The Coffin' was released in March this year. What makes this album different from your first? What feedback are you receiving so far?
Konstantin: The feedback is almost only entirely positive. Nikolas and I are much more used to working with each other now, and I think you can tell that the songs on this album are more thoughtfully composed.
Tzina: Wisborg have been very active live playing quite a few festivals across Germany, including WGT 2018, and alongside oldschool goth rockers Age of Heaven, Still Patient? to name a few. How was that experience?
Konstantin: It was excellent! We live for the stage and love putting on a great show. Age of Heaven and Still Patient? were super kind and supporting throughout all the shows. We had a great time on the road and have stayed in touch with them ever since.
Tzina: You made your debut in the UK this year with participation in the 'Darker Days Festival'. What feedback did you receive from your UK fans? Are there any plans for some more shows outside your home country in the near future?
Konstantin: The UK treated us very kindly, especially Angela and Andrew who hosted the festival and made us feel like headliners. We played in Switzerland, Belgium and the Netherlands as well this year and are always open for shows in other countries. Get in touch!
Tzina: The dark/goth/alternative scene has welcomed you with open arms. Do you believe there is a post punk/ goth rock revival in a more or less electronic dominated scene today?
Konstantin: To a certain extent, yeah. Let's see how it all develops. It's great to see bands like "Then Comes Silence" or "Traitors" become successful with a modern approach to more traditional music.
Tzina: As a band what do you enjoy more? Playing live or recording in the studio? What is more gratifying to you as artists?
Konstantin: It's hard to compare since the recording process is a necessity. I have a hard time waiting for songs to be done and out for everyone to hear, so I'll say playing live is more gratifying. Nevertheless, being in the studio and experimenting with different sounds is super thrilling and rewarding to us as musicians.
Tzina: What can Wisborg fans expect in the near future? Anything else you would like to share?
Konstantin: The next thing for Wisborg is our tour with "Eden Weint Im Grab" in January/February 2020 accompanied by a vinyl reissue of our first two albums. We are also playing Amphi Festival next year, but for now we just hope to see you all on the road. There will be some big improvements to our live shows. Don't miss them!!!!!!!