I've been a fan of The Kentucky Vampires since hearing the opening sequence in Hex from their eponymous debut. With a sharp guitar tone and aesthetic characteristic of classic Death Rock, but with a melodic sensibility all their own, they have continued to garner much deserved attention with the release of their newest EP entitled "Blood And Tears". With a second full-length in the making, Zac Campbell and Abbas Marler, two thirds of the Louisville trio, sat down to answer a few questions about their work and future plans.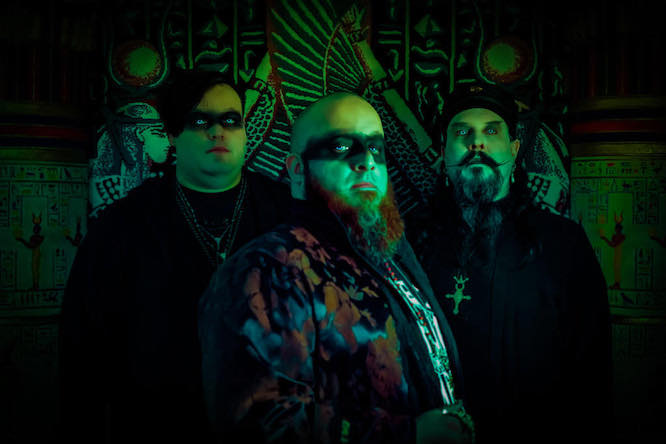 Brandon:  Can you give the readers a little history behind the origins of The Kentucky Vampires and talk a bit about what shaped your sound?
Zac: I started the Kentucky Vampires while I was in a different band doing more traditional gothrock. I began really getting into a lot of the Mexican and south/central American deathrock bands at the time and wanted to do a project out of that style. At the time the other member of my previous band wasn't really interested in doing it, so I just started writing some stuff for fun, ultimately these tracks would become in order "Bitten", "Hex", "Communicate With the Living" and "Spider and the Fly". One night after a gig I did with my other band, Albie Mason (now founder of Scary Black) approached me after the show when I was loading my gear into my car. He told me he really liked our sound and my guitar style. I think we chatted for a little while about gear and he ended up mentioning he might be interested in collaborating on something. I told him I wanted to do a deathrock band that I already had 4 songs ready for and asked him if he wanted to work with me on it. He agreed and that's how it ultimately started. 
Once we had those songs ready we started looking for a live bassist and through a friend of a friend found Abbas. After adding Abbas to the band we started doing some shows, and gaining a presence locally. I think we did maybe 4 or 5 shows with this lineup. After a while the writing started to stall, at the time Albie was in 2 or 3 bands, and after discussing with him our interest to keep moving forward faster than the current pace Albie stepped down and left the band. At this point Abbas suggested that he could do vocals, I had never heard him sing before and just agreed to him trying. I sent him some files for him to record vocals on and when he sent them back to me I was really surprised to hear how great of a vocalist he was. After that we started recording what became our first album, and began doing more and more shows, that's pretty much how the band started and how it has formed into what it is presently.
For this upcoming album we wanted to transition more from deathrock to a more pure unapologetic gothrock sound. The album still features some more deathrock style tracks like our previous album, but also some tracks where we explore some other more gothrock styles. On the first album I wrote the instruments by starting with a strong bass line and then laying guitars over that. More or less focusing on letting the bass really shine and the guitars work around that. On this album I wrote it the opposite where I started with guitars and then wrote the bass lines around them. After adding Motuvius to the wiring process he took the foundation bass lines I wrote and then rewrote them in his style which overall made each track stronger. In the end it all came together really well and I think it has a more 90s second wave gothrock sound while still maintaining our original overall sound.
Brandon:  Reviews of your new EP have been excellent, with a lot attention paid to the slower more brooding direction heard in the tracks  "A Different Shade" and "Our Love Has No Goodbyes".  Is this a direction we will hear more of on the forthcoming album?
Zac: Yeah the feedback we've been getting has been great! We're really proud with how it turned out and the response we have got from it. Yeah on this album we have some more slower tracks, but I feel we have balanced it out with some tracks that are more in the overall style of our sound people are familiar with from the first album. Some more deathrock sounding stuff and some pure gothrock tracks.
Brandon:  Abbas… the lyrics on the new EP are quite moving and seemed a bit less horror themed.  Can you tell us about some of your inspiration for this material?  
Abbas: Yes, in our first album, the lyric writing mostly involved historical matter, a few shout outs to horror movies we've all grown to love and observances of old times involving women of great importance, such as Aradia, witches of the witch trials and The Queen of Bathory.  For the EP, I got a touch personal.  Holy Heretic is about a young woman turned war leader known as Joan of Arc and what she went through. A young woman who believed she was called upon to lead French armies to victory, while mortally wounded and in the end, heinously convicted in ways that are not so different in today's time.  A Different Shade is about those painful moments of having to say good bye to those closest to you, and Our Love Has No Goodbyes is a little bit of a reach out to those suffering real world situations, such as children being separated from their parents at the southern borders and then locked in cages.  The second verse is about a firefighter who was there during 9/11 at the two towers saving lives. He's in danger of being deported because he's Haitian and is suffering from the exposure to toxic dust from the fallen buildings. So I basically tapped into issues that are horrors of their own kind.  
Brandon:  What's on the horizon for the band?  Can you tell us about the new album and any plans post-release for shows etc?
Zac: We are looking to do some shows in 2020, some festivals, a tour with Sonsombre, and looking into possibly doing some shows in Mexico. We are also looking at beginning to write our third album soon. 
Brandon:  I think we've all noticed a revival in Goth, in which more traditional sounds are re-emerging into the spotlight.  Can you give us a sense of what bands you are currently listening to?
Zac: As far as recent or active bands go I've been listening a lot to Sonsombre, Nosferatu, The Wraith, The Spiritual Bat, October Burns Black, The Daughters of Bristol, Raven Said, La Procession de lo Infinito, Acid Bats, Astari Nite, Twin Tribes, 69 Eyes, etc… I literally could go on and on for forever on this… If were talking not active bands I really have been listening a lot to bands like Funhouse, NFD, Still Patient?, The Shallow Graves, Ravencathaus, Morbid Poetry, Die Laughing, etc.. and of course all the greats like the Sisters, Fields, the Cure, Banshees, Christian Death, Bauhaus, etc..
Abbas: This elder goth is a bit retro by nature. LOL. So I'm always gravitating to the classics, The Cure, Sisters, Siouxsie and the Banshees, I'm also a big fan of Peter Murphy's solo projects, but I also like listening to bands like Wing Tips, Horror Vacui and many others.  
Brandon:  Do you have any parting thoughts for the readers?
Zac: I'd really like to express my complete gratitude to anyone who is enjoying what we're doing. Anyone who is coming to our events, buying a shirt, or a CD or a vinyl! Or just listening to us on spotify or youtube! Thank you so much for all your support! Without your support we simply wouldn't exist in the way we do today! 
Abbas: Yes, thank you to everyone who's supported us up to this point.  None of this is possible without the beautiful people of the goth communities.  It's because of you that we continue to fight and keep this way of life alive and breathing through music and art and I can't wait to see what happens in the future. 
The Kentucky Vampires on Facebook
The Kentucky Vampires on Bandcamp