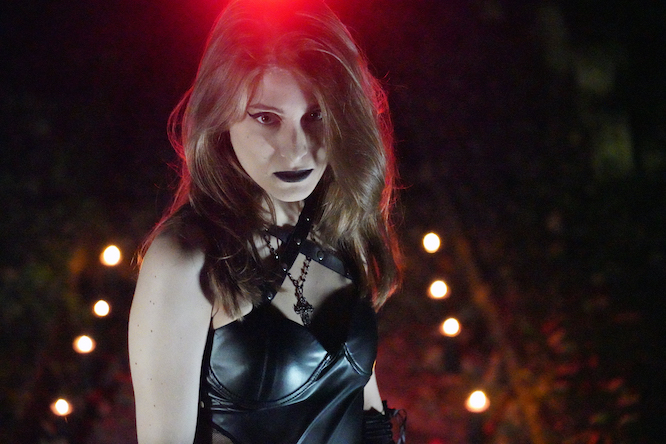 A graduate from Conservatorio di Musica "San Pietro a Majella" di Napoli, Stella Wembley is the new rising star of the UK Dark Synth/Gothic Scene.
Stella Wembley is an accomplished music producer, video director, composer, lyricist, multi-faceted musician and truly exceptional vocalist Stella captivates with her own particular take on the genre.
Alluringly she leads the listener into a haunted realm where, with powerful and evocative deep lyrics, she lays bare her soul in a psycho-drama of tragedy and melancholic sensuality.
She sings powerfully, yet with a hint of vulnerability, like a beautiful damned siren calling us to join her in her dark universe.
Stella Wembley is a visionary artist who seems to defy description.
"All that I need" EP (Gothic Empire Records, 2019) produced, written and performed by Stella Wembley has been released on the 21st of October 2019 on the digital platforms. The official release date is in February of 2020. (Worldwide Distribution: Resurrection Records via PHD, Audioglobe, M&A ). "All That I Need" Official Music Video , directed by Stella Wembley, has been released on the 12th of November 2019 and it is on her youtube channel.
Nick: When did you start singing, who are your influences?
Stella: My grandfather used to play vinyls and sing old tunes… it's how I fell in love with music. I started studying contemporary singing at 17. A few years later, I studied Opera singing at The Conservatory of Naples. I listen to many different genres, and my music reflects this. I mainly prefer music from the 60's, 70's and 80's, but I listen to new music as well. As for the musicians who influenced me the most, I would mention The Doors, Pink Floyd, Led Zeppelin, Depeche Mode, David Bowie, Freddy Mercury, Gary Numan, Bjork and recently Lana Del Rey. As a visual artist, I have been influenced by the horror movies from the 80's, like the ones by Hammer production.
Nick: If you could change anything about the industry, what would it be?
Stella: Music industry is now based on how many followers you have on instagram, twitter and facebook and to be popular is, unfortunately, much more important than to be talented. It is hard for up and coming artists to get known in the music industry without having a huge following on the social media; this means you need to spend money to advertise your music and it is hard without an investor. Even though it is easier to reach people sharing your music through the social platforms, artists need to be also business persons, and this is a lot of work if you don't have a team. Moreover, the audience should support the artist not only streaming music online, but going to the gigs and buying physical copies.
Nick: Who would you most like to collaborate with?
Stella: I would say with anyone is passionate about music and very committed. I am a perfectionist and can't work with musicians that are not hard-working and passionate about music. As a solo artist, I feel much more comfortable making my own music as I have my vision, but if there is chemistry with another musician, band or producer I would give it a go. At the moment, I am collaborating with the producer Lloyd Price (The Frixion) and hope to make music with him during this year. He is brilliant and made an awesome remix of my song "All That I Need".
Nick: What's next for you?
Stella: My Ep launch at The Fiddler's Elbow on March 20th and another show at the legendary Dublin Castle on June 4th, in London, where I will be the headliner. I reckon to release a new single soon and a music video as well. I am recording an album which should be released in September of 2020. I would like to play in festivals, to reach a bigger audience and meet new musicians too. I have heard about the Goth City festival in November in Leeds. It would be wicked to play there!
Nick: What is the most useless talent you have?
Stella: I can hold my breath underwater for over 1 minute.