Reptyle: German old-school goth rockers talk about their past, present and future… Exclusive first interview with new singer Kai…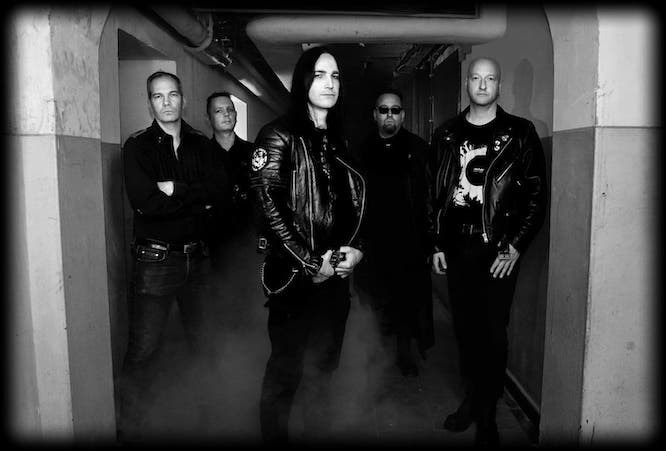 REPTYLE – Interview with Kai (vocals), Slash (guitars) and Keule (guitars) by Tzina Dovve
Tzina: As l understand Reptyle date back to 1998. How did the band form and who are the current members? Have there been many line-up changes over the years?
Keule: In 1997 both my former band and also the former band of the original Reptyle bass-player ' Hook ' split up. We already knew each other from a little festival where both bands joined the line-up. Hook was (and still is) a very good friend of 'Slash' so it was  kind of obvious to start a new band together as we all had the same taste in music and favourite drinks ☺ I contacted Kufi (the keyboard player from my previous band) and he also did not miss a beat to join us. So including a new drummer we were able to start rehearsing, but it took about 6 months to find a suitable singer, 'Zulu'. Of course during the last 20 years there have been some changes in the line-up, especially with Zulu leaving the band more than 3 years ago. The current line up is:
Kai: Vocals
Slash: Guitars
Keule: Guitars
Dead: Bass
Gerwin: Drums
Who has been the main songwriter in Reptyle throughout the band's career? What inspires you the most to write music and what are your musical influences?
Slash: The great majority of our songs are written by Keule. He is composing the longer more sophisticated songs, while I'm normally contributing towards the easier, catchy ones. My personal inspirations come  mostly from German Wave and other 80s stuff, while Keule is also mixing Prog and shoegaze to our music /sound…
Your band is quite active with a quite a number of participations on compilations and tribute albums under your belt. How does this usually come about? What are your views on cover versions and do you enjoy doing them?
Keule: Normally we are contacted directly from the label , respectively by the compiler, and we nearly always agree;-) As we have just released some new songs hopefully we´ll be contacted again soon to join some more compilations. And yes, in general we enjoy cover versions, but more  playing them live rather than recording them for compilations (as we prefer to record our own songs of course). 
After the release of 'Night And The River ' four years ago you just released a 3-track split 7″ with goth rockers The House of Usher. How did this collaboration come about? Are there any plans for another release in the near future?
Keule: The House of Usher are very good friends with us since the beginning of Reptyle. It's always much more fun to have gigs together with them. When Zulu left the band we had problems finding an appropriate successor, so Jörg from The House of Usher offered to help us out and we recorded 2 songs with him on vocals. One of the tracks ' Hibernation ' is also the theme song from our Split 7".  The collaboration is even more intensive as Gerwin is the drummer of both bands and sometimes I help out  on guitar at live-gigs replacing their original guitar player Markus. And yes, there are release plans for the future. Our new album is due to be out at the end of 2020.
After three years of silence Reptyle made a comeback on stage on the 1st of November with longtime friends The House of Usher. What feedback did you receive from fans and how did it feel to be back on stage after such a long break?
Slash: The feedback was very warm and supportive and it was such a great experience to go on stage again as a band and expose the new songs to what could be called our 'home base'. It was some confirmation of what we'd been doing for the last 2 years , looking for our roots .Kind of brought us right back to where we started. And that felt absolutely great.

What prompted the band to decide to start recording again and playing live? Do you have any other upcoming shows planned in the near future?
Keule: Our line-up was not complete for a long time but  we never stopped rehearsing and recording our new tracks in the studio. We completed 4 of them with guest-singers as a 'sign of life' and we recorded another 4 instrumental songs.All of them will be included on our forthcoming album. The second part of the question was more or less already answered by Slash – it is always a great feeling to go on stage and present both new songs and old classics and receive direct feedback from the crowd! At the moment we have just 1 upcoming confirmed gig. We have joined the line-up of  'Dark Club-Festival ' in the beginning of March. Of course this will be a very special gig as it's the first one with our new singer Kai.
Your home country has developed a very strong dark/goth scene over the years. Do you believe it has changed a lot since you started out as a band in 1998?
Slash: Yes and no – from the musical side, nearly all phases of alternative, dark music that is produced nowadays in Germany have their origins back to the 90s and most of them even earlier. In my perception people specialize more on the single styles so you can visit Tradgoth only festivals for example. From the social view, the scene seems to be even more focused on outfits and images than it was back in the 90s, but in my opinion that's no special German phenomenon. 
There seems to be some sort of goth revival at the moment with a lot of new bands emerging on the scene and older bands reforming.What are your views on this?
Keule: In my opinion this goth revival already started back in 1998 with Bauhaus and never stopped. I have the feeling that provided that at least one of the band members that  is still alive there is a chance to see them all live on stage again if this hasn't already happened in the last 20 years. Personally I have not discovered that many new great goth bands in the last years. Then Comes Silence are great, so if you (the reader) don't know them you should check them out for sure!
As oldschool goth rockers what are your ambitions as a band? What would you like Reptyle to achieve?
Slash: As all other old school goth rockers, we'd primarily like to keep as much hair and teeth as possible! 🙂 In terms of musical goals, we'd love to add some more European shows to our portfolio (which would include Bavaria, of course…). and our new album, which we of course consider the best we've done so far (as always) would be amazing if it would please people as much as it means to us after a long and nerve-racking search for a new singer. 
Anything else you would like to share with your fans? What can they expect from you in the near future?
Slash: Thank you so much, whoever and wherever you are for supporting us for more than 20 years in  one way or another. We hope you'll all love the new album and that we'll all share a place at a bar in the near future! We'll see each other very soon! 
Question for Kai (new singer)
As l understand Kai, the most recent member , has just joined the band. What is the story behind that? How did this collaboration come about?
Kai: I got to know the music of Reptyle many years ago through the host of our then iconic Gothic pub called 'Graveyard'. I really liked the music of Reptyle back then. When Reptyle were in search of a new singer we actually met in a rehearsal room a year and a half ago. Unfortunately, a  collaboration was not established due to time constraints. Last summer my band split up and a mutual friend told Keule about it and he contacted me again. We met for another rehearsal and felt very comfortable with each other. Same strange humour and same visions for dark music,  I think.
How does it feel, Kai, to be in a band that dates back to the nineties with such a long history in the dark /goth scene?
It feels great and I hope that I can continue the legacy of the old singer with dignity and still bring my own style.
As a singer what are your ambitions /goals with Reptyle? What do you wish to achieve musically?
I am looking forward to the creative process with the new songs of the upcoming album.
I am also looking forward to my first gig with Reptyle on 07.03.2020.
I want to find and express myself musically with Reptyle and write a lot of dark rockin' songs.
Reptyle on Bandcamp
Reptyle's Official Website
Reptyle on Facebook