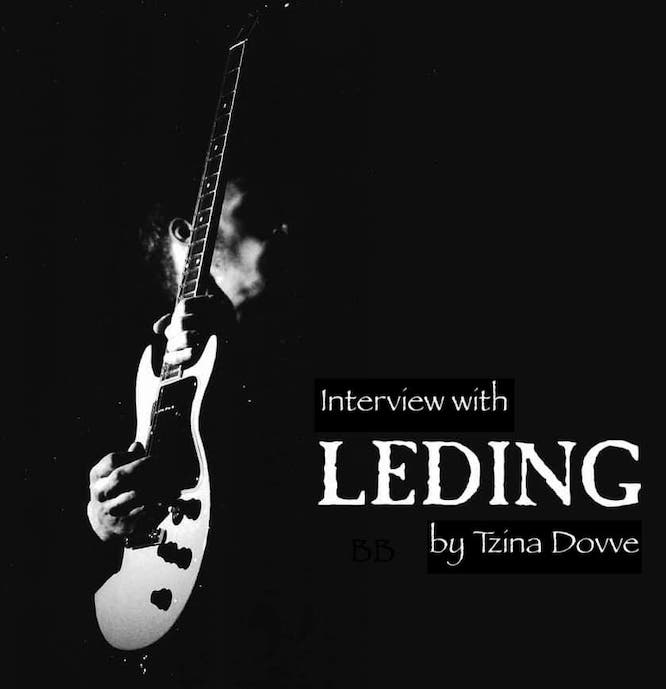 LEDING: Charismatic frontman Christian Leding talks about his journey on the German dark /goth scene and gives an insight on what his band is all about…by Tzina Dovve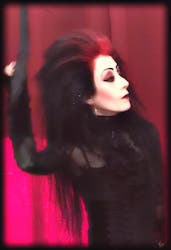 Tzina: As l understand after the split up of your nineties band ' Home of the Hitman ' you had over a decade of silence before emerging back on the scene in 2010. What prompted you to want to create music again after such long abstinence ?
Christian Leding: I recognized that when picking up my guitar something had changed: There were melodies in my mind again, song structures, sounds. I hadn't had this feeling for many years, but then all of a sudden it seemed to be back again. It felt like an echo from the past but with lots of new for me, yet unknown influences and structures. I'm still amazed this happened. I think maybe it was just time to come back into the world of music.
How and when was Leding formed and who are the current members of the band?
Coming back into this music scene in 2010 I soon founded a band named Salvation AMP, that was around 2011. We released two albums and played a lot of live shows. Eventually in 2018, after certain struggles with the line-up, I changed the name of the band and all my activities in music into Leding. My current band mates are Steve Leafs on drums and Thomas Simon on bass guitar and I'm absolutely happy with this line-up. Around the same time, I also started playing acoustic guitar and performing live on stage as a solo artist. 
Who is the main songwriter ? Where do you get your inspiration to write such melodic/atmospheric music? How is a Leding song born?
I am the only songwriter and that is why it's only logical to make music under my own name. I turned into a kind of singer & songwriter; I get my inspiration from a lot of different things. Sometimes there's a simple melody inside my head which is inspiration enough to write a song. Sometimes I try to create songs from out of the things I'm dreaming of when I'm asleep. A song is always born when all parts are finished: the chords, a riff, verses and lyrics. Next step is to arrange all these pieces into one song. That's the process of giving birth to it.
You have quite a few releases under your belt with your latest titled ' The Invisible Man ' released October last year. What feedback has this album received so far and what makes it different from your previous releases?
'The invisible man' is a very special record. Originally we wanted to release this album about three years ago, but it never happened due to different circumstances. There have been certain differences and tensions inside the band (still called salvation AMP those days) and I was about to slide more and more into a severe depression. It finally ended up in the need to split up the band and looking back at this I believe that it had been an overdue decision. Now I am lucky that I have found an excellent new bass player and that Steve, my longtime drummer, is still on board. We finally managed to restart the band under a new flag and to finish our album. Listening to the album right now makes me travel back in time. Now I can look back without any anger or grief. I got to the point to leave everything bad that happened in connection with that album behind, and I'm fine with it.
The reactions have been very positive. Many people have asked me why I changed the name of the band, some were really sad about it, but in the end they recognized that it's still the same sound and the same songwriting (obvious reasons).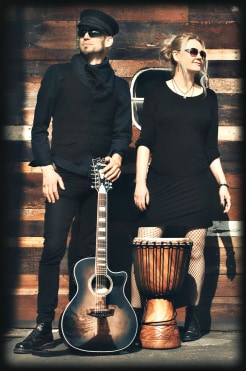 Is there a hidden symbolic meaning behind this title? Why such a name?
The title track is about an imaginary walk through this world being invisible. Just a watcher who roams around, that nobody notices. A person being absolutely alone in between all these human beings around. But there is – as in many other songs of mine – always the possibility of different interpretations. So in the end there can be different meanings behind it.
As a musician are you a fan of cover versions? What is your opinion of bands playing ( recording, not so much live ) cover versions? Are there any in particular you would like to do?
Cover versions can be quite a great thing and there are loads of really great cover songs around. It's OK for me if other musicians do covers, sometimes they are absolutely magnificent. But speaking for me I'm not that interested in recording or playing a song from another band or artist. But I may change my view on this one day, who knows?
Leding are quite an active live band both at smaller venues and festivals? Which do you prefer playing? What is more gratifying for you? Do you have any upcoming shows?
We see ourselves as a classic club band. We love to play dark and smoky venues, the fog and the closeness to the audience is something we really appreciate. Open air festivals are great, but honestly we don't really like to play during daylight. Fortunately, most festivals we have played were small indoor events like Dark Spring Festival Berlin or Melting Sounds.
We have some upcoming shows, but as most other artists too, we all have to wait until this corona virus thing is gone.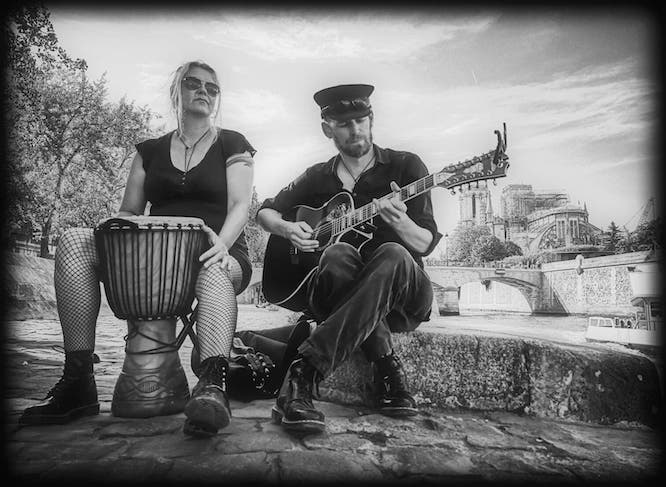 Many dark/ goth bands have emerged on the scene during the last few years from all over the world. Do you think there is some sort of goth revival at the moment?
I am not an expert on this. I think that there is a certain kind of revival but it's a small one. The big times are long gone and maybe that's a good thing. Each and every thing has got its time, but sometimes it is good that, especially in the dark music scene, the big times are over. This brings space for new bands, new sounds, young artists and fresh blood in a way. We need young and new ideas to prevent us from circling around endlessly in our own spiral. This would make us like oldies always pointing out that everything was better back in the day. No, I don't want to become this kind of oldie.
What is goth to you? Are there any new bands that you admire? Do you follow the scene?
An easy question at first glance but not that easy when I really think about it. I have been wearing black since I was thirteen. I grew up with the old Sisters and Red Lorry Yellow Lorry, The Chameleons and many other iconic bands. Honestly, I can't tell you exactly what goth is to me, it's difficult to explain. But I can say that I still love going to dark clubs, watching the bands play and joining the dancefloor afterwards, hiding in the fog. 
The most impressive new band I've seen are Whispering Sons, they absolutely blew me away. And Esben and the Witch, they are awesome too. These young bands give me hope that there is far more to discover in 'our' scene than just an another Sisters or Nephilim clone.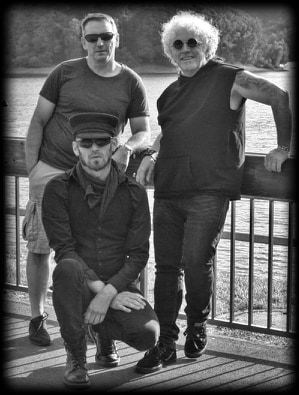 How different is the dark scene in your home country today from when you started out back in the nineties? Do you believe it differs from the rest of the world?
The most obvious difference is that we all got older and that there are less people going to the clubs. Only very few young people in their twenties to be seen. Maybe the younger ones are more likely to attend the big festivals like Mera Luna, but I can't evaluate that as I don't go to those big events. In the places I've been to in other European countries it seems to be the same, but of course that's just my personal point of view.
What are your ambitions as a band? What do you wish to achieve? More recording or live shows? What is more fulfilling to you as a musician?
The most fulfilling thing is to play live. We've always seen ourselves as a live band. We are lucky to go on tour, to see other places and meet different people. It's quite simple, but we love that and that is what we are constantly working on. We are far too experienced to wish for 'the big deal' one day, and it's really not the thing we wish for. We have no label and no other partners we have any sort of contract with. We are a classic independent band which makes us absolutely free in everything we do and we love keeping this freedom.
Anything else you would like to share with Leding fans? What can they expect in the near future?
I always try and keep connection with our friends and followers, which is so easy nowadays compared to back in the 80s or 90s. Most of the people know what to expect from us, playing gigs, touring, writing and recording new songs and all that. And yes, currently some live concerts via live streaming, especially solo shows of course. As with all the other people around, we'd like to return to normal life as soon as possible. No live stream can compare to a real live show!