A new band to emerge from the UK goth/dark scene over the last few years… Frontman and singer James Riley gives a deep insight on what his band is all about…
…By Tzina Dovve
Tzina: When and where were Her Despair formed? What prompted you to form this band to begin with and what is the current line-up?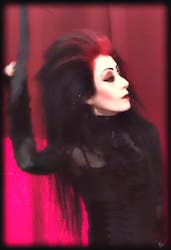 James: The concept of Her Despair first came to me circa 2014 just outside of London UK, when I started writing a handful of songs which would eventually become the debut album 'Hymns For the Hopeless,' released 2015. The melodies were appearing in my head and I had to do something to get them out. I had written and performed in bands previously, but had taken something of a self-imposed break. Initially it was all going to remain as just that; a collection of songs committed to tape. However, as time progressed, I found myself yearning to expand upon what was being created, so searched the local catacombs in true Lovecraftian style until I found suitable spirits with whom to perform the music in a live capacity.
Our line-up consists of myself singing, Dan and Jord both playing guitar, Vikki on bass, and Toby on keyboards. We are currently working with a long-time associate for session drum work, after our previous drummer decided to step down at the end of the last year before moving back to Scotland.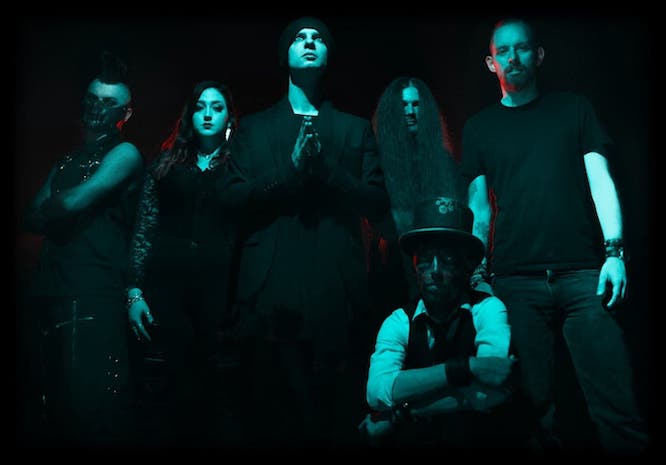 Tzina: What is the story behind the band's rather morbid name. Why this title in particular? Can you elaborate on that?
James: When formulating the necessary atmosphere in which to experience the music, I wanted each element to correlate sufficiently so as to provide consistent imagery. The music is very sorrowful, so a suitably morose moniker seemed appropriate. I went through a couple of different titles before settling on Her Despair. Originally the project title was Tears of Heaven, then it changed to As She Drowns in Her Despair. That seemed like a bit of a mouthful, so it was shortened to Her Despair and voila. I suppose part of the mystery could be who the "Her" in the title refers to. Regarding "despair," I liked the idea of a complete abandonment of hope; which again works with the overall themes present in the music.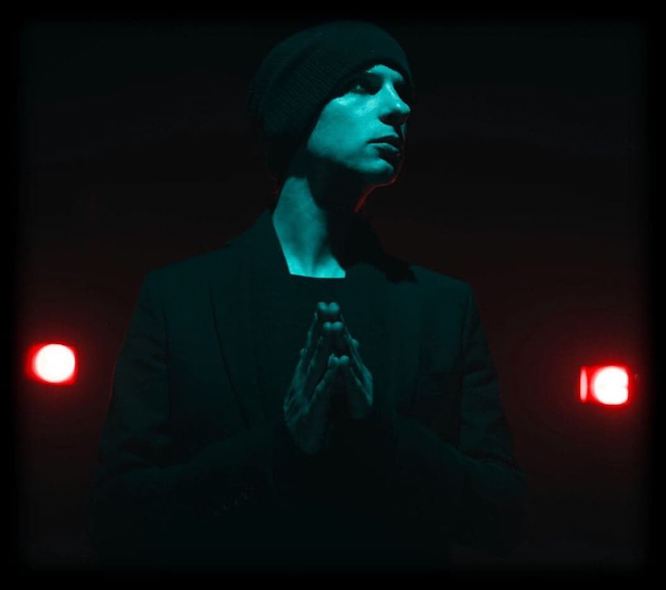 Tzina: Who is the main creator behind Her Despair's songwriting? Where do you get your inspiration from and what are your musical influences? (apart from the obvious)
James: I tend to write the basis of the music and lyrics, then take it to the band rehearsal studio and we'll begin working on it collectively. It all starts in a dark room with my guitars and keyboard; the candles aflame so as to set an appropriate atmosphere. Once the skeleton of the song is there and we begin fleshing it out together at rehearsal, the group aspects come together fairly quickly and we usually have a working first draft by the end of the session. Then the real work starts with the refinements and edits, as we gradually edge towards a completed song.
Inspiration can come from anywhere, but the majority of the time, as aforementioned with the first album, the melodies will appear in my mind. Sometimes fully formed, sometimes needing expansion. I go through periods of creativity. I'll write a handful of song skeletons in a reasonably short space of time, and then it isn't too long until those songs have become more substantial. We're always editing and trying out different ideas throughout the songwriting process, including when we're actually in the recording studio. I think that it's important to try differing techniques and viewpoints, it's all for the good of the song and making it the best it can be.
In terms of general musical influences, I would highlight the Sisters of Mercy, Nick Cave, My Dying Bride and Type O Negative. However one of the things that I enjoy most about our songs is that they don't always stick to the gothic format one hundred percent. There is an enormous punk influence in our music, mainly the Misfits and Sex Pistols, but even a decent pop melody can get my foot tapping at the right moment. I suppose there's a difference between feeling inspired, and feeling inspired to imitate. For example I would not say that musically we resemble Cradle of Filth particularly closely overall, but the orchestral elements they use are certainly influential for us.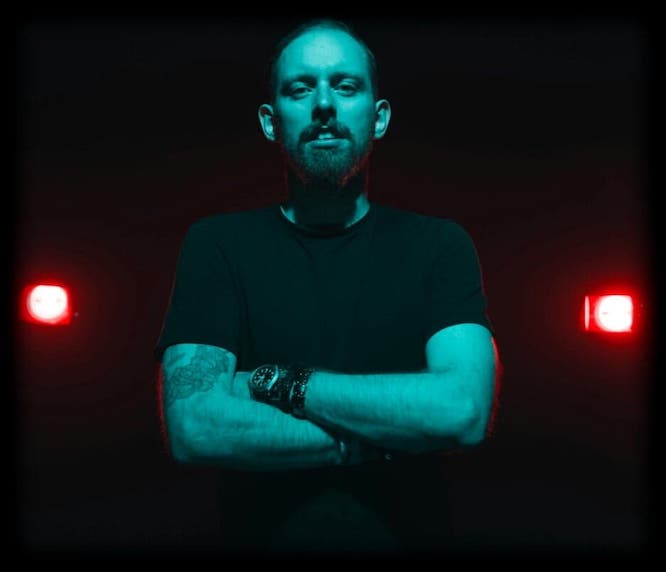 Tzina: As l understand your most recent release the 'Exorcisms of Eroticism' E.P. was released last year in 2019. What feedback have you received from fans so far and what makes this E.P. different from previous releases? What is this E.P. all about?
James: 'Exorcisms of Eroticism' is our latest dark and dramatic collection of six gothic rock anthems. Designed to unravel the mysteries of the theologic and the erotic, each song is set to a storm of symphonic instrumentation; providing the perfect soundtrack for your sorrows. The feedback we have received from fans and international music critics has been outstanding, and it really feels like we made the alchemy click on this one. Listening back to our previous releases 'Hymns For the Hopeless' and 'Mournography,' there are one or two things I'd change given the opportunity, both from a songwriting standpoint and a production perspective. I am still immensely proud of both those records, but we were still very much growing as a band, before hitting our stride with 'Exorcisms of Eroticism.'
This latest release is how Her Despair is meant to sound. We all developed as individual musicians, and as a cohesive unit, during the songwriting and recording process, and we really feel it shows on the record. There is more of everything: more choirs, more double pedals, more dance melodies thinly veiled within the mix. Whilst we wanted 'Exorcisms of Eroticism' to be suitably melancholic and full of impending doom, we also wanted to craft some songs that people can dance to, or at least fall apart to. It was all about finding the right balance between those opposing ends of the spectrum.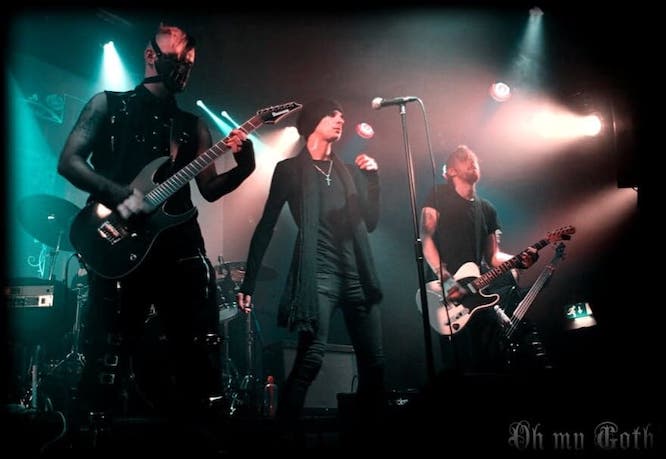 Tzina: Do Her Despair have any plans for an upcoming release in the near future? Are you working on any new material at the moment?
James: I can exclusively reveal to Absolution NYC that we have indeed started the process of writing new material. It is still early days yet and we're a long way from the recording studio, but I have about three song skeletons that will eventually be ready to face the light. Dan and I have begun tracking initial demo ideas in his home studio, which are shaping up beautifully so far. It's incredibly cathartic to work on new songs again, and I'm really excited to see how they develop further down the line.
Unfortunately it's too early to say exactly what form the next release will take yet, and there are several factors to take into consideration. Whilst the prospect of doing another full length album is very appealing, doing so is a very lengthy process. EP's have the benefit of being considerably quicker, but similarly our last two releases were EP's, so it may be time for a change. Perhaps we'll try something different and release a few separate singles, spread out over a year or so.
I find it interesting how things have changed in that regard. Whilst there will always be interest and demand for full albums, listening habits have changed and people aren't quite so quick to dive headlong into an hour long opus anymore.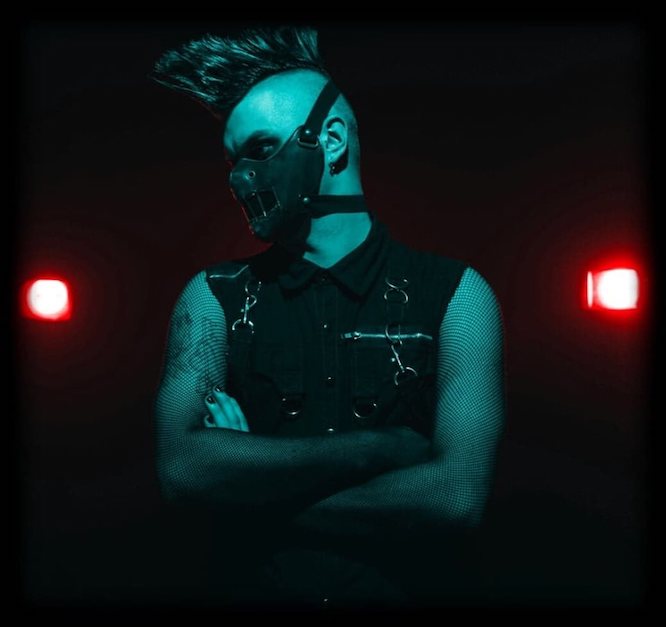 Tzina: Your latest video clip 'The Exorcism' was out a few months ago. What is the symbolic meaning behind this video? Why this song in particular ?
James: We selected this song as the lead single for 'Exorcisms of Eroticism' as we felt it most aptly demonstrated the overall sound of the release, and the lead synth melody is just too catchy not to put on full frontal display. In terms of symbolic meaning, the video depicts themes of lust, sorrow, and mourning; all draped elegantly and extensively in black and red.
When filming the video over two days in the haunted city of Southampton, we were keen to keep a fairly open outlook. We did not want to be restricted with excessive planning and storyboarding; it was more a case of simply capturing suitable imagery. The themes were there of course, but we had a very naturalistic approach. If something worked and looked good, we'd roll with it. If it wasn't working, we'd cut it; simple as that. Perhaps nowadays there is an abundance of artists attempting to achieve Shakespearean depth in their videos, whereas a considerable amount of the time I think less can be more.
Tzina: How important are videos to you as a band? Is this something that you enjoy doing as a band?
Jamie: Very much so. Music videos are potentially the single most effective piece of media that a band can have, and we are delighted with both the video for 'The Exorcism' and our previous video 'Blaspheme With Me.' We did have plans for another video from the latest release, but unfortunately it had be to postponed due to everything going on with the pandemic. Hopefully we will be able to rectify that within the not too distant future, but similarly we may end up waiting until the next release cycle and focus on newer material.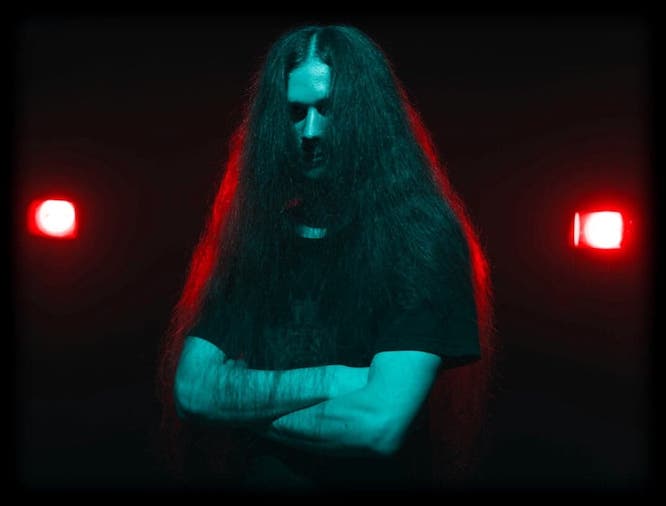 Tzina: As l understand your band participated in the Darker Days Festival March last year in Leicester. How did this participation come about and how was this experience for you all?
Jamie: Darker Days Festival was undoubtedly one of our favourite experiences as a band. We were working with Spectre Records for bookings at the time, and the festival itself was monumental. It was a fantastic opportunity to showcase our melodramatic brand of goth music to the masses, and the audience response was very positive. There were some amazing bands performing over the weekend including House of Usher, Whispering Sons and Wisborg, and we formed a close relationship with the promoters there. Hopefully from next year the festival will be able to restart; it really was a magical experience.
Tzina: Are Her Despair an active live band? Are there any plans for live shows in 2020/ 2021? If given the choice what cities/ festivals would you like to play ?
Jaime: Last year we played a considerable number of live shows all across the country, but unfortunately this year has been far quieter due to the pandemic, as seems to have been the case for most artists. We had several summer festival appearances planned, but the festivals have sadly been cancelled. One has been rescheduled for next year, and we do have some dates lined up for later this year, including another festival. At the moment it is regrettably still a case of waiting to see what happens though.
Assuming that by 2021 the live scene will be back to a far more regular state, our intention will be to hit the ground running with as many shows as we can. Given a choice, the dream would be to perform at festivals like M'era Luna and Wave-Gotik-Treffen, both of which would inevitably provide something of a spiritual experience. We would love to perform abroad, and often receive fan requests to do so.
In terms of the UK, there are of course several events of note throughout the year in Whitby, and the main summer festivals such as Download and Bloodstock. City-wise, anywhere and everywhere. London is always good and is one of our nearest cities, and heading up North to such places as Leeds and Leicester again would be wonderful. The North have a very strong connection with gothic music, and have always been very welcoming to us.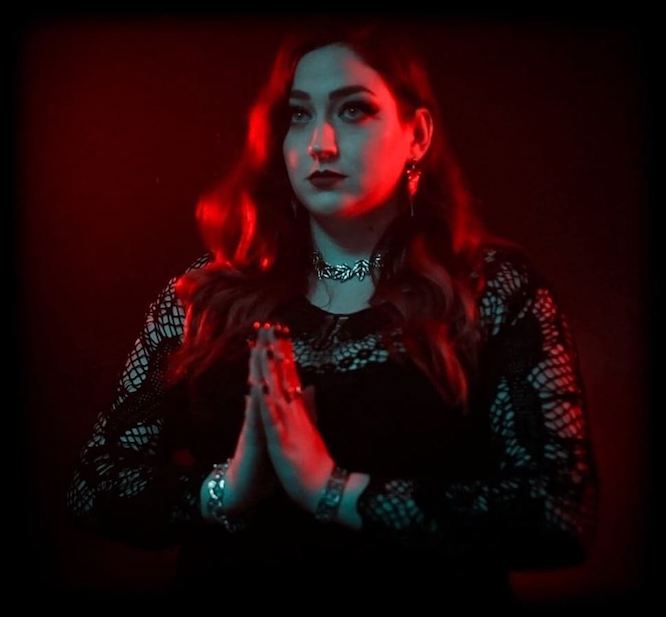 Tzina: The last few months have not been easy for anyone. How difficult has this lockdown period been for musicians in particular? How do you think this will affect the music industry in particular?

Jaime: Without doubt it has been a very surreal period in history. For musicians it has certainly been hard, not least as most of the time it is necessary to be around other people in order to perform music; whether in a rehearsal room, or to the assembled audience of spectres. As I mentioned, we had to cancel a planned music video, and some performances we had lined up have been cancelled. This is the case for more or less every band I think, and it is a very sorry state of affairs. In terms of the future of the music industry, who knows. I think eventually live shows will be able to happen again in their full form, but with current rulings and concerns, I think it will take some time.
Tzina: How do you view the dark/ goth / alternative scene in the U.K. today? Do you believe it is much different from the rest of the world? Do you follow the scene?
Jaime: There is a huge amount to be said for the music in the UK goth scene, and there are some very interesting bands doing fantastic work. Besides the bands themselves, there are also some truly wonderful people working as promoters and writers, amongst many other roles. There is a really strong sense of sticking together in this scene; we all know we are the outcasts, and there's a great source of comfort and companionship in that.
However for all its advantages, sometimes the positivity can be permeated by those who think their opinion is the only one that matters. I have no time for the whole "this is goth, that isn't goth" discussion, it is generally of very little interest to me. Over the last few months I've been avoiding the internet as much as I can. Sometimes I find it's better to just switch off from all that and focus on what's real in the world in front of you, whether it's the fading life a rose, or the sound of rain upon slanted windows.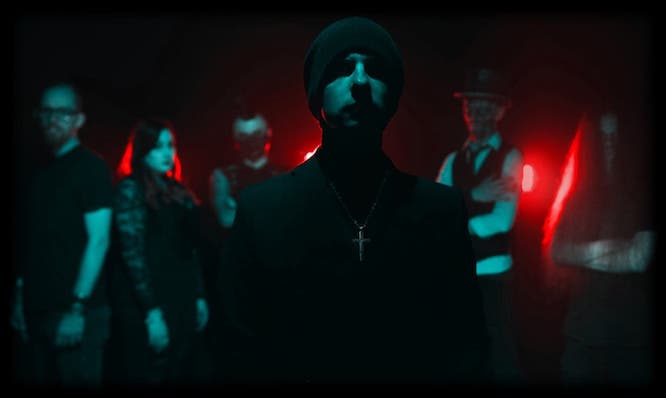 Tzina:Anything else you would like to share with Her Despair fans? What can they expect from you in the near future?
Jaime: To our dearest fans – know that we are still alive, and that we long to perform for you once again. That time will come. The new material we are writing for you has the potential to be our best yet. It is the natural progression of 'Exorcisms of Eroticism,' but perhaps also leans back on occasion towards the pitch black doom of earlier releases. Whilst I am unable to provide you with a release date yet, we hope it would be no later than 2021 when you hear some new music. We adore every one of you, and one day we will all be reunited under darkened skies, with floods of lights and excessive use of smoke machines.
'Exorcisms of Eroticism' stream (Spotify / YouTube etc) band.link/exorcisms
Social Media links
Spotify / Apple Music / YouTube