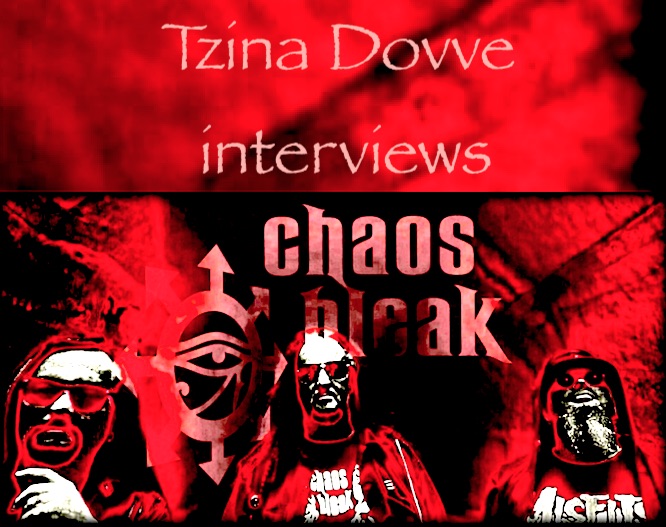 Chaos Bleak…🦇🦇… A new act on the UK goth scene… Three old-school goth veterans talk about "the goth days " and give a deep insight on what their new collaboration is all about…🦇🦇… Chaos Bleak… By Tzina Dovve
Tzina: It is well-known that you have quite a long history in the UK goth scene, Trevor, with other goth bands. How and when did Chaos Bleak come about and what prompted you to form this band? Who are the members?
Trev: Piers and I decided around March 2019 that it was time we set up another musical project after waiting for Arcane Winter to reform for about 3 years at that point. The initial idea was to reform AW but with a drum machine but then during conversations one night in a pub in Hucknall about what we were going to do, we decided that perhaps a more moved on version of AW would be better, incorporating all the technical skills I had learnt from my previous projects as well as reactivating the early 80's bass and guitar sound that we loved so much. It was time to bring in all our 90's musical experience, our experience of post 90's goth and gothic evolved music and top with slabs of Play Dead/ Killing Joke/ Amebix/ Hawkwind/ Chrome inspired bass and guitar work.
We were over the moon when Justin (ex 13 Candles) wanted to join!
So, we eventually decided on the name Chaos Bleak and we are:
Piers Sixx= vocals.
Guitars, programming, production and backing vocals= Trev Bamford.
Bass and backing vocals= Justin Walker.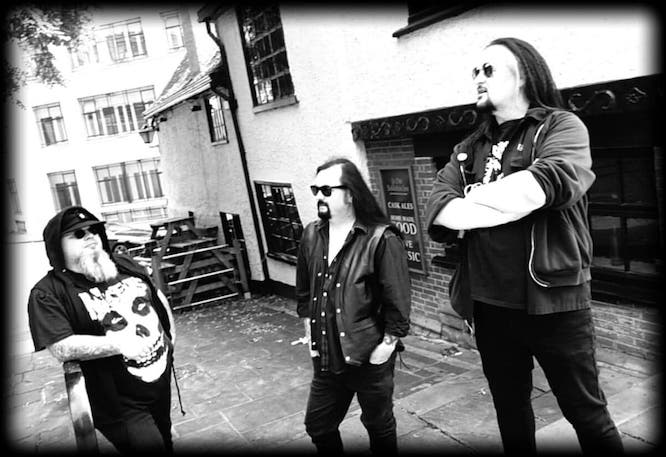 Tzina: What is the story behind the name Chaos Bleak? Is there some sort of symbolic meaning to this name? Can you elaborate…
Piers: Originally, we were called Chaos Black, but only for a few weeks, we hadn't released anything at that point. A good friend of ours, Gadge, pointed out that the name was already in use by a company with a litigious reputation. We'd no idea, and didn't fancy getting sued, so we dropped "Black" and adopted "Bleak".
Strangely, the name does have connotations, though, "chaos" reflects our punk, rule-breaking approach, and "bleak" is the gothic side. For all the trivia fans out there, the name came to me as I was climbing a ladder into my attic, where the Nightbreed label CDs are kept.
(Trev's comment) it was the positive guiding force of a ton of 90's gothic CD's that gave you the name! lol.
Justin: Trev and Piers can explain that better and probably have already.
Tzina: Your band has quite a modern goth sound..old-school meets new.. Who is the main songwriter? How is a Chaos Bleak song born? What are your main musical influences?
Piers: Thank you, that's exactly what we aim for! We all write separately, Trev will come up with a guitar line, programmed backing track and melody, play it to me and I name the song, give it a theme and melody and record the vocals once the bass and guitar are in place. I draw inspiration from all over the place; films, books, dreams, experiences. I remember Carl McCoy once saying he wanted to make music for the films which play in his head, I do the same, except my films aren't westerns, they're ghost stories and giallo movies. For me, music is as visual as it is aural.
We are of course are able to use technology which we didn't have access to with our former bands, and technology gives us more scope to experiment and explore sounds. We each have our own home studios, something unheard of back in the day, could you imagine the expense? I recorded on a dusty old four track in a bathroom when I started out, now…bliss! The only expense is time.
As for influences, The Sisters (I think Eldritch is a terrific lyricist), Siouxsie and The Banshees, Marc Almond, Play Dead, Killing Joke and Nina Simone. I like music with drama.
(Trev's comment) Also for me, Hawkwind, Chrome and loads of quality and classic 90's goth!
Justin: Trev comes up with the main body of the song as he is a gothic riff machine!! Then he sends them to me where I write and record the bass line then Piers writes the lyrics and does his magic and that's how our songs are created.
Tzina: You just released your latest six track e.p. ' The Bleakest Hour ' which includes a cover version of the Every New Dead Ghost ( one of your previous bands ) song ' Miranda '. What motivated you to re-record this song in particular? What is your opinion of cover versions in general?
Trev: Just after we released our first ep "Transcendental Chaos", where we covered Play Dead's "Walk Away" and Killing Joke's "Requiem" as a way of setting our creative and musical cards on the table, a friend of ours, Rob Bannister, suggested that perhaps we ought to continue the "cards on table-this-is-where-we-come-from" theme on our next release by covering a 13 Candles and a Every New Dead Ghost track.
We picked "Xenomorph" for the 13 Candles track and "Miranda" for the ENDG track as Piers and I had both previously worked together in the latter years of Midnight Configuration and we were both in Arcane Winter together. Both bands had also covered "Miranda" in one form or other. So, without sifting through loads of other previous band tracks we decided that "Miranda" was the best choice as we were very keen to get on with writing and recording new Chaos Bleak tracks.
In all honesty, I am really happy with the end result, as it was great fun to revisit these tracks and try out some new production and programming tricks that were not possible when the original versions of these tracks were recorded.
As for cover versions? Well, there are cover versions and there are cover versions. If a band adds something to the track rather that produce a straight up copy, something original, then all is good. But in all honesty, its up to the band concerned and I know that these days there are a lot of people who want to see bands that either are not in existence anymore or cost a fortune to go and see! So, if someone wants to be in a tribute band or covers band. Good on them, its all live music! And live music is good!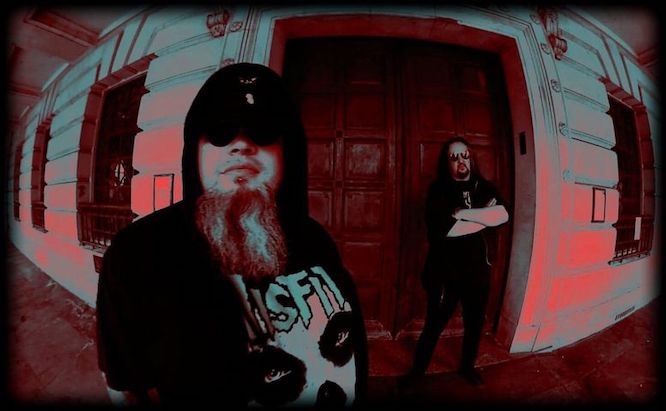 Tzina: What feedback has ' The Bleakest Hour ' received so far? What is this e.p. all about and what makes it different from previous work by Chaos Bleak. What would you like to achieve with this e.p.?
Piers: The feedback has been really positive, lots of great reviews. It's been very flattering. We're fairly prolific, there is less than a year between first EP "Transcendental Chaos" and "The Bleakest Hour", but the quality hasn't suffered. The first EP was us finding our feet, we were itching to get enough material together to play live…which we managed in only a matter of months after forming. There are some cracking songs on there, and we still play some live. Thematically the new EP is about universal interests within the band: the death of organised religion, political and philosophical violence, Visitors from outer-space, murderous 1970s fashion models…you know, the usual. Plus, a couple of covers from former bands: 13 Candles' "Xenomorph" and Every New Dead Ghost's "Miranda", done Chaos Bleak style. I'm very proud of it.
"The Bleakest Hour" is us hitting our stride, playing to our strengths. It also marks a different approach to songwriting, certainly for me. Less formal, more experimental, something we always set out to do. I'd like to see the EP do well (sales have been great, it's gone out all around the world in both physical and digital formats), to allow people to hear what we do. We've been called a "gothic supergroup", which is very flattering, and it's good to show that Chaos Bleak don't just rely on the reputations of our old bands, but that we're trying something new.
Justin: We have had great feedback for the E.P so far as have the other releases we did, we seem to have created something that people are really into which is great, every song is slightly different and has a different feel to it which I love, this makes our releases more interesting than if there was the same theme and exact sound running through each release. We just want to get the music out there and for people to take notice and like it.
Tzina: Chaos Bleak have a number of videos under their belt with their latest ' Seven Orchids ' just been released on You Tube a week ago. How important is the visual side to you as a band? Is making videos an enjoyable process for you? Who is behind these videos?
Piers: I said earlier that music is as visual as it is aural, I truly believe that. I designed our logo before I'd written any lyrics, and had a "look" in mind to go along with the "sound".
We've got visuals for everything we've released, even EP tracks. We work with the excellent Souls Midnight, who films all our live shows and has done a number of our videos (except for the lockdown ones), which we've done ourselves. Since MTV made it de rigueur to have music videos, it's something we have to use as a promotional tool. That said, I love making videos! Watch the "Funeral in Berlin" video, we wandered around Nottingham, where we live, and shot on-the-fly. There's a chap wheeling a piano along the street as we wander past looking mean and moody. We were completely oblivious until I spotted it whilst editing. Weird things happen to us like that: filming at home for the "Empty Morning" video I was at the bottom of my garden holding a skull in front of my face. My next door neighbour's kids were playing on their trampoline, and kept shouting "hello" as they bounced up high enough to see over the fence. I could barely keep a straight face.
Just last week we filmed our rehearsals at The Square Centre in Nottingham, that may well see the light of day on YouTube. My between-songs banter is pure poetry.
Justin: It adds another layer to the song having a video to go with the single, it's that extra promo. Making vids is fun but it's the lads who have a lot to do with the editing etc I just throw ideas about.
Trev: Most of the videos we have released so far have been edited together by myself using a combination of footage recorded by our great friend Stu (Souls Midnight) and found footage. However Piers has put one together so far and currently has another under his belt for release very soon.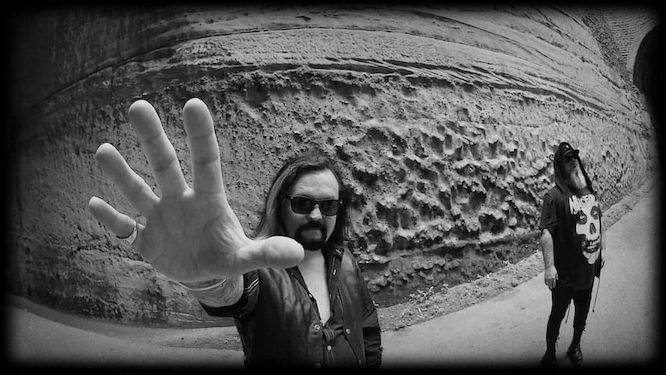 Tzina: As l understand Chaos Bleak are an active live band with your last show being back in March just before lockdown supporting German goth rockers ' Still Patient '. Do you have any upcoming shows planned for the near future?
Piers: Playing with Still Patient? was great. They're a brilliant band, and top blokes. A week later, we're in lockdown. In fact, the day after we played they had to race back to Germany to avoid border closures! Lockdown has been difficult as both a musician and a civilian, I would happily see bands and play live every night of the week. Like most bands, all our gigs have either been cancelled or rescheduled, and who knows when gigs will start up again? It's a small price to pay to keep people safe, though. We are taking 2021 bookings, if anyone wants to put us in their diary. Personally, I can't wait to get back on stage. We need new live footage for forthcoming videos, after all.
Justin: I think we have one confirmed. We would like to do more, but with restrictions in place we will just have to see what happens in these uncertain times.
Tzina: These past few months have been difficult for everyone globally especially people in the arts and entertainment industry. How has it affected you as a musician? Do you think it has done a great deal of damage to the music business?
Piers: It's been hard, but lockdown is to keep us safe. The pandemic has highlighted inequalities in the UK: wealth, access to healthcare and how we treat the elderly and how we interact with each other. On a serious note, please take care of yourselves and those around you. Without each other we have nothing.
We as a band can still write, record and release music, but it's the venues that I am worried about. The Chameleon and Billy Bootleggers in Nottingham, I love those places. In fact, venues all over the UK, and not just those we have performed at. I plan on going to every gig I can as soon as gigs and clubs open up again. I grew up in deepest, darkest Oxfordshire, I'm used to driving all over the country to see my favourite bands. Looks like that's what I'll be doing again!
Justin: Right now, music in the uk is in a bad place, there will be a lot of grass roots venues that will never open again and that is sad, the uk government have done very little to help as they really don't give a fuck about the music business , unfortunately we are run by a bunch of utter twats who are out for themselves and their rich friends.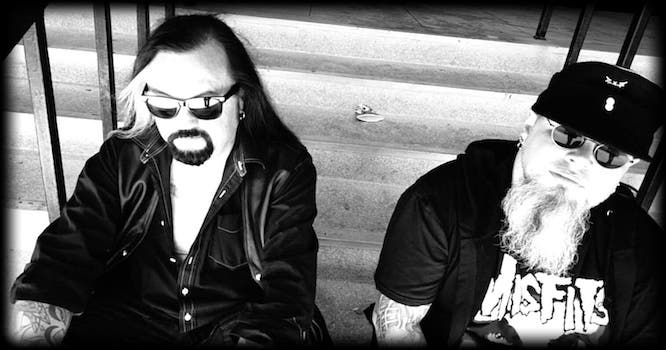 Tzina: With a pedigree of over 30 years on the scene Trevor how much do you think it has changed over the years, both for musicians and fans?
Trev: The changes have been gradual over the years but quite dramatic and all the changes in one way or another are linked to the development of technology. When I first started in the scene, there was no social media, no digital recording technology and all that brings. Things were in many ways, pretty tough for bands getting going. Equipment was proportionally more expensive, recording music to any kind of professional level cost a fortune and releasing music cost even more! Also, there was no way an underground goth band could get any attention in the mainstream media due to the fact that there were only 3 music papers and they were on the whole narrow minded and only interested in covering music that had a large and financially supportive label attached. In fact, the NME was particularly only interested in manipulating music scenes here in the UK and they were well known for their snobbery and distain for anything they decided was outside of their own mercurial interests.
The reasons for this attitude can be debated and I will be addressing this phenomena as part of my doctorial research on the UK 90's goth scene.
However, back in the late 80's and 90's the fanzine culture was great and amazingly supportive, as were the many goth clubs, events and nights that proliferated at that time which was great.
These days technology makes it easier and cheaper to buy equipment, record music to very high quality and to release it. But as is with all things, the downside of that is that there are so many people releasing stuff and telling everyone on social media about what they are doing that the potential audience for a band becomes overexposed to content and they can just blip over everything. Which ironically makes it harder for bands to gain any kind of foothold these days than back in the day. It's a case of swings and roundabouts.
Sociologically the scene has changed quite a lot. Back in the 1980's, the early days, quite a lot of the people then involved were there primarily due to the fact the music and culture of the gothic scene was easily accessible via the mass media. i.e. papers, TV, radio etc and for them it was a transitory thing they were involved in at the time. After the "fall from grace" the scene experienced in the late 80's, when the mainstream and its support mechanisms turned away from the scene, and the music papers became openly xenophobic. The UK goth culture underwent a revolution where, for the want of a better term only the dedicated members remained, and they and the people attracted to the scene from the 90's onward continue to both refine and develop the scene.
Tzina: Do you believe the UK has a strong dark/ goth scene today?
Piers: Yes. The scene is what we make it, and we make it strong. I do miss seeing my mates, though! Roll on gigs and club nights starting up again. That said, lots is going on online, gigs, DJ sets, book readings, we're making the most of a bad situation. Big shout out to The Spiritual Bat for their online gigs, they've been fantastic. Maybe this is the way forward, the new way to see bands and meet up. I still crimp my hair for online shows, you know.
The scene is strong, and we'll get through this the way we got through adversity in the past. We made it through Thatcherism. We'll be OK.
Justin: It isn't what it once was not like the 80s and 90s, to say the UK was the home of Goth. The rest of the world has left us behind and we are now just a shadow of the scene we once were.
Tzina: Looking back throughout your career what is one of your fondest memories that comes to mind?
Trev: Gosh! There are just so many of them! What springs to mind right away are some of the experiences I had on the road with ENDG. Like the two tours of Czechoslovakia in the early 90's where we were one of the first bands to tour the country after the 'velvet' revolution. It was like stepping back in time to the 1940's and we felt like we had come from another planet! Or playing in Berlin before the collapse of communist east Germany and the whole experience of traveling there, going through checkpoints etc.,etc.
Or being flown out to various countries to play one off gigs or festivals in Midnight Configuration and Death Party UK. Italy, Germany, Portugal, Greece, USA, Mexico etc.
In Every New Dead Ghost, running on a frozen sea in Holland, hearing the Lorelai in the early hours of the morning as we drove along a lonely stretch of the Rhine in Germany. Etc etc.
Ask me another day and I would probably give you a load more. In all honesty, it's the memories I have of my "life on the road" and involvement in the global goth underground that are the most precious to me. I have seen amazing things, met wonderful people, been to incredible places that a lad who grew up in a large council estate (US readers, the UK council estates are kind of similar to what is known as the projects) in Nottingham (me) would never have had if he/I had not picked up a guitar!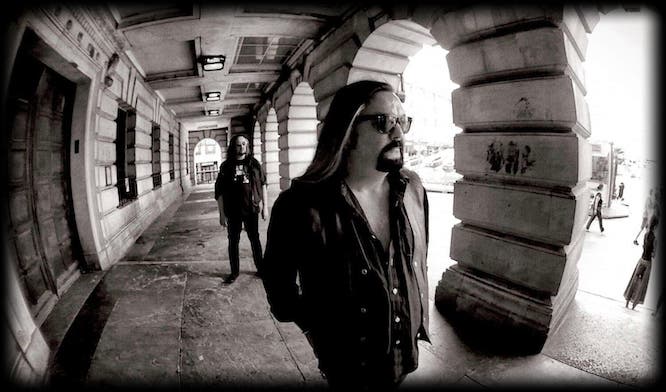 Tzina: Your record label ' Nightbreed Recordings ' has brought us some of the finest UK goth acts over the years. Starting out in 1990 and still running but now as ' Nightbreed Digital ' how has this downloading era affected the label?
Trev: It's changed everything and in all-honesty I would be here all day talking about it. The short answer to this question is that regardless of if we like it or not, downloading has contributed to the devaluation of music. Before downloading culture started with the advent of both firstly the internet, then the hostability of mp3's. People had to buy music on some form of disc or tape, and if you paid for it, it had value to you. It was an investment into a lifestyle and culture which you were attracted to and wanted to be part of. Once music becomes devalued, then that tribal connection will go, or at least be considerably weakened. Music is everywhere, people love it, but many do not pay for it.
In regards the old days of Nightbreed, we always were a niche market and skated very close to the edge. It went like this:
Record label pays to press up and promote CD.
Scene support this and buy CD.
Money eventually comes back, and label has enough money to release another CD.
When both downloading and CDr burning evolved it went like this:
Record label pays to press up and promote CD.
Some people in the scene buy CD.
Some people in the scene copy and give away CDr's.
Some people in the scene convert CD to mp3's and give away music.
Not so much money comes back to label and eventually label has to stop releasing CD's as the money gradually runs down.
I am not in the least resentful about this development, its simply the dialectical nature of culture and technology development. But it has had an effect on not just the goth scene, but all through society. If you ask a number of people under 30 about buying music, they will look at you with wonderment! I used to teach at a college, and I asked a group of 17 year-olds I was teaching when was the last time they bought a CD or paid for a download, and virtually none of them had done so. I asked them if everyone did that, how do they think that they could have a career in a music-based industry? (BTW they were all on a college course to learn about the music industry). I got no answer. Its just the new normal.
These days I just put out stuff digitally with limited runs of special CD ep's of bands and projects I am directly involved in as there is no point in spending £1000's on a big CD album for it not to sell. The last few big CD releases I put out (last one was about 10 years ago now) I lost money on and have boxes and boxes left. Currently stored at Piers house.
Tzina: As a veteran on the dark scene Trevor what does goth mean to you?
Trev: Now that is a question and a half! And probably one for a thesis! But in all honesty the simplest answer is that the Goth scene is a scene where all of my natural interests come together, and if I could have created my ideal scene this would be it! My hair is too long for the punk scene, and I wanted to hear and to play music that was harder and darker than anything that was accepted in either the metal or the post hippie scene. I liked scenes where women were as prevalent as the men, and I loved the look, the literature and the whole aesthetic package. It is fair to say that I have dedicated most of my adult life in one way or another in helping to keep the flame burning in my own way.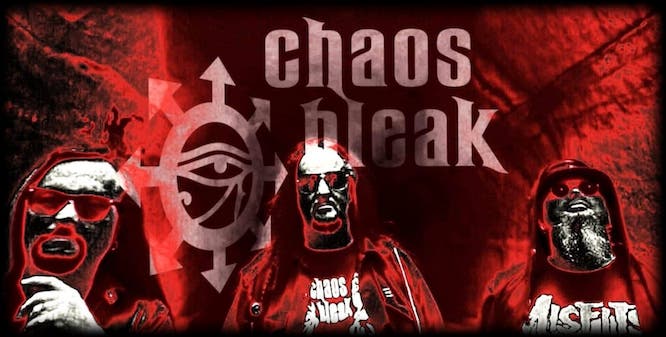 Tzina: Anything else you would like to share with your fans? What can they expect from Chaos Bleak in the near future?
Piers: Thanks for all the support, we can't wait to get back on stage. Next up for us is a single released early September, "Regrets Are For Yesterday", a Halloween single "Grey Lady Walks", then an album. We're using lockdown to write new material all the time, and the new songs are blammers! (our phrase for great), I'm really looking forward to seeing how they go down live. Of course, there will also be accompanying videos, all that malarkey.
We are also looking into doing a live-stream gig in the near future, when you'll no doubt hear some of the newer material. Grab a beer, turn up the volume and sit very close to your screen for that Chaos Bleak experience!
Justin: An album at the end of the year, more singles and E.P.s… Hopefully live gigs.