Cerulean Veins interview by Tzina Dovve. Cerulean Veins… Turn the radio on… And turn the lights out… San Diego's very own dark/goth act…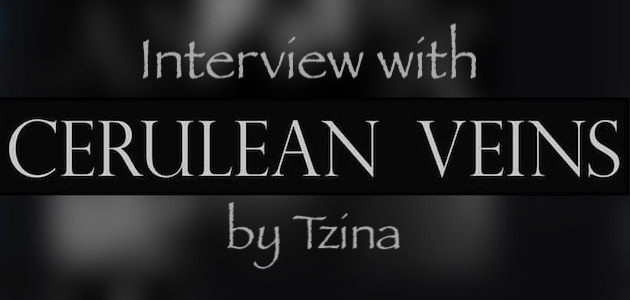 …A haunting insight into the world of Cerulean Veins… By Tzina Dovve…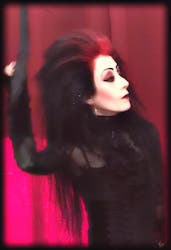 Tzina Dovve: Cerulean Veins are one of the newer acts to have emerged on the dark/goth scene during the last few years. How and when exactly did you form and who are the members of the band?
Ghost of the Haunting of Cerulean Veins: I first encountered Dustin Frelich and Amanda Toombs back in 2013 and decided to follow them around, as ghosts do. They were busy formulating a darker musical and artistic concept that would become Cerulean Veins, so I settled in. Soon after, the nascent duo recruited guitarist Paul Welch and drummer Matt Yansch for the first of a series of singles over the next few years.
By 2016, one soul departed for another as Matt left on hiatus and drummer Bob Patrowicz sat in, and within a year Cerulean Veins' debut album, Self-Entitled, was released. A series of shows supported the album in the summer of 2016, and a second album, Ado, followed in November of 2017.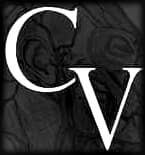 The next two years were a period of reflection and writing, and I witnessed a host of late-night sessions that would form the basis of Blue, Cerulean Veins' third album.
With the release of Blue, the Cerulean Veins lineup was Dustin Frelich (Vocals, Bass, Music, Lyrics); Amanda Toombs (Keyboards, Lyrics); Paul Welch (Guitar); Matt Yansch (Drums).
While the specter of worldwide destruction looms over humanity, Cerulean Veins has been forced into hiding, only to return one day when the world is ready.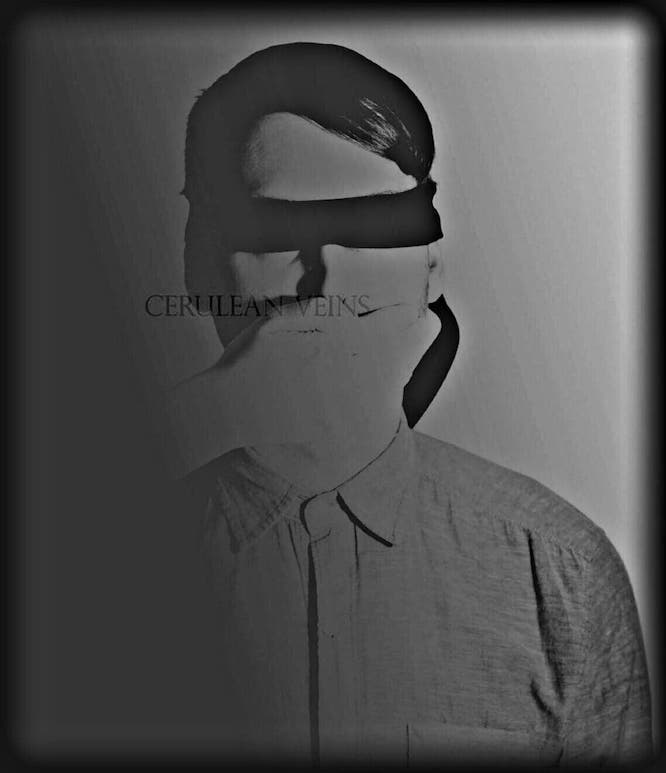 Tzina Dovve: What prompted you to form this band to begin with and give it the particular name of Cerulean Veins? What is the story behind this title?
GOTHOCV: A band without a name is a ghost without a home, and I found a home with Cerulean Veins. It is said that Cerulean Veins manifests itself under the skin, but I've seen it in the words and music of the group, most often after the light goes out and the darkness takes hold.
In the dead of night, I hear faint chatter about dark sky blues. I see the darkness, and then the blue is never far behind.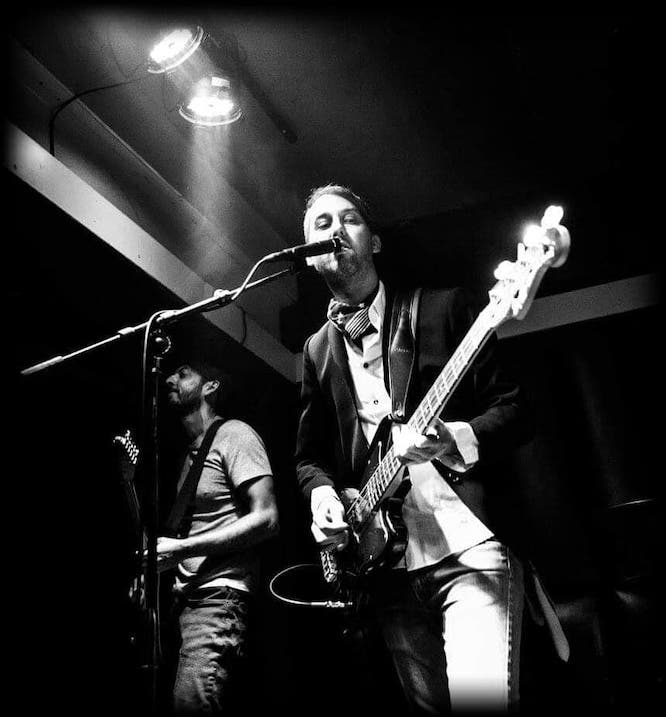 Tzina Dovve: Who is the main songwriter behind your creations? How is a Cerulean Veins song born? What inspires you most to write music and what are your main influences?
GOTHOCV: Sometimes, during the deepest slumbers, I hear Dustin composing sounds and 'scapes — esoteric calls for me to awaken. Fraught with compelling tones and the urgency of time, the sounds are powerful but incomplete until a voice is given to the madness. With a dash of fleeting thought, Dustin calls out for the muse drifting by, while Amanda connects with spirits, whispering to her words she can't escape.
I've seen them work together and apart, but only time will tell the secrets that are revealed when the music starts and the pen is put to paper.
Tzina Dovve: As l understand, Cerulean Veins released their third full-length album with the title ' Blue ' in January this year. What feedback has this album received so far?What makes ' Blue ' different from your previous releases and what does this album mean to you?
GOTHOCV: From my haunt, I see Blue as the inevitable outcome of Ado. It exercises some of the same thematic concepts first introduced in Ado, but unlike Ado, which looks outward, Blue looks within. If Ado is the fear of what's to come, Blue is the settling of our edification.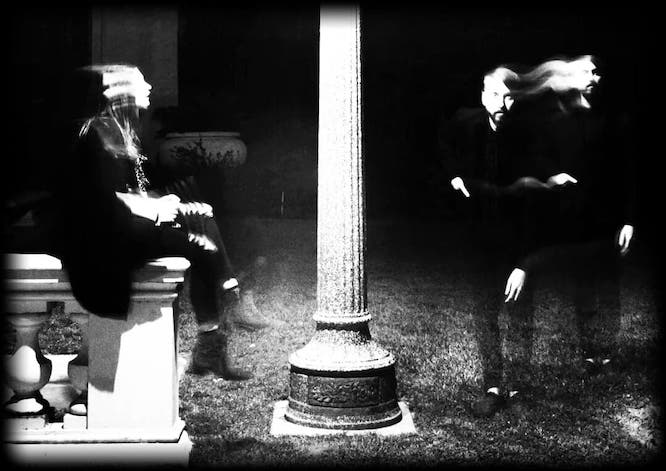 Tzina Dovve: You have also released a special limited edition cassette of ' Blue ' and an unplugged version of the album just in August. How did this arise for the band and how has this been received by your fans so far?
GOTHOCV: [Lights cigarette, leans forward] With an album, cassette and acoustic iteration, Blue is the most comprehensive and expansive Cerulean Veins album to date. It goes so much further than previous albums, and the clean, crisp sound speaks to their consummate professionalism as a group. They've really come into their own artistically, but Blue is a much more cynical and bitter album than you might expect if you don't listen to the lyrics.
I was overjoyed to play a larger thematic role on many of the songs that make up the album, and my appearances in videos from the album such as "Boo" and "Dance in the Darkness" were great experiences.
Tzina Dovve: Are you working on any other new material at the moment? Are there any plans for an upcoming release in the near future by Cerulean Veins?
GOTHOCV: I've heard faint traces of melodies, lines and bumps that disturb the night, and there are whispers and rumblings of something being forged, but it's shape is still elusive and ephemeral, and my role is unclear.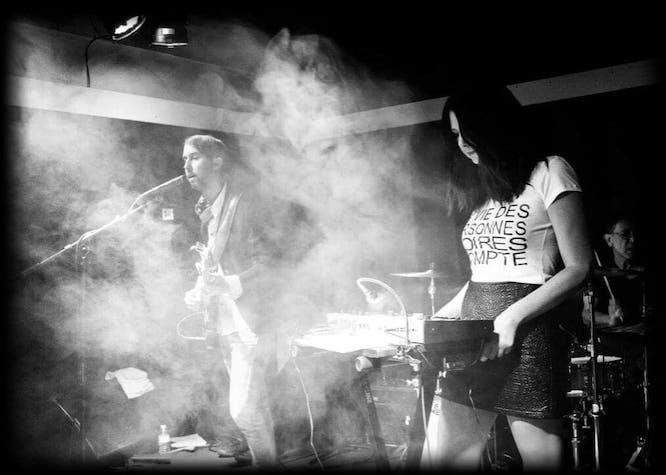 Tzina Dovve: Your latest YouTube video ' Dance In The Darkness ' is truly symbolic during these dark times we are all living in. Is there some sort of hidden meaning behind these lyrics? How important are videos to you and your viewers, in your opinion?
GOTHOCV: Lyrics are words and words have meaning — imagery only enhances it.
Turn the radio on and turn the lights out…
Tzina Dovve: These past few months have been an extremely difficult period of time for all humanity and musicians/ artists have been hit rather hard by this pandemic. How has this time affected your creativity as a musician?
Has it been a more productive time?
GOTHOCV: While the pandemic seems to be a concern for the living, I get the sense of a hauntingly inspiring time. I've been watching both Dustin and Amanda and I see the creative process starting to take shape. Call it a sense of dread or what you will, but light can be found in even the darkest depths of despair.
Tzina Dovve: As l understand, you performed a couple of unplugged sets of your album ' Blue ' online during lockdown. Do you plan to do any more live sets online while this pandemic lingers on?
GOTHOCV: Alas, the camera, microphones and cables have been stowed away. In the future, I can see the makings of a stream, but I can't make out the sounds, or whether it's new material or old. Like everyone else, we'll have to just wait and see.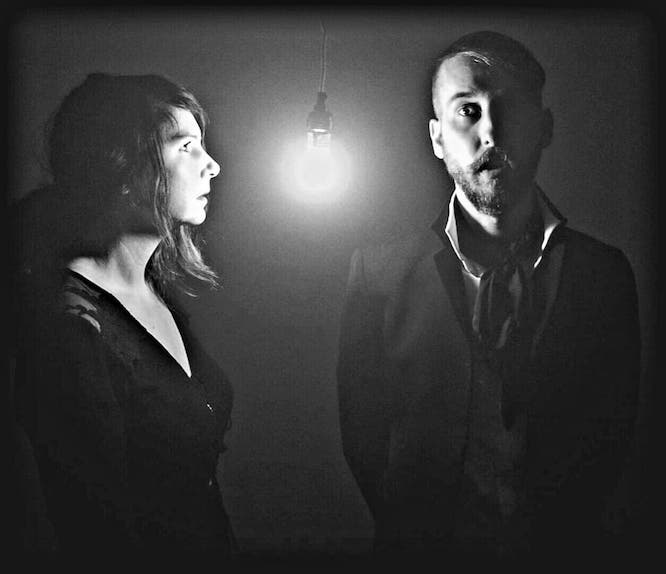 Tzina Dovve: Although these are very uncertain times for the music and arts industry do you have any plans for live shows when the world finally re-opens?
GOTHOCV: At the beginning of 2020, I saw the band practicing for live shows in support of Blue. But as the pandemic worsened, that turned into streaming shows on Twitch in May. Between the acoustic performances online and the video for "Dance in the Darkness," they've still been productive — and I've even had the chance to shine in the darkness myself — but I can tell that the band is eager to do more and is open to exploring whatever the future holds for music and the arts.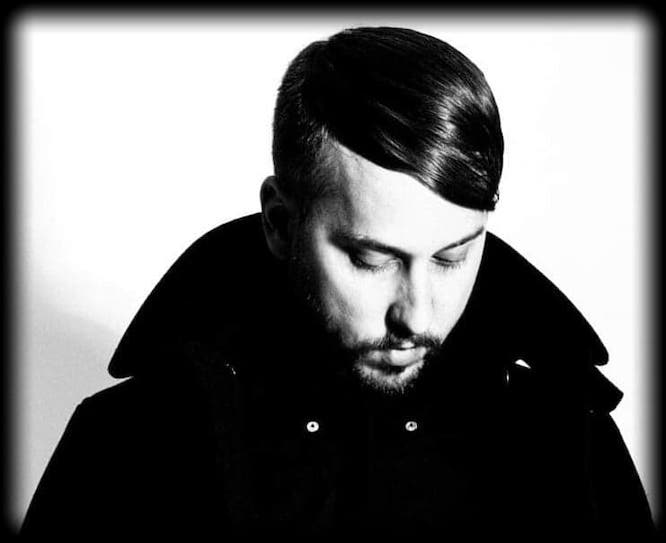 Tzina Dovve: The last few years has seen quite a number of dark/goth acts emerge on the music scene from all over the world. Do you believe there is some sort of goth revival happening? Do you believe the scene is stronger now than in the past decade?
GOTHOCV: Hauntings come and go. But it does seem that we're primed for the dark '20s. It's years in the making, and the band and I are happy to play a small part.
Tzina Dovve: Anything else you would like to share with Cerulean Veins fans? What can they expect from you in the near future?
GOTHOCV: I'm fading. The witching hour is coming, and it's time to rest. I see rumblings on the horizon. Rest, and wait and see.