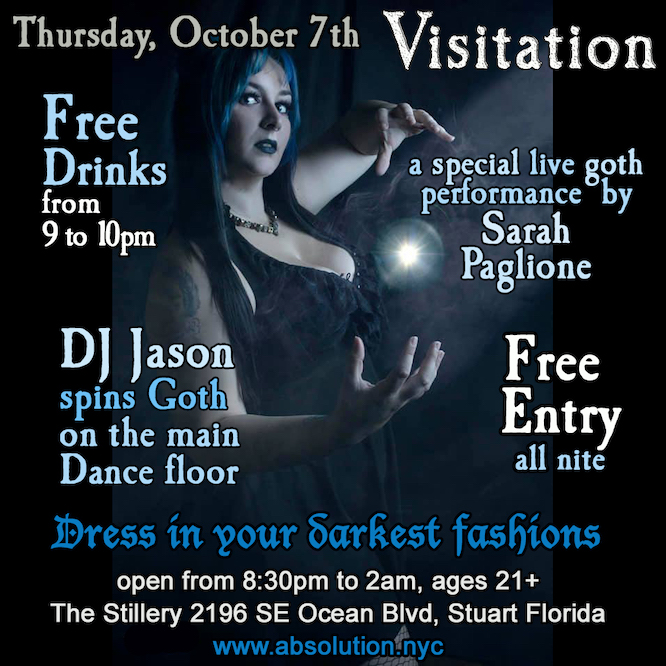 Visitation ~ Goth Dance Night ~ on October 7th
There will be a special Live Performance by Sarah Paglione who will be singing specifically dark cover songs for this one night.
Free well Drinks and Drafts from 9pm to 10pm.
No cover / Free entry!
DJ Jason (alchemy, absolution, etc) spins Goth on the main dancefloor.
Free cupcakes, teacakes and treats at the bar while supplies last.
Tarot Readings by Kitty
Free Pool playing in the extra side room all night.
Great specials all night!
Fresh Pizza now available from the new pizza kitchen!
Dress in your finest dark fashions!
Open from 8:30pm to 2am.

Ages 21 and up.
The Stillery
2196 SE Ocean Blvd., Stuart, Florida
Flyer model: Sarah Paglione
Please spread the word and invite your friends that might be interested in this great goth event with actual Goth music.
Thank you
DJ Jason on Twitch:
https://www.twitch.tv/djjasonspinsgoth
DJ Jason on Facebook
https://www.facebook.com/DJ-Jason-110077919046134
DJ Jason's bio:
https://absolution.nyc/bios/djjason/
Visitation on Facebook:
https://www.facebook.com/Visitation-109519564521450
Invite page on Facebook:
https://www.facebook.com/events/360061775798015