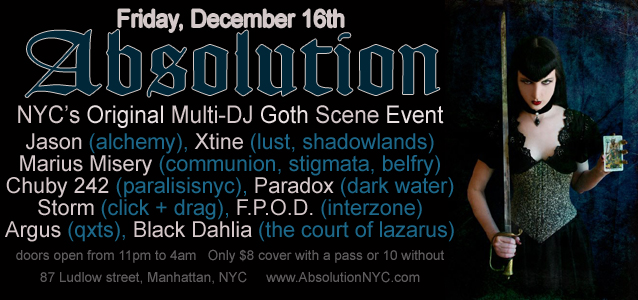 Friday, December 16th
Absolution – NYC's Original Multi-DJ Goth Scene Event
Absolution assembles the best of the NYC and tri-state area's Goth scene DJs for this monthly special at NYC's only weekly weekend Gothic event.
DJ Jason (Alchemy, Incantation, Albion/Batcave, Sundown, The BANK, Long Black Veil, Communion, Wasteland… etc)
DJ Xtine (Shadowlands, Signal, Lust, Atlantis, Flesh Theatre, Cat o' Nine, Avalon, etc)
DJ Marius Misery (Communion, Stigmata, Belfry)
DJ Chuby 242 (ParalisisNYC, Saturday Night fIXE)
DJ Paradox (Dark Water)
DJ Storm (Click + Drag)
DJ Argus (QXTs)
DJ Black Dahlia (The Court Of Lazarus)
DJ F.P.O.D. (interzone)
spinning the best goth as well as some new wave, punk, 80′s, electro, industrial and death rock
Drink Specials all night!
Free CD Giveaways
Atlantis is close to subways, restaurants and there is a huge free parking lot across the street.
Opening one hour earlier this week!
Open from 11PM to 4 AM. Only $8 with a pass or a printout.  ($10 without)
Free before 11pm with a pass or printout!
UC 87 @ 87 Ludlow street, Manhattan, NYC
Trains: J,M, F to Delancey. B, D to Grand.