An Interview with Ingrid and the Defectors by Goth DJ Jason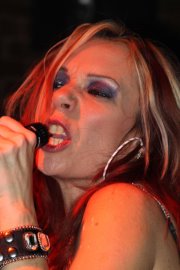 Ingrid and the Defectors performing live at Incantation on New Year's Eve 
(photo by Joel Fate Fatal of The Deep Eynde)
Hi Ingrid, Hi Yv,
Your current band lineup for Ingrid and the Defectors is really great and your members seem to have a strong bond.  Would you like to tell us about these new Defectors?
Yv: On bass we have Steven Fallon formerly of Beauty School Dropouts. Steven brings a lot of enthusiasm to the band. On Farfisa Organ we have Gary Link a childhood friend of mine and former member of Skrap.  He played bass on 'anywhere but here'. We got our first record deal together.  Gary is a very talented musician and chill guy.  On Drums we have the one and only Jeanne Carno. Jeanne is the baddest drummer around and so cool. We could not have a better bunch of musicians and friends in this band. It really feels like home… in a dis-functional kind of way.
What made you choose your current name? Does it have any particular meaning for you or a story behind it's choice?
Ingrid: The name came about when we wanted to do a new type of band more pseudo political and a bit darker than our previous band. Ingrid is my actual birth name and the defectors part came from being sick and tired of having to kiss ass to the people in "charge" of the rock 'n' roll scene. They really know how to suck out the spirit and individuality from people who just want to make their art.
How did you get interested in playing music?
Yv: I always gravitated to rock music and it gave a me sense of comfort and belonging. I also enjoyed the artist types and people who like to live by their own sense of freedom. Plus, it sure is better than sitting home on facebook LOL!!
Ingrid: Freedom of expression… but, it is limited by the establishment.
Who or are your main musical influences?
Yv: Blues, 50' rock and roll, garage, 70's punk and beyond. I really like The Cramps.
Ingrid: Ramones, Black Sabbath, new wave, and all the cool rock and roll women who changed everything.
Do you have a favorite band or singer? Who is it?
Both: Ingrid and the Defectors.
How would you describe your music?
Ingrid: A Mod-Retro Revolution Dance Party for the masses.
Can you give us a brief history of your work as Skrap, Charm School and your transition to today?
Yv: We grew up playing in the vibrant scene of the mid 1990's in the lower east side. We had the honor of playing alongside our musical heroes and learned a lot from them. People like Joey Ramone were extremely supportive and that was a real cool thing to have. We loved to watch D Generation as they were really reigniting the spirit of NYC rock'n'roll and there were so many great original bands in those days. The clubs like CBGBs, The Continental and Coney Island High really gave just the exposure we craved and needed.
We were fortunate enough to get a small record deal as Skrap and ecstatic to get development money from Atlantic records as Charm School.
We grew as artists and felt we had a lot more fire and desire in us to create a new band with a new sound. I don't think we could ever stop being creative and ever stop the need to get our music out there.
One of your past members, a close friend of mine, Steve Mach, passed away. Has Steve's passing moved any of the band to artistic writing about him? How has this terrible loss affected the band (that he loved)?
Ingrid: I have not been able to bring myself to even address or comprehend the senseless death of my dear friend and band mate. Losing Steve was like losing a family member. He was special and everyone that knew him knew it. He was a vital part of Charm School and helped propel the band to the next level. His experience schooled us in ways of the rock'n'roll lifestyle. His memorial tribute show really closed a chapter in our lives that is
irreplaceable.
Yv: I could have not said it better.
Is there a message or ideology behind your songs? If so, what is it?
Ingrid: The ideology of our music is the same as the one we live by……..Do your art without any apologies or pretensions. In other words don't follow the herd. Even rock 'n' roll can be so cliché. We don't label our own music, we leave that to you.
What does it feel like to be onstage performing?
Yv: I don't remember because I am always too drunk, kidding. It feels good. I get off on it!!
What are you most proud throughout your musical history?
Yv: That we never gave up. And that we will always be freaks in some people's eyes. Also all the great bands and legendary musicians we shared a stage with. I remember buying those records as a kid and there we were playing or hanging out with them. That means a lot.
Ingrid: Playing alongside Steve Mach, one of the most genuine people you could ever know.
What are you looking forward to?
Yv: To not having a straight job.
Ingrid: To the next gig… meeting new and interesting people… and killing them.
http://www.reverbnation.com/ingridandthedefectors