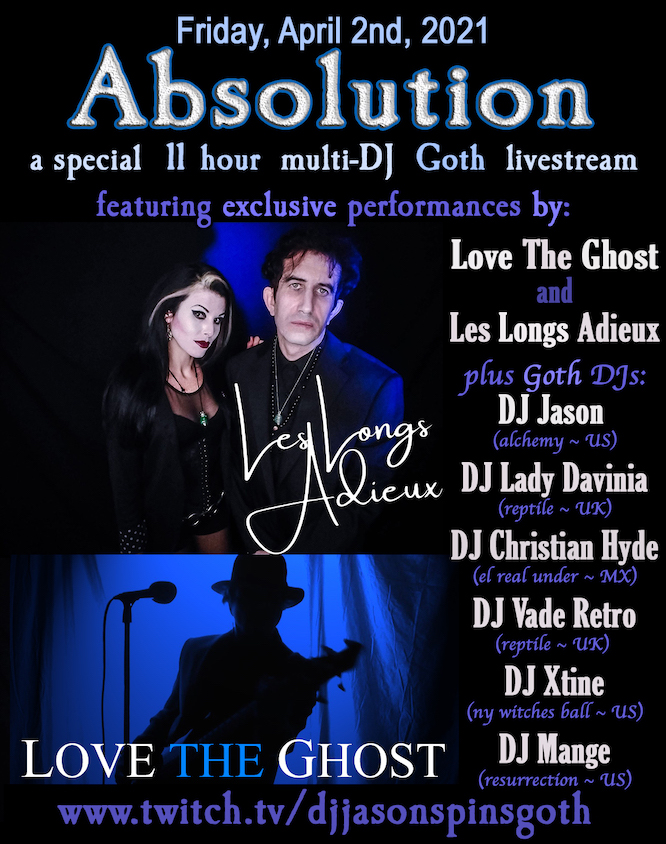 On Friday April 2nd, Absolution, NYC's original multi-DJ Goth event, brings you an 11 hour video livestream with great Goth DJ sets and exclusive performances by:
DJ Jason (Alchemy, Absolution, Wasteland, LBV, Communion, etc) will be joined by:

DJ Vade Retro (Reptile ~ London, England)

DJ Christian Hyde (El Real Under ~ Mexico City)

DJ Xtine (Evil Expo NJ, Witches Ball ~ NYC, US)

DJ Mange (Resurrection ~ New Orleans, US)

DJ Lady Davinia (Reptile ~ London, England)
~~~~~~~~~~~
See you there… enjoy the chat room and socializing too.
~~~~~~~~~
It will be live from 4pm to 3am eastern time.
Here is the Facebook invite page for the event

DJ Vade Retro 4-6pm
Love The Ghost 6-6:20pm
DJ Lady Davinia 6:20-8:20pm
Les Longs Adieux 8:20-8:40pm
DJ Mange 8:40-10:40pm
DJ Christian Hyde 10:40- 12:40pm
DJ Jason 12:40-2:30am
Les Longs Adieux and Love the Ghost
(2nd showing band replay)2:30am-3am
All times are approximate and in Eastern time.
DJ Xtine will return in the future.