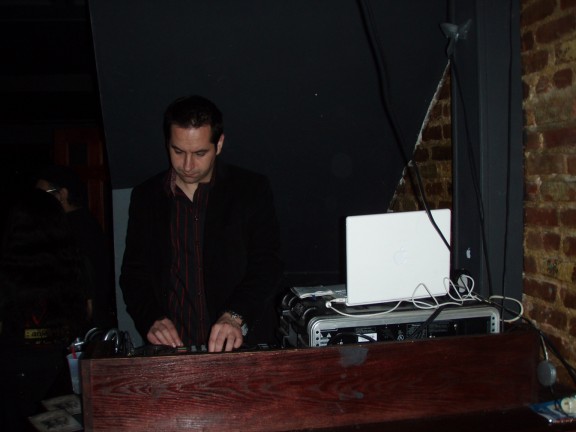 DJ Peter (also called DJ Holikarus) started spinning with DJ Jarek in NYC at the Raven Cafe for The Other Side.   The Raven Cafe was the favored Gothic Bar on Ave. A. in Manhattan's East Village for the whole time that it existed (it closed due to explosive gas leak/fire in early 2006).   The Other Side was a weekly Sunday party and it featured DJs playing both classic and new dark tracks.  DJ Peter spun at The Other Side for nearly five years.  DJ Peter  was known for playing the darker side of guitar driven new european music.
DJ Peter  also spun at a monthly party called The Red Party at Orchard Bar (not to be confused with the original Red party that was at the Limelight that hosted Absolution) with DJ Jarek and DJ Templar.
As a guest DJ, DJ Peter spun at Albion/Batcave, Alchemy and Sundown.  Along with Absolution, these were the biggest goth events in the NYC scene during the time period DJ Peter lived in the USA.  DJ Peter Holik has also spun at La Nouvelle Justine in NYC, Novadark in Zurich and Der Schwarze Ball, also in Zurich, Switzerland.
DJ Peter currently is a resident DJ in Zurich, Switzerland for a large scale weekly Wednesday party called More Than Mode.
Past Residencies:
The Other Side @ The Raven Cafe (2000-2005)

The Red Party

@ Orchard bar (2007)
Current Residency:
More Than Mode @ Club X-tra in Zurich, Switzerland (2008-ongoing)
Special Appearances:
Sundown @ Flamingo East, NYC
Absolution @ Flamingo East, NYC
Alchemy @ CBGBs Gallery, NYC
Albion/Batcave @ Downtime, NYC
Flesh Theatre @ La Nouvelle Justine, NYC
Novadark @ Dynamo (grosser Saal), Zurich, Switzerland
Der Schwarze Ball @ X-tra, Zurich, Switzerland