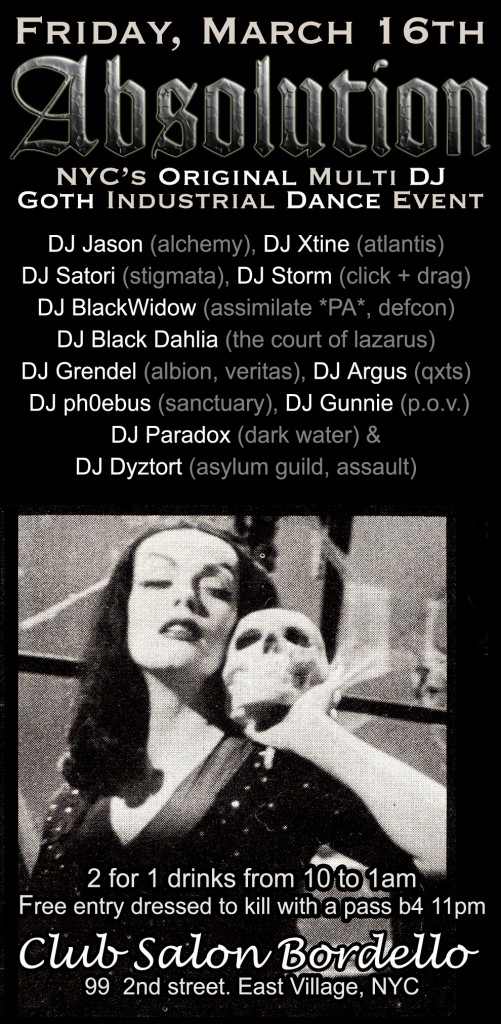 NYC's Original & Best Multi DJ Gothic Industrial & Wave Event  ~  Absolution  ~  Now at Club Salon Bordello!
Friday, March 16th
DJ Xtine (Shadowlands, Signal @ The Bank, Signal @ The Pyramid, Flesh Theatre, Lust, Cat o' Nine, Avalon …etc.)
DJ Satori ~ aka DJ Marius Misery (The Belfry @ The Bank, Stigmata @ The Pyramid, Communion @ Limelight)
DJ Jason (Alchemy, Albion, The Bank, Albion/Batcave, Wasteland, Long Black Veil, Sundown, Communion, Ward 6, The Court of Lazarus, Incantation…etc.)
DJ Storm (Click + Drag, Long Black Veil, Elyzium)
DJ Grendel (Albion, Veritas, Duck)
DJ BlackWidow (DefCon, Assimilate *PA*)
DJ ph0ebus (Sanctuary)
DJ Paradox (Dark Water)
DJ Dyztort (Asylum Guild, Assault)
DJ Argus (QXTs)
DJ Gunnie (P.O.V., Sub Space)
spinning the best GOTH, new wave, punk, 80′s, electro, industrial and death rock!
FREE ENTRY with a pass & dressed up before 11pm
2 for 1 Drinks from 10pm to 1am
Strict Dresscode
$8/ Dressed Up with a Passion- with flyer $10/ Dressed $15/ Street Clothes- non dressed, no effort, etc.
ABSOLUTELY *NO* Khakis, Baseball Caps, Sneakers, Timberlands, etc. NO 'HOOD WEAR.
Absolution in a decadent new space in the East Village
Club Salon Bordello
99  2nd street *Upstairs* (between 1 st Avenue and Avenue A, East Village, NYC)