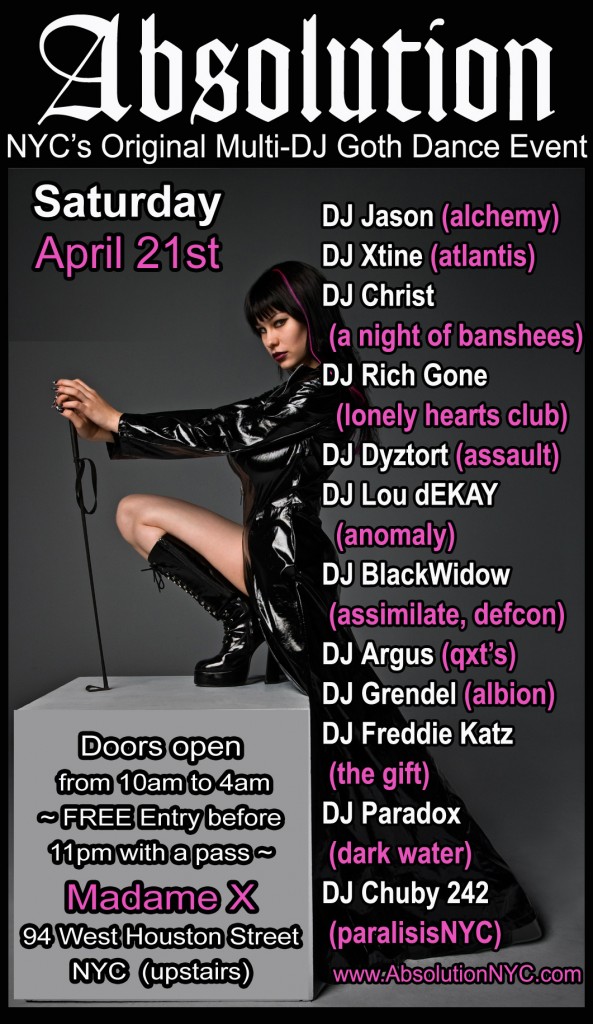 NYC's Original & Best Multi DJ Gothic Industrial & Wave Event  ~  Absolution  ~  at Madame X
Saturday, April 21st
DJ Xtine (Shadowlands, Signal @ The Bank, Signal @ The Pyramid, Flesh Theatre, Lust, Cat o' Nine, Avalon …etc.)
DJ Christ (A Night of Banshees)
DJ Jason (Alchemy, Albion, The Bank, Albion/Batcave, Wasteland, Long Black Veil, Sundown, Communion, Ward 6, The Court of Lazarus, Incantation…etc.)
DJ Grendel (Albion, Veritas, Duck)
DJ BlackWidow (DefCon, Assimilate *PA*)
DJ Paradox (Dark Water)
DJ Dyztort (Asylum Guild, Assault)
DJ Argus (QXTs)
DJ Freddie Katz (The Gift)
DJ Chuby 242 (Paralisis NYC)
DJ Lou dEKAY (Anomaly)spinning the best GOTH, new wave, punk, 80′s, electro, industrial and death rock!
FREE ENTRY with a pass & dressed up before 11pm
Only $8 with flyer  …or $10 without
Madame X
94 West Houston Street, NYC