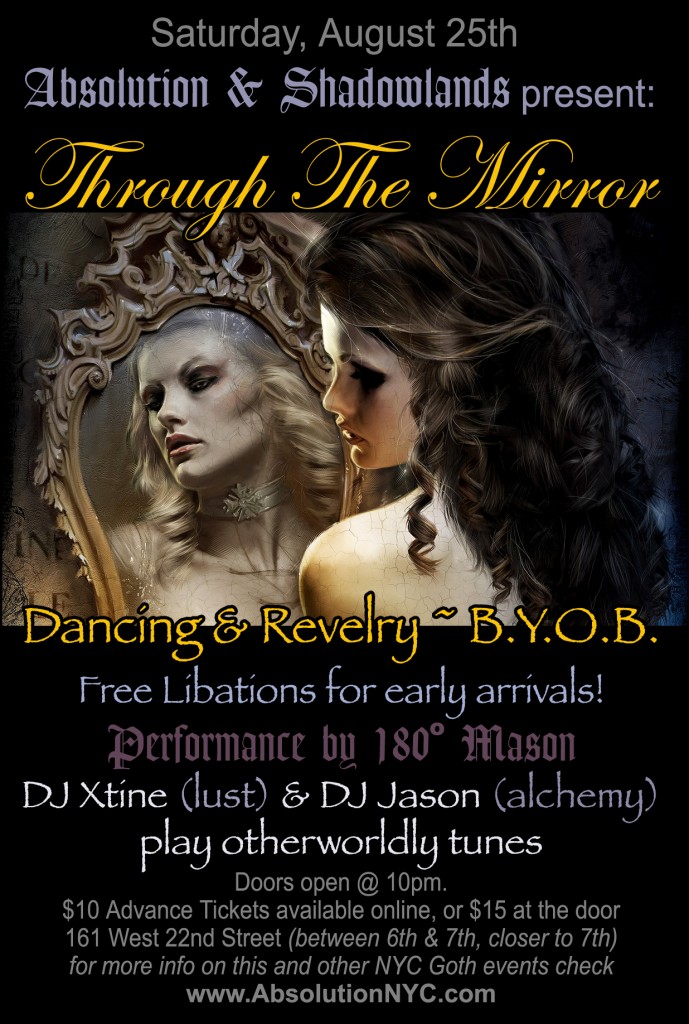 ABSOLUTIONNYC and SHADOWLANDS presents
THROUGH THE MIRROR
A Private B.Y.O.B. Dance event in a Private Space
plus,
playing otherworldy tunes
Dancing & Revelry

Bill The Barber 

is your B.Y.O.B. bartender 
Plentiful FREE Libations For Firstcomers (while supplies last!)
A Prize Gift awarded by free raffle
also featuring an early short performance by
Dress Code Suggestions:–  CREATIVE AS POSSIBLE.  Goth, Industrial, Fetish, New Wave,  Deathrock, Armour, Millitary, Medieval, Steampunk, Gypsy, Tango, Tribal, Punk, Glam, Pagan, or Any Combination Of The Above!  MINIMUM OF ALL BLACK.  Let your imagination take control!!  This is a chance to avoid the hastles of a mainstream venue and experience a PURE ARTISTIC SCENE, so be free.  You NEVER HAVE TO BE SUBJECTED TO A MAINSTREAM CROWD at this PURE ALTERNATIVE *PRIVATE*  LARGE DANCEFLOOR VENUE, so keep that in mind when dressing;)
THE WAY the ~THROUGH THE MIRROR~ B.Y.O.B. WORKS:  Bring your own libations.  Beer, wine, liquor, etc.  When you enter, check them in at the bar station.  The bartender will label your drink with your name and put it away. We will provide cups, ice and some mixers.  When you want a drink, ask the bartender and she will pour your drink for you.  Don't forget to tip!  This method is much less expensive than at a normal venue where you will pay 5-10 times the cost of the drink.  It also allows you to enjoy the kind of drink YOU like- for instance, I love Southern Teir beers which are NEVER served at a typical venue.  At this sort of party I can enjoy my favorites and introduce people to them as well.  It makes for a more fun time, at a less expensive price. ~Xtine
$10 tickets in advance online.   This is a PRIVATE LARGE EVENT so be sure to RSVP and get your ticket early to ensure getting in.
$15 at the door if you choose not to get the $10 advance tickets.
THROUGH THE MIRROR will be held at
161 W. 22nd st  between 6th and 7th ave, closer to 7th.  Doors open at 10pm.