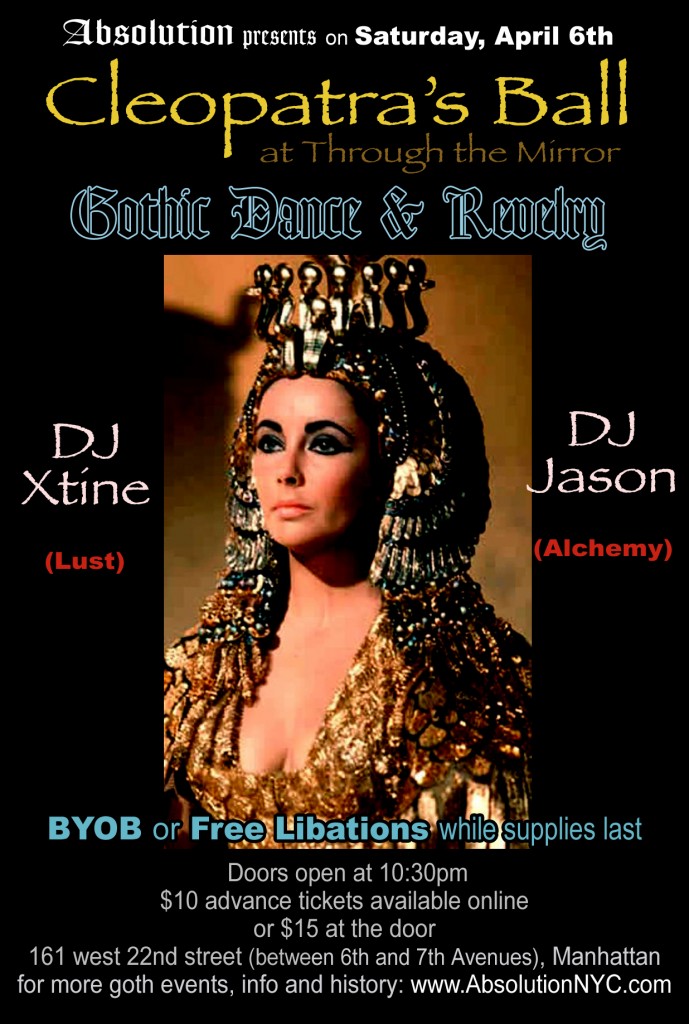 Absolution presents Cleopatra's Ball at THROUGH THE MIRROR on Saturday, April 6th
B.Y.O.B. Goth Dance Ball in a Wonderful Private Club Space with a Great Soundsystem and a Huge Dancefloor!
B.Y.O.B. with bartender server, ANGEL (NYC Goth Scene's original "Angel"), and provided mixers, etc.
Plentiful FREE Libations (while supplies last!)
Dancing & Revelry
A free raffle with a special prize 
Dress Code Suggestions:–  CREATIVE AS POSSIBLE.  Goth, Industrial, Fetish, New Wave,  Deathrock, Armour, Millitary, Medieval, Steampunk, Gypsy, Tribal, Punk, Glam, Pagan, or Any Combination Of The Above!  MINIMUM OF ALL BLACK.  Let your imagination take control!!  This is a chance to avoid the hastles of a mainstream venue and experience a PURE ARTISTIC SCENE, so be free.  You NEVER HAVE TO BE SUBJECTED TO A MAINSTREAM CROWD at this PURE ALTERNATIVE *PRIVATE*  LARGE DANCEFLOOR VENUE, so keep that in mind when dressing 

Additional Cleopatra's Ball theme event dress options: Egyptian Royalty, Roman Military, Ancient Armor, Togas, Snakes, Headdresses, Sceptres, Ornate Dresses, period costumes… etc.

THE WAY the ~THROUGH THE MIRROR~ B.Y.O.B. WORKS:  Bring your own libations.  Beer, wine, liquor, etc.  When you enter, check them in at the bar station.  The bartender will label your drink with your name and put it away. We will provide cups, ice and some mixers.  When you want a drink, ask the bartender and she will pour your drink for you.  Don't forget to tip!  This method is much less expensive than at a normal venue where you will pay 5-10 times the cost of the drink.  It also allows you to enjoy the kind of drink YOU like- for instance, I love Southern Teir beers which are NEVER served at a typical venue.  At this sort of party I can enjoy my favorites and introduce people to them as well.  It makes for a more fun time, at a less expensive price. ~Xtine