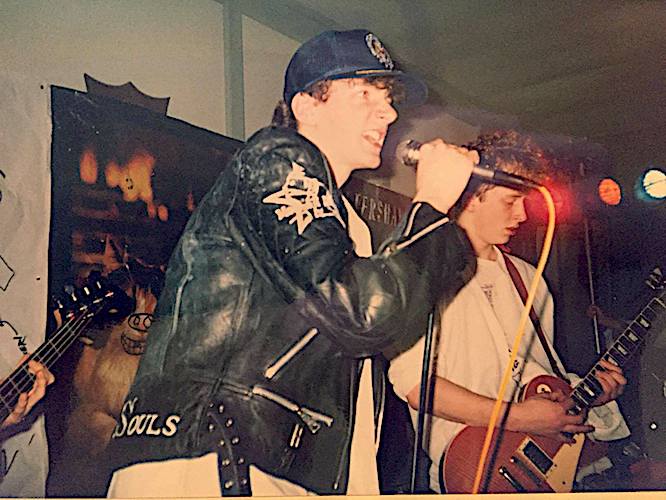 Ed's musical direction in life was forged in the crucible of the 80s British goth scene. You can find the usual suspects among his collection.
After a hiatus on the music front Ed developed a deep affection particularly for German and Nordic gothic rock and dark sounds stretching from the 80s through to the most recent acts.
Name checks for all of those acts would take too long but outfits like Love Like Blood, Age of Heaven, Funhouse, Preachers of Neverland, Dronning Maud Land, Garden of Delight and Secret Discovery would not be out of place on a playlist from the earlier period.
The Wake (first line up) from the US gets a special nod for reasons which will become apparent.
When not traveling around Europe getting his fill of live music Ed manages October Burns Black, a unique international project comprised of some notable musicians:
James Tramel – Bass
Lars Kappeler – Guitars
Tommy Olsson – Guitars
Ger Egan – Vox
He runs all aspects of their social media platforms and merchandise operations:
Following a successful tour to the UK in April 2018 the band released their debut EP, faultline, in July 2018 to critical acclaim.
Current shows planned for 2019 include Gotham Sounds in Hilden, Germany and the world-famous WGT Festival in Leipzig.
Ed is an active participant in the scene supporting a number of other bands on social media and, when the mood takes him, supplying mugs.
In terms of journalistic activity Ed has interviewed and reviewed a number of bands including:
More material in the works, some of it taking a while as the creative process takes its time to develop, include catching up with Peter "Bob" White of long time favourite gothic rockers, NFD and an interview with Kai Hoffman of Secret Discovery.
Some other projects are under wraps for the time being but will see the light of day in 2019…