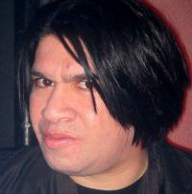 DJ Jose (aka DJ Xfixiation) started DJing in March of 2008 spinning Goth, Darkwave, EBM, Industrial & Synthpop for a cd release party.  It was for the horror punk band, Others, at the DTQB in Endicott, NY.  Later DJ Jose (still known as DJ Xfixiation) and a local upstate DJ, DJ Enigma started Gothika on May 2nd at the Voodoo Lounge in Binghamton, NY.  In November 2008, DJ Jose (aka Xfixiation) guested at Alien Nation in Albany, NY.  He met a New Jersey promoter named Diego and did two guest DJ gigs (Nov. 13th & Dec. 3rd, 2008) at Evilution.
Since then,
DJ Jose 
(aka
DJ Xfixiation
) moved to NYC and guested at
DJ Jason
's "NYC's original multi DJ event" 
Absolution
, Father Vincent's weekly Vampire night 
Dark Water
Tuesdays, and at The Sullivan room's
Underworld
irregular Wednesday* 
(not to be confused with the famous Underworld that famous NYC gothic bands Requiem in White , Loretta's Doll and Sofia Run played at with the historic pure goth

DJ David

 spinning in the 90s).
DJ Jose
currently spins with
DJ Cyclonus
& guests for Brooklyn's monthly
Arkham
 party which will be celebrating it's 4th year as a monthly event on August 30th, 2014.